The Ulster Museum has identified artefacts stolen or looted from other countries or connected to the slave trade among its collections.
Some are on display in a new exhibition called Inclusive Global Histories.
Representatives from ethnic minority organisations helped set it up and provided advice.
The museum has about 4,500 items collected from Asia, Africa, America and Oceania in the 19th and early 20th centuries.
Some other museums are examining potential links to the slave trade or whether they have items stolen, looted or removed by the British during the period of empire.
Some have received requests for items to be returned from Australia, Asia and South America.
According to the curator of modern history at National Museums NI, Tríona White Hamilton, many of the artefacts from other cultures were collected by the Belfast Natural History and Philosophical Society and then donated to the Ulster Museum in 1910.
"There's only a limited amount of records that come with the collections," she told BBC News NI.
"People collected things for all sorts of reasons – they were curious about other cultures around the world, some had deep appreciation for the life and skills of indigenous cultures.
"But there's also evidence that there were items that were collected unethically as well.
"The items in the world cultures collection really reflect the Western collectors that collected them at that time."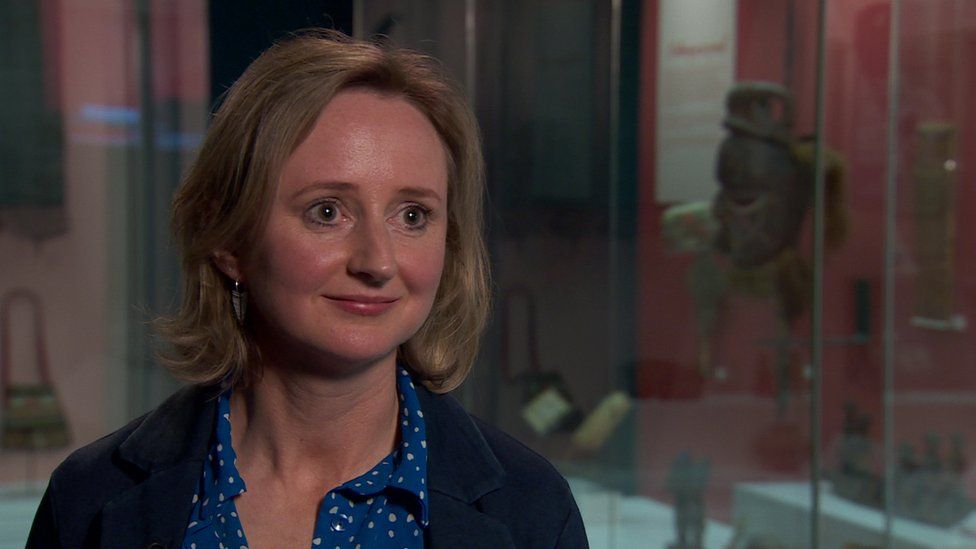 Ms White Hamilton said that the Ulster Museum has begun to trace the provenance of some of those items.
"There are objects in the exhibition that we know from our records were stolen or looted from different countries around the world," she said.
"For example we have a spear that was taken from Benin in 1897 by a British expedition there.
"It's one of three spears that we hold here in National Museums Northern Ireland, but we're working with a project called Digital Benin to digitise and research those collections."
The colonial occupation of the Kingdom of Benin – now Edo State, Nigeria – by British troops in February 1897 led to a worldwide dispersal of an estimated 3,000 to 5,000 objects collectively called the "Benin bronzes", which were plundered from the Royal Palace and other ceremonial sites there.
Digital Benin is a website digitally reassembling the collection, but Ms White Hamilton said the museum was "involved in discussions about whether or not the spear should be housed in the Ulster Museum or should it belong somewhere else".
Another item in the exhibition – a bronze manilla or bracelet from West Africa – was used as currency in the slave trade.
Only a small number of the museum's 4,500 artefacts from other cultures are on display in Inclusive Global Histories.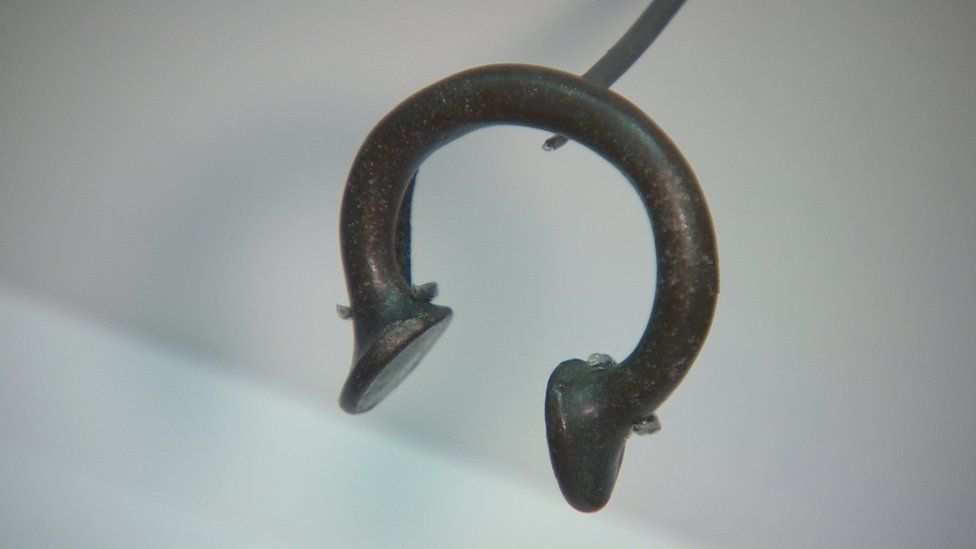 However, National Museums NI has worked with groups representing ethnic minorities in Northern Ireland and in places like Australia and Chile on the exhibition.
"We're also working with local marginalised groups here, for example the African-Caribbean Support Organisation for Northern Ireland, and having similar discussions with them about whether or not these items that have been collected unethically really should be in the museum collections," Ms White Hamilton said.
A charred beam from a recent arson attack on the Belfast Multi-Cultural Association (BMCA) building is one of the contemporary exhibits.
Khaled El Fotooh from BMCA was one of those who advised the museum on the content of the exhibition.
"That building was the main hub to provide numerous things to the public – we had a food bank in there, we gave out furniture, we had a clothes bank as well," he said.
'History and heritage'
He said that the exhibition showed a changing Northern Ireland.
"The world is generally becoming a more diverse place for everybody so it's good to know that Belfast tomorrow will be a better Belfast than it is today and will continue to be a better place for the future," he added.
"Different ethnic minorities have a footprint here in Northern Ireland and their organisations are growing.
"They are contributing to Northern Ireland, so it would be great to have a space in the museum to showcase the history and the heritage of those people who are active citizens in the society of Northern Ireland."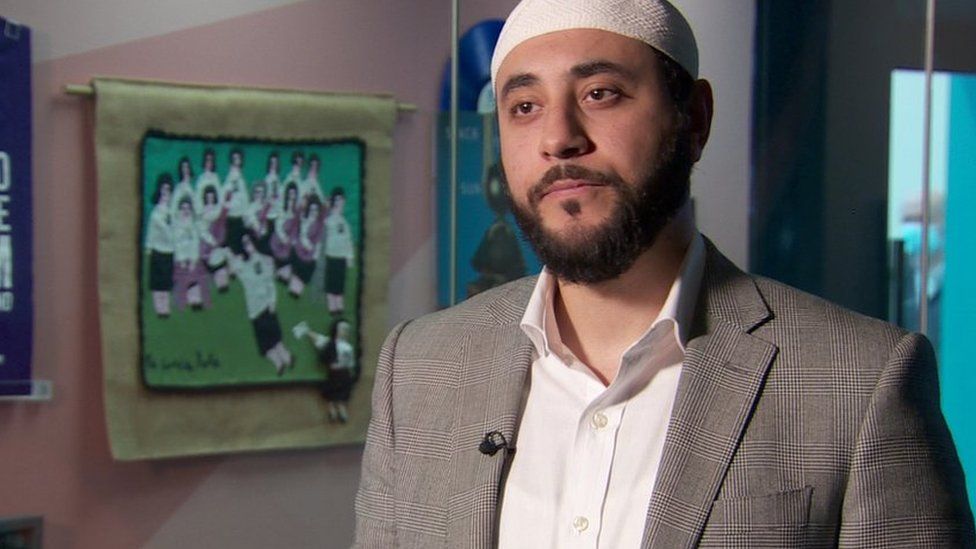 Mr El Fotooh said that he was undecided over whether some of the museum's artefacts should be repatriated.
"I think it's beautiful to walk into any museum anywhere in the world and find artefacts from different places in the world," he said.
"If the museum contains just artefacts of the homeland or home town it might have all a similar theme and the colours might all be the same.
"We go into museums to try to figure out past nations, how they lived, and understand different cultures."
Tríona White Hamilton said that the Inclusive Global Histories exhibition was just the start of the museum's work to examine the colonial origins of some of its collections.
"There is a lot of work still to be done to find out how those items were collected in the first place," she said.
"That's not something that we can just do locally, we need the support and partnership of organisations internationally to do that type of research as well."
DISCLAIMER: The Views, Comments, Opinions, Contributions and Statements made by Readers and Contributors on this platform do not necessarily represent the views or policy of Multimedia Group Limited.