Government is calling for a strategic partnership with the United States of America to develop a post Covid-19 economic transformation agenda which will mutually benefit the two countries.
According to Trade and Industry Minister, Alan Kyerematen, this will enable the country to attract more investments from the USA to take advantage of the African Continental Free Trade Area.
He explained that the country's economy is being diversified from cocoa, gold and oil to pharmaceutical, energy and telecommunications, amongst others.
Speaking at the virtual 2021 US Ghana Business Forum which opened yesterday, Mr. Kyerematen said "we [government] have launched a very aggressive programmes for industrial transformation which I believe offers strategic entry points for US investments into our country. Now these new strategic anchor industries that are part of this industrial transformation agenda includes the following; vehicle assembling and component manufacturing, garments, petro chemicals, agro industry, industrial chemicals including the process of industrial salt, Integrated bauxite and aluminimum, iron and steel and the manufacture of machinery and equipment."
"The Covid-19 pandemic has had a devastating impact on economies all over the world including Ghana and the USA, and the capacities of countries to be able to emerge from this pandemic will depend very much on strategic partnerships between countries. And I believe that the USA and Ghana should have a strategic partnership arrangement to develop a post Covid-19 economic transformation agenda which will support the two economies to our mutual benefits", Mr. Kyerematen said.
He pointed out that the 2021 US Ghana Business Forum is critical as it provides another opportunity for the two countries to plan ahead for the future.
"In my view however, we have now reached a major turning point in US Ghana relations, and therefore this year's forum could not have come at a better time. And I say this based on a number of strategic considerations", he added.
US investors continue to choose Ghana as preferred investment destination
US Ambassador to Ghana, Stephanie Sullivan, said despite the Covid-19 pandemic, several American companies continue to choose Ghana as a preferred investment destination.
"American investors are eager to partner with Ghanaian businesses across a wide range of industry, from logistics to raw materials and much more. Despite the pandemic [Covid-19], this year several American brands have chosen Ghana as a market for growth. Twitter announced in April 2021 that it will be open its West Africa office here, there was also a cosmetic firm and two pizza franchising firms. And in May, United Airlines reopened its direct non-stop route between Washington DC and Accra.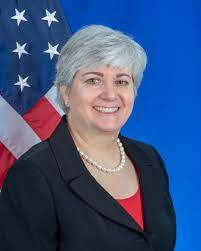 She also pointed out that Ghanaians firms are doing well in the United States as consumers are getting quality products from Ghana.
The 2021 US Ghana Business Forum has become necessary to bring clarity to the new US administration to Africa in the context of the Africa Continental Free Trade Agreement.
The forum aims to strengthen trade and investment, promote business partnerships and opportunities between U.S. and Ghanaian companies in key sectors including Technology and Digitization, Energy and Mining, amongst others