3 needy but brilliant students have received full scholarships from the KNUST Alumni Association to support their education.
The scholarship will cover their fees, accommodation and stipends that will support their livelihood on campus till they complete their education.
Over the years, the Association grants scholarships to two students every four years because of resource constraints.
This year, the Association enrolled three needy students selected by the University into their scholarship scheme.
The three beneficiaries of the scholarship are; Miss Faustina Boateng, a BSc Midwifery student, Miss Ruth Anamogsi, a BSc Medical Laboratory Technology student and Lambon Rubbin an Aquaculture and Water Resource Management student.
The Vice-Chancellor, Prof. Mrs. Rita Akosua Dickson emphasized the importance of students' welfare to the sustainable development of the nation.
She also urged other chapters of the alumni to come on board.
"Gladly sell the story to the other chapters and let them all come to KNUST and support.
"Let them come home to assist these young ones, when we are sure of their future then the future of this country and the world is assured," she said.
The President of the Global Association of Alumni, Dr. Kwaku Agbesi expressed the desire of the Association to increase the beneficiaries of the scholarship scheme in the coming years.
"Our target is to be able to support at least 20 students every academic year.
"So that we can be more impactful and support the good work of our Vice Chancellor," he said
On behalf of the beneficiaries, Miss. Faustina Boateng expressed her profound gratitude to the Association and encouraged them to do more for other students.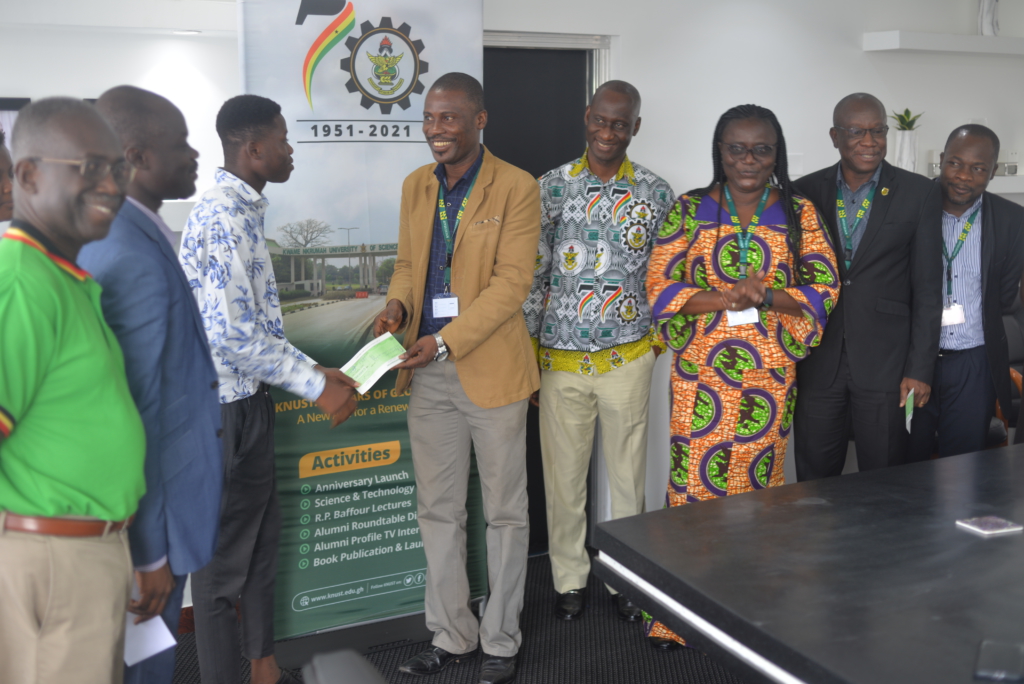 "On behalf of my sister and brother I want to say a very big thank you for what you have done for us.
"God richly bless you and we hope you do more for others. We are really grateful. We were not expecting this. I say thank you so much. Sometimes what to eat becomes a problem.
"Most times we call home for our registration fees and other stuff but to no avail. Sometimes we cry as we pray for help. We also bless God for this opportunity," she said.