Credit Suisse has revealed the scale of the bank run that triggered its state-backed rescue in March.
The Swiss banking giant said 61.2bn Swiss francs (£55.2bn; $68.6bn) left the bank in the first three months of the year.
It came as the lender reported what are expected to be its last-ever financial results.
Its forced sale to rival Swiss bank UBS is expected to be completed soon.
Credit Suisse's flagship wealth management division saw the amount of assets it managed drop to 502.5bn francs at the end of March, almost 29% lower than the same period last year, Credit Suisse said in a statement.
"These outflows have moderated but have not yet reversed as of April 24, 2023," it added.
Credit Suisse clients started pulling money out of the bank after it was caught up in the market turmoil that followed the collapses of Silicon Valley Bank and Signature Bank in the US in March.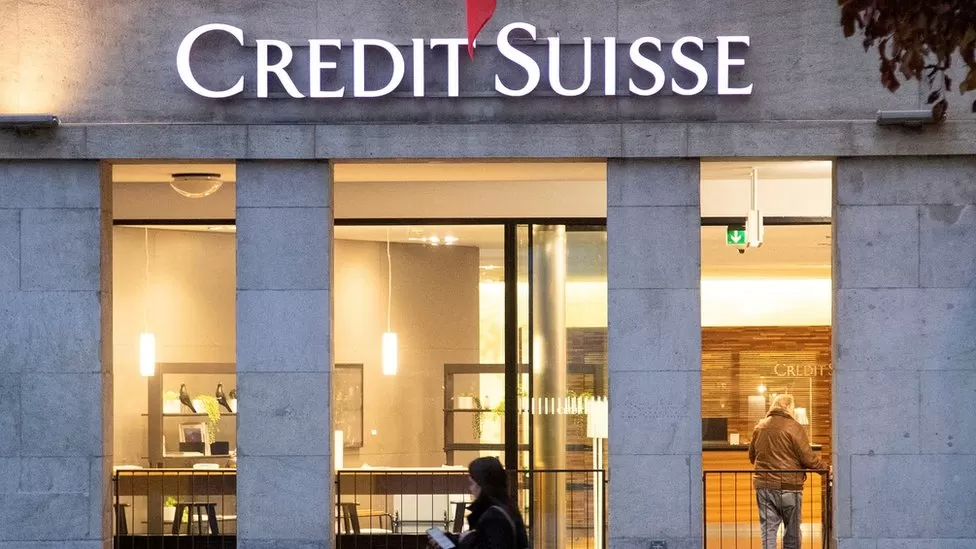 In Switzerland, authorities put together a rescue package for Credit Suisse. It included more than 200bn francs of financial guarantees and saw UBS agree to take over Credit Suisse.
Credit Suisse had been loss-making and had faced a string of problems in recent years, including money laundering charges.
It reported a loss of 7.3bn Swiss francs in 2022 - its worst year since the financial crisis of 2008 - and had warned it did not expect to be profitable until 2024.
Commenting on the latest results, Frances Coppola, an independent banking analyst, told the BBC's Today programme that Credit Suisse had also seen billions withdrawn in the final three months of 2022.
"Then of course this quarter's [withdrawals] came on top of that. And banks don't survive outflows like that, they really don't, however big they are."
Shanti Kelemen, chief investment officer at M&G Wealth Investments, said the given the bank's size, the outflows were "going to be a big number".
"If anything today we've got confirmation of what UBS has bought."
The failure of Silicon Valley Bank and Signature Bank in the US came after the value of assets they held fell sharply as a result of rising interest rates.
Banking shares around the world fell sharply amid worries that other lenders might face similar problems, and investors rushed to pull their money out of the already struggling Credit Suisse.
Since then concerns about other banks have eased, but Ms Coppola said others could still face difficulties.
"I think we are going to see more banking turbulence. Whether it will affect the very big banks like this I don't know."
Swiss prosecutors have opened an investigation into the sudden takeover of Credit Suisse, which was the country's second-largest bank.
The deal has angered taxpayers and shareholders of both banks, who were deprived of a vote on the takeover. Some have also argued it has damaged Switzerland's global reputation as a financial centre.
The deal, when it was announced, valued Credit Suisse at $3.15bn (£2.6bn), whereas on the Friday before the settlement was reached it had been valued at about $8bn.
DISCLAIMER: The Views, Comments, Opinions, Contributions and Statements made by Readers and Contributors on this platform do not necessarily represent the views or policy of Multimedia Group Limited.