Arsene Wenger's post-match press conference was cut short in Munich on Wednesday night as he struggled to explain a "nightmare" 5-1 defeat to Bayern in the Champions League.
The visitors, by Wenger's own admission, suffered a "mental and organisational" meltdown after captain Laurent Koscielny went off injured with the first leg of their last-16 tie standing at 1-1.
Within 14 minutes Bayern were 4-1 up, and a late Thomas Muller fifth means Arsenal now have three weeks of recriminations to endure before a return leg which is essentially a dead rubber.
Wenger fronted up for his media duties, visibly shaken by the latest in a series of poor results that has left a growing number of supporters calling for a change of manager when his contract expires this summer.
But the Frenchman answered just three questions before the club's press officer called a halt.
"It was a strange game because I feel in the first half we played quite well and we had two good chances just before half-time," Wenger said.
"After we got a few blows. The first to lose Koscielny and after to conceded two goals in the 53rd and 56th minutes. Especially on the second goal we were really badly done because it was a corner for us and we had five players in the box and there are two balls on the pitch and they start the game and we conceded the goal.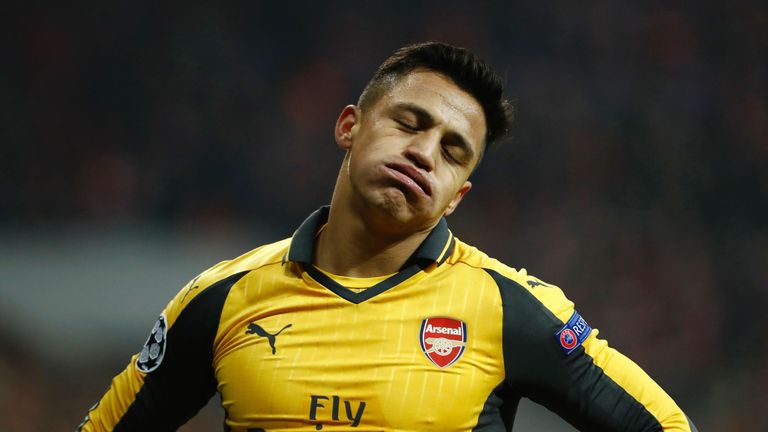 "The real problems we faced came after the third goal because we lost our organisation and we looked mentally jaded. We looked vulnerable from that moment onwards and the last 25 minutes were a nightmare for us because we had no response."
Koscielny's injury came when he over-stretched attempting to make a clearance, and Wenger said: "If you asked me if I'd have loved to keep Laurent Koscielny on the pitch of course and after that it's difficult to measure the real impact.
"The fact is we have to cope with the result. No matter what we say now it will be turned in a way that is detrimental to us because we have had an extremely bad result."
Wenger admitted only a 'miracle' will now spare Arsenal a seventh straight elimination at the last-16 stage, and he said: "We have to analyse that but it looked from the outside that we lost our organisation.
"Not only did we lose our centre-back but after the third goal it was a combination of mental and organisational because before that we controlled them quite well."