Governance think-tank, Alliance for Social Equity and Public Accountability (ASEPA) has requested for a copy of the report on the petition to remove Electoral Commission Chairperson, Jean Mensah from office.
It stated that its impeachment appeal against her was acted upon by the Chief Justice.
In a press statement released on Monday, Mensah Thompson, the Executive Director of the Alliance noted that the report which was submitted to the Presidency thereafter was not attached to the response they received to keep them abreast with the issue.
"In a response to ASEPA dated August 18, 2020, admitted that he acted upon ou petition which was referred to his outfit in accordance with article 146 and a report delivered to the Presidency on July 15, 2020," the statement said.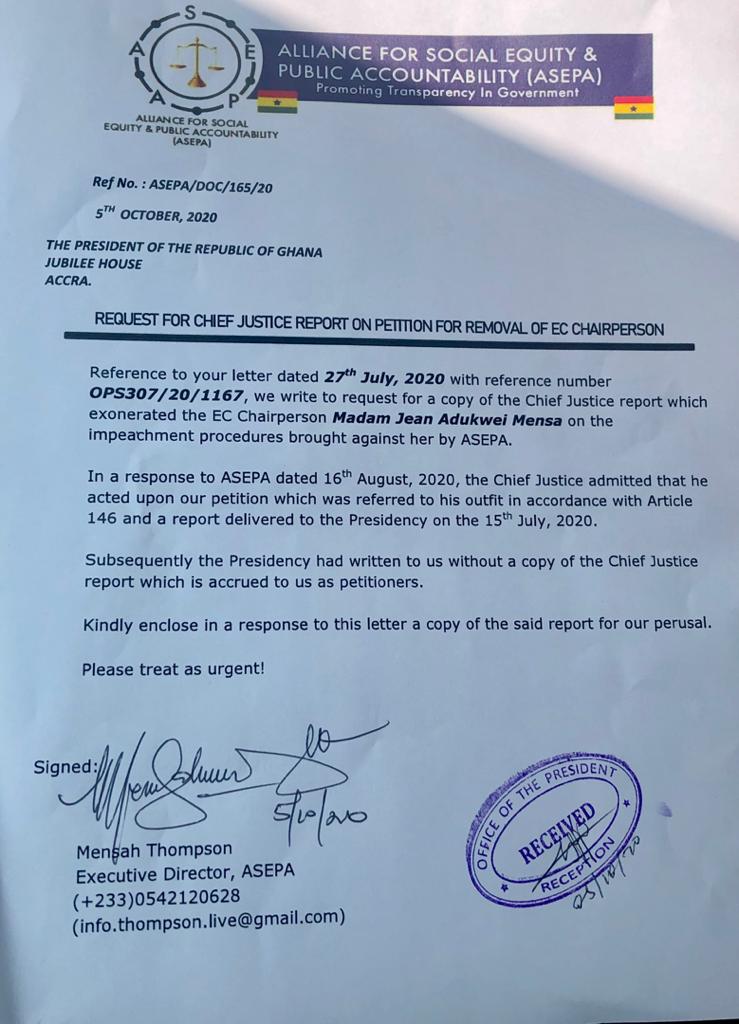 Mr Thompson asked for quick a response to its recent statement which should include the said report.
Meanwhile, the group has demanded a total audit of voters register before elections in December.
In June 2020, they petitioned President Akufo-Addo to remove Jean Mensa as Electoral Commission Chair on the back of her failure to declare her assets on assumption of office in 2018.
ASEPA said it is well aware of the fact that their call came a few months to elections but they asked that the process should be carried out swiftly so Mrs Mensa's replacement can have enough time to adjust before December 7.
However, the President dismissed their appeal because the Chief Justice did not establish any prima facae against the head of the country's elections management body.
In his response, Nana Akufo-Addo indicated that the EC chair has not committed any criminal offence.