The Ghana Medical Association (GMA) has described as misleading, the content of the petition submitted by the Concerned Doctors to government to rescind the mandatory Covid-19 vaccination.
A release co-signed by the President, Dr. Frank Serebour and General Secretary of GMA, Dr. Titus Beyuo indicated that the contents of the petition are not "based on available local and international scientific data."
"In the era of evidence-based medicine, it is unacceptable that professionals will draw such flawed conclusions based on skewed data that has not gone through the rigors of scientific proof," a portion of the statement reads.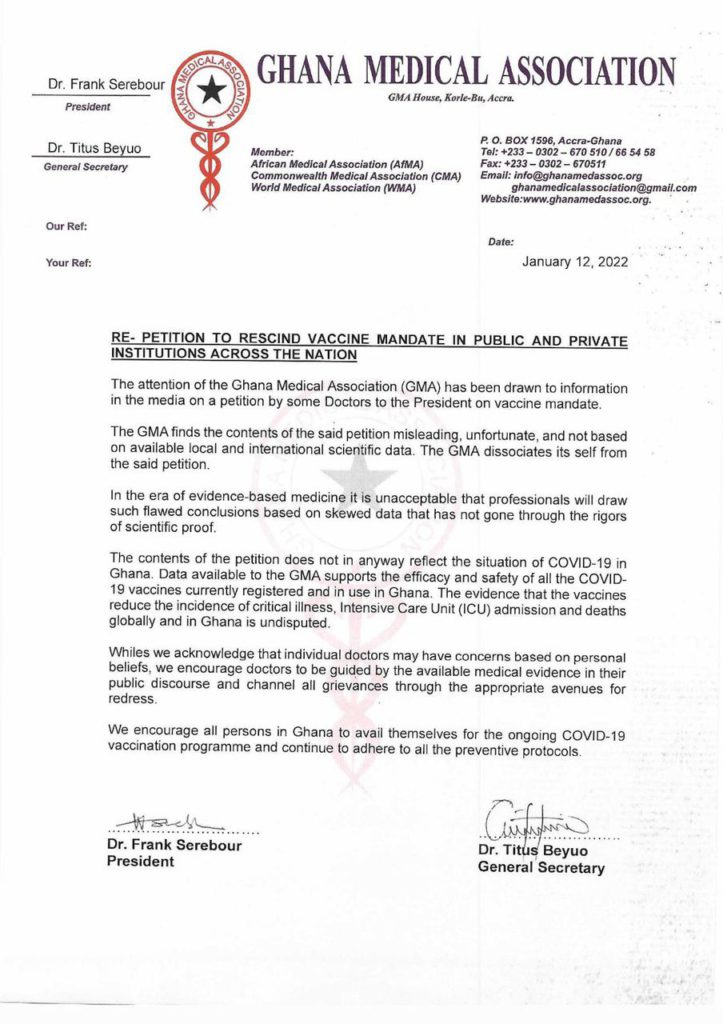 GMA's release comes after a group of highly specialized medical practitioners petitioned government to rescind the mandatory Covid-19 vaccination in the country.
According to the Concerned Ghanaian Doctors, there are potential dangers associated with the vaccines currently being administered in the country, hence their stance against the imposition of the Covid-19 vaccine mandate.
The petition dated January 10 stated that the vaccines do not prevent infection or spread, adding that "recent studies show that the vaccinated are becoming more relevant in the spread of COVID-19."
"Many studies show outbreaks within fully vaccinated populations. Other studies show vaccinated populations as sources for outbreaks. Over the last few months of 2021, the assertion that these COVID vaccines reduce the risk of hospitalization and death has been shown to be inaccurate as well," they added.
But the Ghana Medical Association has dismissed the claims raised in the petition of the Doctors.
According to GMA, the data provided in the petition of the Concerned Doctors "does not, in any way reflect the situation of COVID-19 in Ghana."
"Data available to the GMA supports the efficacy and safety of all the COVID-19 vaccines currently registered and in use in Ghana. The evidence that vaccines reduce the incidence of critical illness. Intensive Care Unit (ICU) admission and deaths globally and in Ghana, is undisputed," GMA's release stated.
GMA, therefore, dissociated itself from the petition of the Concerned Ghanaian Doctors to government.
The association however encouraged doctors to be guided by the available medical evidence in their public discourse and to channel all grievances through the appropriate avenues for redress though "we acknowledge that individual doctors may have concerns based on personal beliefs,"
They also urged "all persons in Ghana to avail themselves for the ongoing COVID-19 vaccination programme and continue to adhere to all the preventive protocols."