Pressure group, Economic Freedom Fighters has sternly rejected government's intention to increase road tows and reintroduce the compulsory towing levy.
According to a statement issued by the group on Thursday, it said the citizenry has already being burdened with enough taxes for government to "smuggle in" another levy.
The group said the levy which was strongly repulsed by Ghanaians in 2017 has not been modified to be accepted by the public.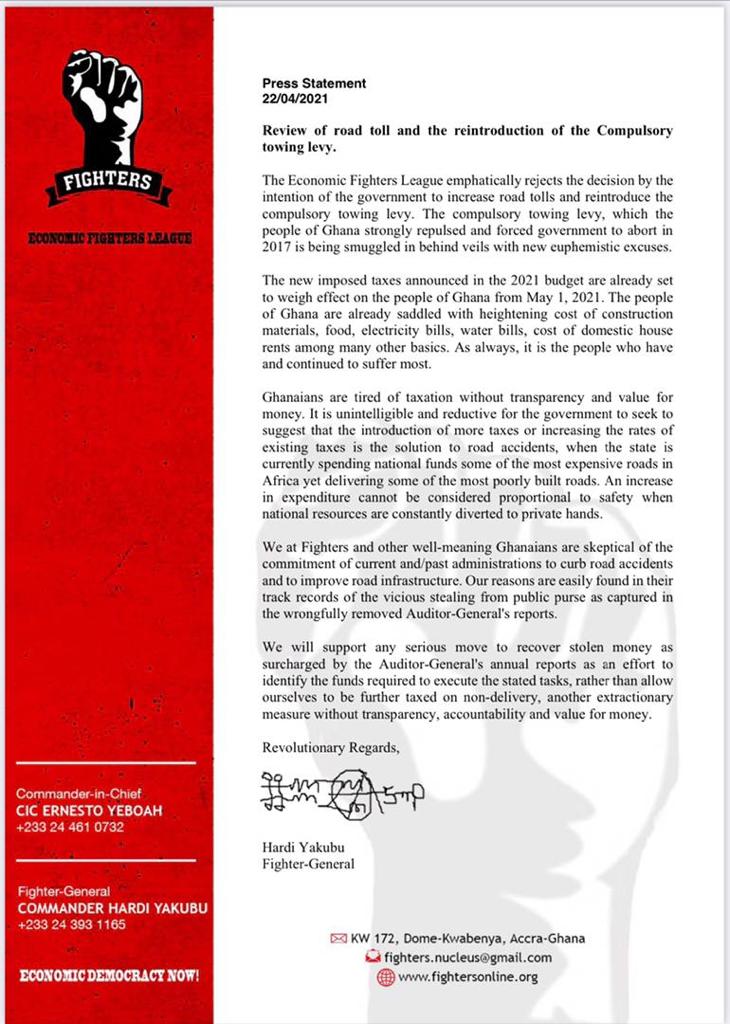 "Ghanaians are tired of taxation without transparency and value for money. It is unintelligible and reductive for the government to seek to suggest that the introduction of more taxes or increasing the rates of existing taxes is the solution to road accidents, when the state is currently spending national funds some of the most expensive roads in Africa yet delivering some of the most poorly built roads.
"An increase in expenditure cannot be considered proportional to safety when national resources are constantly diverted to private hands," the statement read.
The Fighters further cast doubt on government's commitment to curb road carnage.
According to them, past records indicates that both past and incumbent government are "vicious stealing from public purse as captured in the wrongfully removed Auditor-General's reports."
As such, they would only support governments who display the political will to fight graft and not ones who only focused on taking taxes accompanied with non-delivery and lack of transparency, accountability and value for money.
DISCLAIMER: The Views, Comments, Opinions, Contributions and Statements made by Readers and Contributors on this platform do not necessarily represent the views or policy of Multimedia Group Limited.