Ghana Nuts Company Limited, an agro-processing outfit based in Techiman, has donated hand washing as well as sanitation items to the Techiman Municipal Assembly.
General Manager of the Company, Kwadwo Obeng Aboagye, explain the gesture was to augment government effort in providing similar items to fight the threat of the viral disease, coronavirus.
Presenting the items at a brief ceremony, he explained that the gesture forms a critical part of its corporate social responsibility in these difficult times.
"We present these items to show our support to the government in its quest to deal with the threat of coronavirus and to enable the Techiman Municipal Assembly to deal with the many requests of such items by the people in this area," Mr Obeng noted.
He continued, "We have a lot of people coming from Techiman and its enclave working with us, so we are doing a lot as part of our corporate social responsibility to help all of us."
Presentation
The items consisted of 50 each of veronica buckets, washing soaps, hand sanitizers, buckets, tissue papers as well as 50 pieces of dust bins.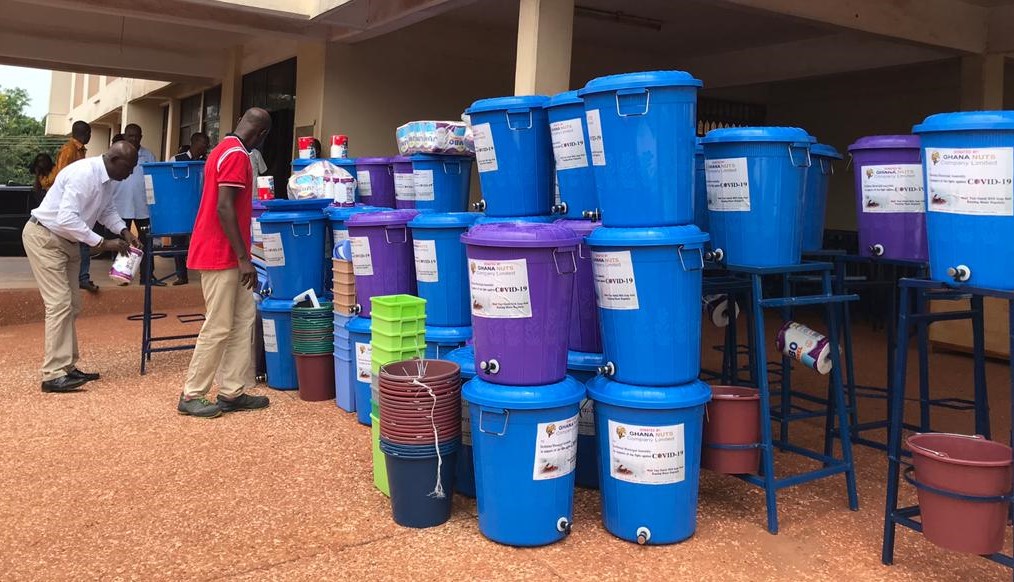 Taking delivery of the items, Municipal Chief Executive (MCE) for Techiman, Hon John Kofi Donyina, expressed his gratitude to the company for the gesture.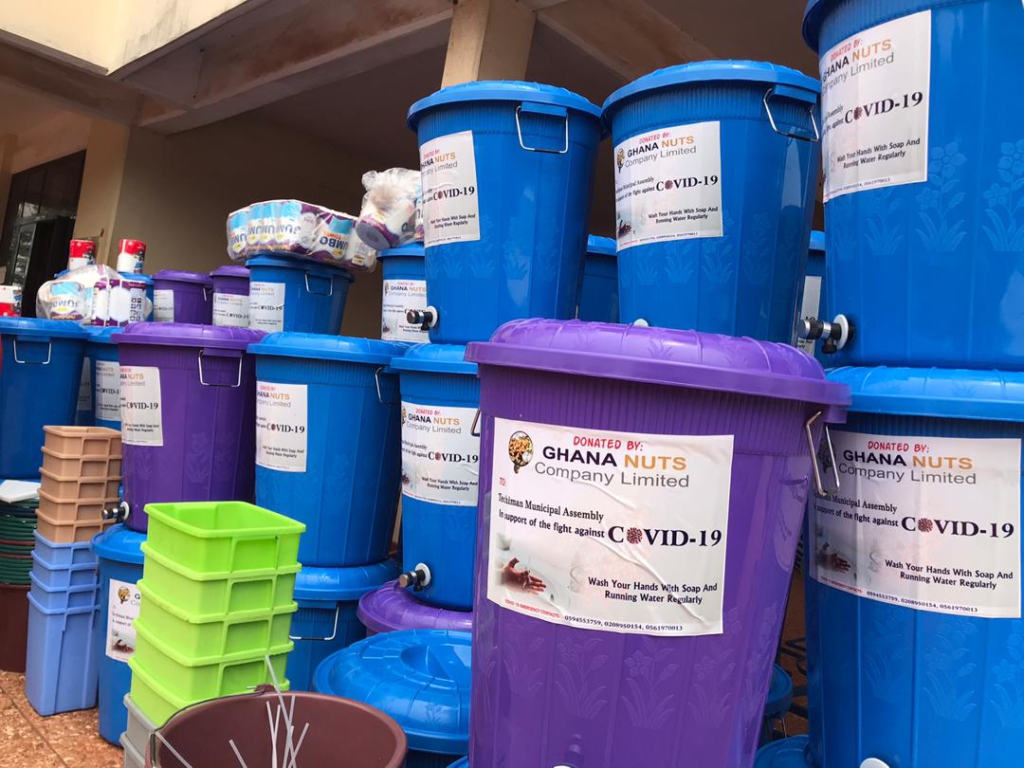 He noted that the donation was timely and would enable the Assembly to resource the communities that do not have such items.
"We are honoured to have this donation from Ghana Nuts Limited and I must say this is a timely gesture because it would enable us provide same to communities that do not have handwashing items.
"I am appealing to the general public to put it into good use. We are appealing to other institutions to emulate what Ghana Nuts Company Limited has done so we can help more people," he said.
Mr Donyina urged other companies that are located within the Techiman enclave to emulate the gesture of Ghana Nuts Company Limited.
He reiterated that such support would enable the Assembly to carry out its outreach programmes effectively as they distribute them to help the people wash their hands properly.
"In term of receiving items in the CORVID-19, this is the largest we have received from any private company. So it is going to help us a lot because of the vast nature of Techiman. This will augment what the assembly has started," he said.
Municipal Health Director, Florence Iddrissa, entreated the public to utilize these items during and after this pandemic as it will go a long way to support the health facilities and the general wellbeing of the people.
"I wish to say that this donation has come at the right time, it is a municipality that is a heterogeneous community with so many entrances even though we are not a border town
We have so many health facilities and markets where we need these veronica buckets to be and so this coming, will help us seal all the holes we were unable to seal when we distributed the first consignment by the assembly."
Background
The Ghana Nuts Company Limited is owned by Mr Obed Asante, a man residents of Techiman and Chiraa describe as a philanthropist and humanitarian.
Committed to many social intervention programmes, the Company last year built a modern block for the Chiraa Health Center and provided same with an ambulance.
Noted for the production of the Akoma Soya bean oil, Ghana Nuts also produces poultry master, a poultry feed made from soya bean.