A lower-than-targeted primary deficit indicates that Ghana's fiscal adjustment is underway, IC Research, the analytical arm of IC Securities has stated.
The country recorded a primary deficit of ¢596 million (0.1% of Gross Domestic Product) in the first quarter of 2023, against the target deficit of ¢4.6 billion (0.6 percent of GDP).
According to IC Research, fiscal adjustment is underway, with the help of expenditure containment.
The revenue and expenditure dynamics revealed that the fiscal adjustment in quarter one of 2023 was largely driven by expenditure controls instead of the revenue-based consolidation envisaged in the 2023 budget.
The Treasury's budget execution for the first 3- months of 2023 showed a lower overall fiscal deficit of ¢6.7 billion (0.8% of GDP) against a target of 2.3% in quarter 1, 2023.
Total revenue and grants in the first quarter of 2023 turned out at ¢26.0 billion (3.3% of GDP), falling short of the target by 0.9% of GDP. Total expenditure amounted to ¢32.7 billion (4.1% of GDP), sufficiently below the target of ¢52.1 billion and supported the faster-than-expected compression in the budget deficit.
"Specifically, we observed a year-on-year fiscal adjustment equivalent to 0.8% of GDP as the primary deficit narrowed to 0.1% of GDP in quarter 1, 2023 compared to the target of -0.6% and outturn of -0.9% in quarter 1, 2022", IC Securities explained.
Furthermore, it said "We attribute the ¢19.4 billion (2.3% of GDP) spending suppression to the impact of the Domestic Debt Exchange (DDE) and the suspension of external debt service".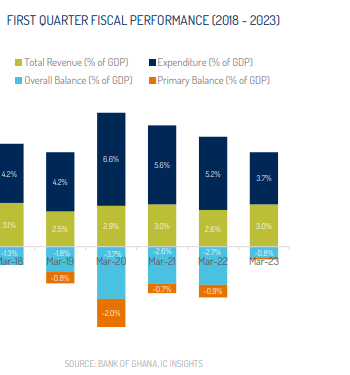 Falling revenue attributed to tax administration challenges
On falling revenue, IC Research attributed it to lingering challenges with tax administration and compliance as well as the softening of economic activity.
"We also believe the adverse impact of the DDE on banks' financial results exerted a negative spillover to tax obligations toward the Treasury. In our view, the weakening economic activity and the medium-term impact of the DDE on banks' financial position will pose a downside risk to the Treasury's plan for a revenue-based fiscal adjustment", it added.
DISCLAIMER: The Views, Comments, Opinions, Contributions and Statements made by Readers and Contributors on this platform do not necessarily represent the views or policy of Multimedia Group Limited.