The Ghana Revenue Authority (GRA) says it will sanction staff and officers who connive with some persons to engage in smuggling activities along the borders of the country.
It follows a JoyNews exposé that revealed how some customs officers aid smugglers to loot over ¢300 million at borders by transporting thousands of gallons of vegetable cooking oil from Togo and Cote d'Ivoire.
In a statement issued on Friday, September 30, the GRA said it has started investigating officers identified in the documentary and will not shy away from imposing appropriate sanctions on such persons.
The Authority said this is part of efforts being made to ensure that all staff work with integrity and high sense of professionalism.
"We also ensure the general public that GRA will not relent in its mandate of protecting [the] country's borders while deterring persons who smuggle goods from and into the country.
"We, therefore, seek this opportunity to reiterate our call for stakeholders (including the media) to make available any information or evidence of smuggling and tax evasion to management to assist in unearthing such activities and sanction those found culpable," the statement said.
It is estimated that the state is losing ¢300 million in taxes every year if the smugglers bring in 5,000 metric tonnes of cooking oil.
The commodities are smuggled from neighbouring countires and dumped across markets in Tamale and Sampa in the Northern and Bono regions, respectively.
The GRA says it has instituted a taskforce to tackle smuggling at border points nationwide as part of measures to achieve the 2022 revenue target.
This taskforce works with officers stationed at various frontier stations to ensure goods entering the country go through proper Customs controls for payment of duties.
"The Customs Division regularly carries out arrests of smugglers, saving the country from unscrupulous persons who seek to evade payment of duties. The Division also continues to identify several unauthorised routes which some persons use in an attempt to bring goods into the country."
Through its Informant Award Scheme, individuals, entities or organisations that offer information leading to the recovery of taxes will be awarded.
Persons with any confidential information are encouraged to call GRA on 0800-900-110 "and we assure them that the information will be treated with utmost confidentiality."
"If the information leads to the recovery of taxes, the informant will receive cash amounts in line with our Informant Policy."
GRA's statement: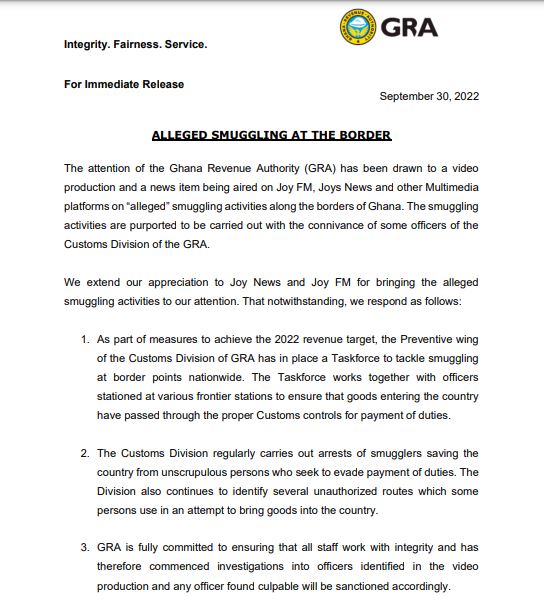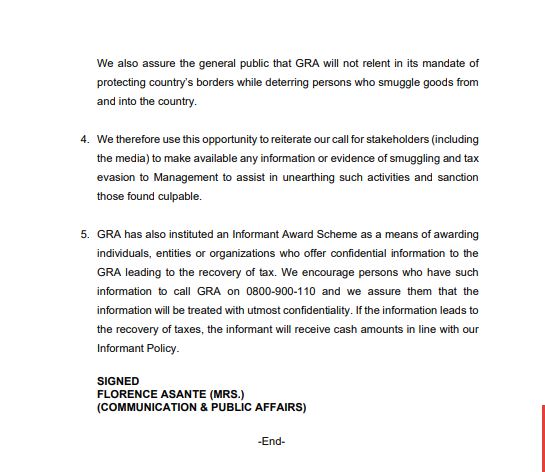 DISCLAIMER: The Views, Comments, Opinions, Contributions and Statements made by Readers and Contributors on this platform do not necessarily represent the views or policy of Multimedia Group Limited.