The New Patriotic Party (NPP) is questioning the credibility of the National Democratic Congress (NDC) presidential candidate to deliver on his campaign promises.
The party says the numerous campaign promises by John Mahama are simply mere charade to rip Ghanaians off their resources if given hhe power.
At a press conference dubbed 'The Youth Must Know Series' held in Abomosu in the Atewa West District of the Eastern Region, the NPP's Eastern Regional Youth Organizer, Jerry Osei-Poku said Mr Mahama's return into power will offer him the opportunity to further loot the state.
He said, "If the incompetent Mahama couldn't pay the feeding grants of schools up north such that schools had to close down for weeks at the beginning of every term, how can he pay 50% fees of tertiary students?"
According to him, John Mahama in his first term as President described himself as a 'dead goat' at a time citizens were complaining about economic difficulty and hardship brought upon them by certain decisions he took.
Mr Osei-Poku stated that Mr Mahama during his time in office time mortgaged Ghana's natural resources to his brother and cronies, doled out inflated contracts to his assignees while teachers, nurses and other civil servants wallowed in hardship.
In his address, Osei-Poku compared the track record of the two parties in education and noted that data available indicates that Mahama's performance in education between the year 2013 to 2016 pales in comparison to the high and enviable record of President Akufo-Addo between the year 2017 to 2019 in the same sector.
Former President Mahama and the NDC in recent times have made promises to make TVET free, pay 50% fees of Tertiary students and a host of mouthwatering promises.
New Senior High Schools, TVET centres under construction
Contrary to claims that the NPP hasn't constructed or established a single school, the NPP has listed seven new SHSs that are currently being constructed under President Akufo-Addo administration.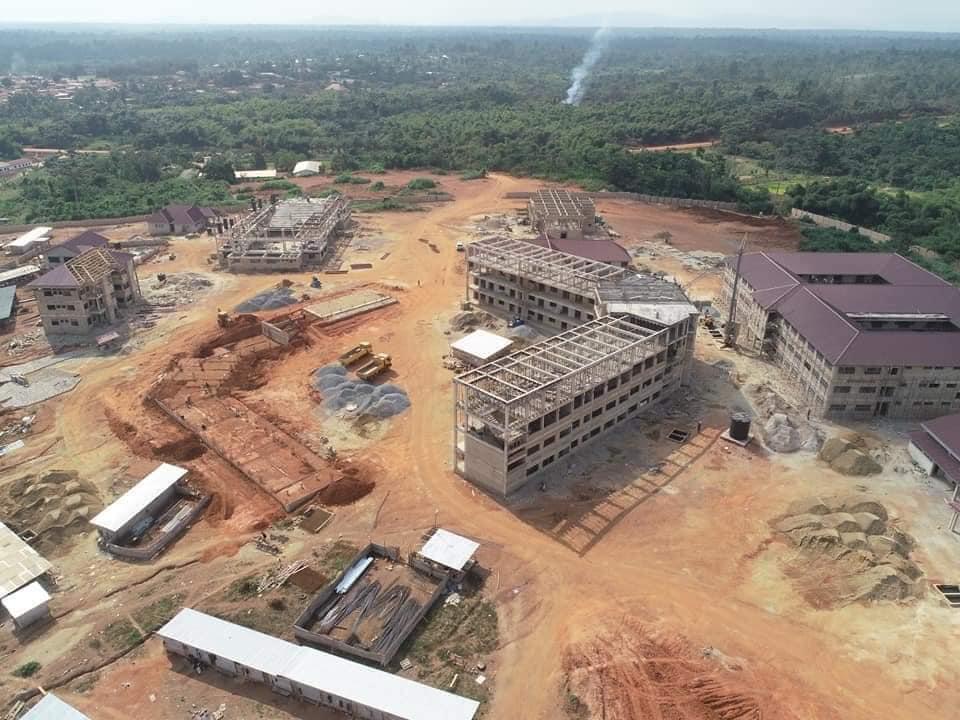 The schools they are reported to have facilities such as administration blocks, dormitory blocks, dining halls, assembly halls, laboratories, creative arts/science blocks, staff accommodation, recreational facilities, roads and external works, and services and maintenance shed among others.
One of such schools is located in Abomosu in the Atewa West District of the Eastern Region.
The rest and additional two existing schools being upgraded to model schools are ongoing in Kwadaso, Dabaa, Akrodie, Koaso in Wenchi, Diaso in the Central Region Weija in Ga South, Kpasenkpe in West Mamprusi District and Awaso in Tarkwa Nsuem.
"Fellow Youth, the government is also constructing 21 sophisticated Technical Vocational Education Training (TVET) Centers of Excellence across the country. One of the TVET centres is situated at Anyinam in the Atewa East District of the Eastern Region," Jerry Osei-Poku stated.
He added that the NDC could not boast of having constructed any such centre with eight years in government.
Recruitment in Education Sector
The NPP says, between January 2017 and December 2019, the government employed a total of 66, 357 teaching and non-teaching staff in the pre-tertiary level.
According to them, financial clearance has been obtained to recruit additional 27,367 teaching and non-teaching staff comprising 16,500 newly qualified teachers, 6,500 graduate teachers, 3,232 replacement staff and 1,135 non- teaching staff.
Jerry added that the aforementioned data sums up to a staggering 93,724 employment by the end of this year for pre-tertiary level while employment at the tertiary level stands around 6,176 since 2017.
"Building on our fulfilled 2016 manifesto promise to accelerate the creation of jobs, the NPP in our 2020 manifesto has solemnly pledged to create more jobs for the teeming Ghanaian Youth. No single qualified and trained teacher will be jobless in our second term as we have done in our first term," he assured.
Debt inherited
Concerning the education sector, Mr Osei-Poku stated that during the first term of the Akufo-Addo governments, all arrears and outstanding bills inherited from the NDC have been cleared.
"In the educational sector, we met huge outstanding bills on key supplies for the education services delivery. There were outstanding bills of approximately ¢31 million on the shambolic Progressively Free SHS policy, ¢9 million on Capitation Grant, ¢4 million on Feeding Grants for special schools, ¢14 million on exercise books for basic schools and ¢4 million on the supply of school uniforms among others," Mr Osei-Poku said.
He added that there has also been a timely release of capitation and feeding grants for special schools.
According to the 'Youth Must Know Series' President Akufo-Addo has in less than 4 years instituted academic interventions and motivation packages for teachers, instituted professional allowance for teachers, abolished Mahama's 3 months' salary arrears policy and clearing 91% of the legacy arrears emanating from same.
They added that the President has developed a system that ensures the timely payment of salaries of newly recruited teachers, restored the book and research allowance and increased it by 200%, established a more efficient and effective new GES promotion process that has led to the promotion of 18,475 teachers in the first half of 2020 among others.
Jerry Osei-Poku said youth in the Eastern Region with support from the party leadership is poised to secure one million votes for president Akufo-Addo in the December polls to do more for Ghana.