Torgbui Dzotepe Duho (Regent of Laklemi-Benibey Stool) of Xavi-Lormnava- Vitor, Torgbui Anni VI, Duria of Xavi-Vinor, Torgbui Ewor Klido III, Torgbui Allega III, Torgbui Klu Agbonu III, Torgbui Dziku III all of Xavi, Torgbui Abofrakuma IV Dufia of Kedzi, Mr. Throne Dzokoto of Gbegbesey-Head of Klutse-Amedeka Family, W O 1 (Rtd) C. K. Ocloo-Accra, Mr. George Agbavor, Mr. Wisdom Ali, Mr. Afortude Deku, Mr. Emmanuel Agbavor, Tsamiga Doe Dzezah, Mr. Agbowotame Duho, Mr. Simon Afanyo Ocloo, Mr. Charles Vivor and entire Ocloo Ziga and allied families of Xavi, Nukunu Welfare Society- Pigfarm, St Theresa of the Child Jesus (37Military Hospital), Rev Fr. (Capt. Rudolf Twumasi Ankra- Parish Priest, St Michael Garrison Catholic Church, Rev Fr. Lt Col Anthony Kofi Kemetse, Ex-WO1 Emmanuel Kofi Amedeka (Widower) and Children, Announce with deep sorrow the sudden death of:
JANET ADJOA AMEDEKA.
Born 24th Dec 1945 – Died 31st March 2020
74years
FUNERAL ARRANGEMENTS
NO WAKE KEEPING
Saturday, 11th July 2020
BURIAL MASS: St Michael Garrison Catholic Church. 37 Military Hospital, near Army Officers Mess at 7:ooam
Burial: Private Burial at Xavi-Lomnava
Final funeral rites will be communicated at a later date
WIDOWER: EX WO1 Emmanuel Kofi Amedeka
CHILDREN
Mrs. Isabella DA'SILVEIRA, Mr. Frank Koku Amedeka-Accra, Mrs. Regina Adjoa Kumadi, Ms. Joycelyn Ursula Shelta-Accra, Mr. Robert Jiagge, Ms. Angelina Sam, Napoleon Cudjoe Senanu Amedeka (deceased), Mrs. Elizabeth Abena Gakpey, Ms., Rose Sedinam Amedeka-Accra, Mr, Francis Forgive Yao Amedeka.
IN-LAWS
Mr. Peter Perry Kumadi, Margaretta Annane, Mr. Victor Sosu Gakpey, Mrs. Aretha Jiagge
GRANDCHILDREN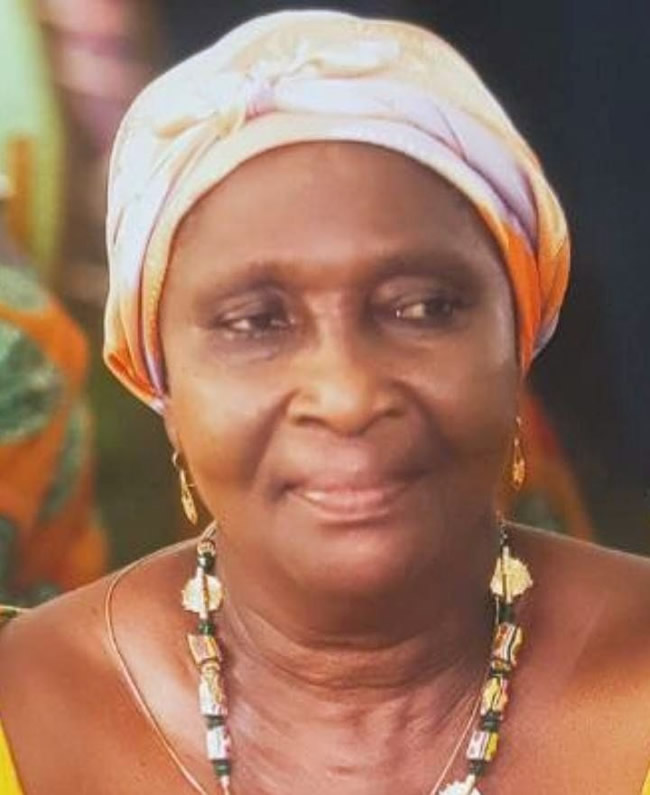 Alexandre Adjie DA' SILVEIRA, Blaise Ajete DA'SILVEIRA, Octave Kpoti Carlos DA'SILVEIRA, Francisca Dzidzor Amedeka, Stephanie Fafali Amedeka, Eugenia Selassi Amedeka, Emmanuella Ambar Amedeka, Charlyn Ama Takyibea Kumadi, Alyson Senam Kumadi, Alysia Seyram Kumadi, Jayne Desiree Danso-Afriyea, Reginald Osafo-Yeboah, Brandon Elikem Jiagge, Philip Selorm Jiagge, Gianna Marie Klenam Van Gakpey, Sienna Catherine Esinam Amedeka.
BROTHERS AND SISTERS
W O I (RTD) C K Ocloo, Mr. Wisdom Ali, Mr. Samson Afanyo Ocloo, Madam Vinolla Maame Ocloo, Madam Agbowugbe Deku, Madam Kporkpor Deku.
NEPHEWS AND NIECES
David Anyana Deku, Emmanual Duho, Mr Isaac Akorta, Madam Afayome Agblar, Lord Samson Duho, Doris Agorsor, Lord Percival Agbavor, Mr Sinpalo Ocloo, Madam Gifty Duho, Edward Batto, Madam Gbeda Adiaba, Geoffery Duho, madam Victoria Ali, Mr Agbewoavi Ali, Agbeko Ali, Hon Mawuli Ocloo, Beauty Ocloo, Mr Amuzu Ziga, Madam Adzo Botto, Mr. Atsiego Deku, Madam Bertha Dzeza, Aku Dzeza, Georgina Yawo Zigli, Robert Ocloo. Esi Welsing and brothers, Charity Afedo and sisters all of Amasaman.
CHIEF MOURNERS
Mr. Fiatowoli Aidam, Mr. Fogah, Mr. Simon Afanyo Ocloo Agboza Bonuedi, Yaotse Dzokoto, Mr. Wisdom Ali, Mr. Afortude Deku, Mr. Emmanuel Agbavor, Tsamiga Doe Dzezah, Mr Agbowotame Duho, Mr. Simon Afanyo Ocloo, Mr. Charles K. Vuvor, Lord Ametepey Agbavor, Amesi family of Atsiavi, Vinolia Maame Ocloo, Vincent Awagaa (Brothers and sisters) Akwatia Yorxor Sablah and sisters, Peter Kofi Ocloo Brothers and Sisters, Mrs. Lucy Aku Tsagli Amedeka (Accra). Mrs. Charity Amedeka Azasime (Adutor), Mrs. Helen Mawukoenya Amedeka Tamakloe (Keta), Miss Georgina Amedeka (Keta). Mr. Enyonam Amedeka (Keta), Miss Evelyn Awushie (Keta), Air Commodore Noble Dzokoto (Rtd), Wing Commander Godson Amerekah (Rtd) (Spintex). Mr. Foster Darku (Deyoungsters International School), Mr. Edward Cudjoe Dzakpasu, Miss Regina Dzifa Amedeka (Keta) Ms. Amelia Amedeka (Accra), Mr Richard Torgbui Amedeka (Ashiaman) Alabasta Eyram Amedeka (Takoradi)