The late General Manager of the Multimedia Group's Joy Brands, Elvis Koku Kwashie, has been laid to rest after a sober funeral at the forecourt of the State House on Saturday.
His mortal remains were interred at his hometown, Asadame in the Volta Region after many who gathered at his funeral, his family and friends struggled to come to terms with his painful loss.
Elvis left behind a wife and three children.
Tributes were read by the deceased's mother, wife, children, Multimedia Group Limited, former President John Mahama, Information Minister Kojo Oppong Nkrumah and the Church of Pentecost, among others.
Tributes
According to the Multimedia Group Limited, Mr Kwashie was an epitome of a great leader who looked out for the welfare of his subordinates to achieve the expected outcome of the brand.
The tribute read by Nana Elegba, Chief Human Resource Manage of the Group noted that Elvis Kwashie's special attributes amongst many other phenomenal characteristics have left an indelible mark in the lives of many.
"Efo Koku will be missed for his professional competence and the unique leadership he provided for the Joy brands.
"He will also be missed for the guidance he provided to many members of the team in their personal and professional lives," Nana Elegba read on Saturday.
Elvis' mother expressed enormous sadness over the loss of her son.
In a touching tribute read on her behalf, Madam Torkornu-Bonuedie thought her firstborn would be the one to read her tribute when God calls her to eternal glory and not the other way round.
"Why should l stand here today reading your tribute when I was of the view that you will gallantly stand beside my coffin to read mine. Koku, l am short of words."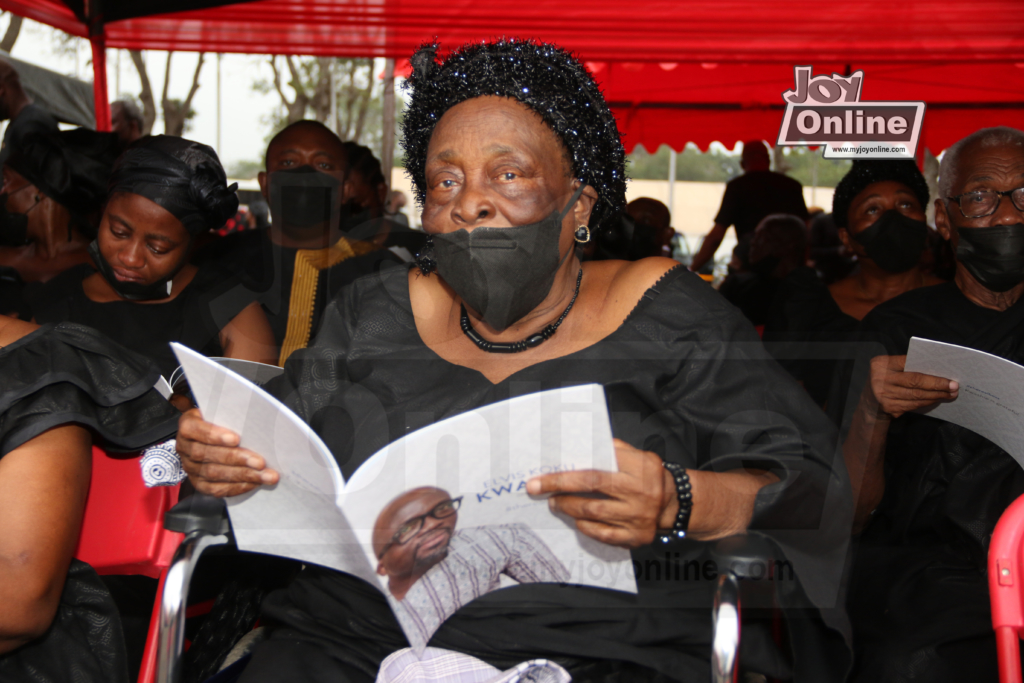 According to the mother, being her firstborn, Fo Koku, as he is called at home, "had all the love and care of his late grandmother."
Acknowledging her ill-health, Madame Torkornu-Bonuedie reminisced about how her late son was a source of encouragement to her, keeping her fit all this while.
Meanwhile, the wife of the late media professional, Cynthia Kwashie, said the consistent support provided by her late husband was "the light of my life" and continues to shine even in his death.
In a heartfelt tribute, the widow described her 19-year-long partner as "my great friend, in fact, my best friend, my source of strength, my intercessor, dependable partner, my teacher, life coach and many more."
"Koku, you were a good father, passionate and consummate professional in your field of work, a great man of God, but to me, you were the husband of my youth, and your ability to combine all these responsibilities effortlessly blows my mind and makes me love you more," she said.
The Mataheko Pentecost Church described their late Elder, Elvis Koku Kwashie's death as a bitter pill to swallow.
In a tribute to 'Captain' as they affectionately called Elvis Kwashie, the Church said they could hardly believe or accept the news of his passing.
"However, in all things, we give thanks to God because He alone knows best," the Church added.
The Church honoured Elvis for the exemplary and instrumental role he played while alive and part of the Ministry.
About Elvis Kwashie
Elvis Kwashie was a seasoned professional with more than two decades of experience in media and communications, spanning print, online, radio and television.
Before rejoining the Group in 2010 as News Editor, Elvis worked with Metropolitan Life Insurance Ghana as the Head of Corporate Marketing & Communications.
Before that, he worked mainly as a journalist with the Multimedia Group Limited, Network Herald and Groove FM.
He had rich experience in recruiting, grooming, coaching and supervising reporters and correspondents across the country. Under his strong leadership, JoyNews has won more than 100 awards in the last 10 years, including two CNN African Journalist of the Year awards.
Having secured his journalism training at the Ghana Institute of Journalism, Mr Kwashie also pursued further studies, acquiring a certificate in Multimedia & Online Journalism from the International Institute of Journalism, Berlin-Germany.
While at MGL, Elvis Kwashie undertook courses in leadership at Harvard University in the United States.