Gladiators Cycling club's Lawrence Adjei was the winner of the 2022 edition of the PruRide urban cycling event, which happened in Accra on Sunday, September 11.
The annual event, which is sponsored by Prudential Life Insurance in collaboration with Carbon AV and the Ghana Cycling Federation, took place at the Black Star Square.
Adjei beat Anthony Boakye Dankwa Boafo to clinch the top position after 19 laps to clear a 99.7km.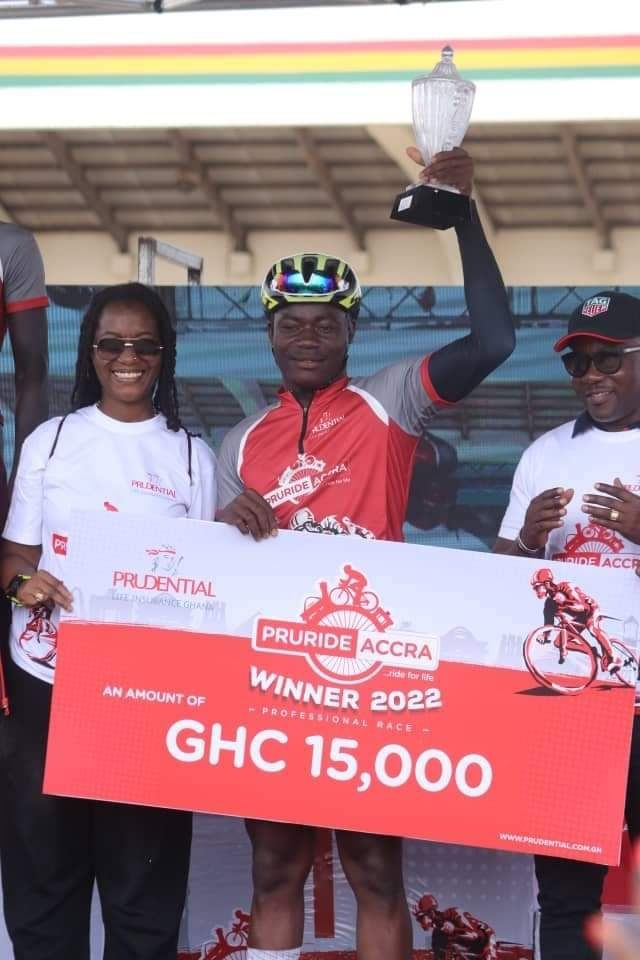 73 players registered for this year's event and began at an average speed of 40.55km/hr, with the race lasting 2 hours 28 minutes and 8 seconds.
Adjei went past Boakye in an iota of a microsecond to win the race in a shared time of 2 hours, 27 minutes and 32 seconds.
With Adjei finishing first, Boakye came second while Frank Akuffo Awuku of the Team Boss Tribe took the third spot with a time of 2:27:42.
In the women's category of a 51km hurdle, there were eight riders who took part in the event with Nigerian powerhouse, Send Lovina Ukpesera taking first place while Elena Hill (Gladiators Cycling) and Clementina Ayoung (Team FCG) came in second and third respectively.
CEO of Prudential Life Ghana, Hazel Berrard Amoah, stressed the importance of healthy activities such as cycling on the mental well-being and pledged her company's continued support of the sport in coming years.
PruRide Accra 2022 was the third edition of the competition, featuring amateur (19km) and professional (99.7km) cycling categories.
In all three editions, Joy Sports has been the principal media partner.