The maiden LUV FM KIDDY QUIZ was a huge success on radio, with lots of excitement and learning opportunity for hundreds of families.
The leading urban radio channel in Ashanti is back with an improved 2021 edition of the Kiddy Quiz.
Last year's edition started with 40 children and later pruned to 16 after the auditioning.
The 1/16 stage of the Kiddy Quiz which has already gathered so much enthusiasm will be rolled out live on The Multimedia Group platforms; Luv 99.5 FM, the Joy Learning on JoyPrime and all social media platforms February 20 to March 8, 2021.
Participation
The second edition of the Luv Fm Kiddy Quiz would be school-based, with a target of about 50 schools to be pruned down to 16 through a special audition for the main competition.
Online registration for schools is currently ongoing and auditions are slated for the 12th and 13th February 2021.
Head of Events and Promotions at Luv Fm, James Alfred Hemans, says with schools now in session, the event will be bigger and more exciting.
"The maiden edition witnessed just one kid as a contestant representing his family and school. However, this year, schools will be made to present four contestants with two representing the school at a time," he said.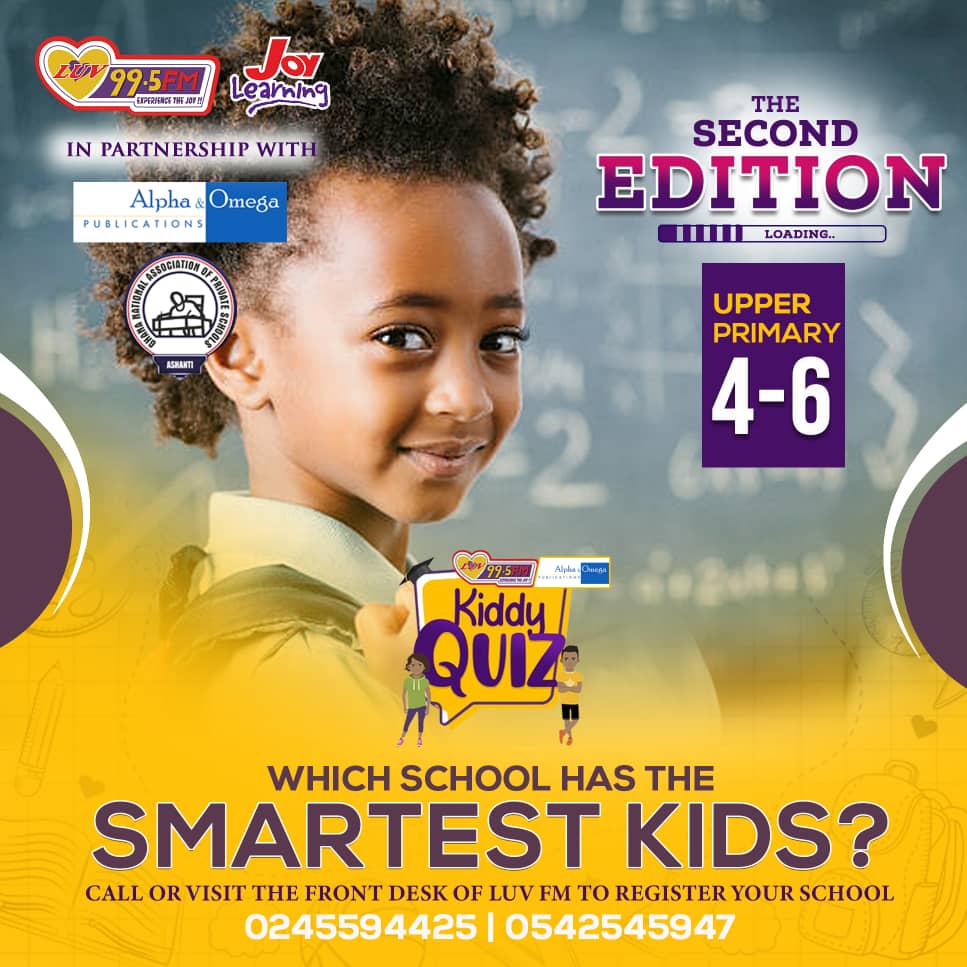 Coverage
This year's edition is earmarked to enjoy an extensive coverage with keen collaboration with team MULTI TV to cover the main contest Live on the Joy Learning channel from the prelims to the finals.
The event will stream live from the new Luv Fm virtual studio in Kumasi to effectively manage the numbers and strictly observe Covid-19 safety protocols.
The LUV FM KIDDY QUIZ is an exclusive quiz targeting school-going kids at the upper primary level, between the ages of 10 and 13 years.
It is a regular quiz show which tests the intelligence of kids in basic questions from the three core subject areas – English, Mathematics and Science – with a touch of general knowledge covering basic history, politics, tradition and culture.
Expect more Fun
It was a clash of wits, confidence, knowledge and resilience as primary school children dazzled listeners of Luv 99.5 Fm in its first-ever quiz for children in the upper primary in 2020.
Organised at a time when schools had been closed due to the covid-19 pandemic, the platform gave parents and children an opportunity to learn and have fun.
The contest followed a single elimination method, where contestants got kicked out in a single contest. The event travelled from 1/16 to the quarter finals, semis and the final.
Master Russel Tom Tottoe, a primary five pupil of Martyrs of Uganda, faced-off with Miss Mary-Ann Odoom Primary six, Gloryvel School.
Mary-Ann Odoom gained 68 points against Russel Tottoe who scored 65 points to be crowned the winner of the 1st Edition.
Organisers are promising a bigger event in the second edition.