Casual or ceremonial, this couple continually define decadence when it comes to couple dressing.
Their stream of style is endless, so in celebration of Jonas' 28th birthday, here are our ten favourite looks (and the style lessons to learn) to brighten your September…
Prioritize a pop of bright colour
When: 30 August 2019

Why it works: Sure, we love a classic colour combination, but it's good to experiment with pops of colour and this couple are a brilliant point of call. Stepping out in New York last year, Chopra's checked green dress was the perfect complement to Jonas' distressed blue shirt and with matching white shoes, the overall result was clear: bright, fun and full of optimism.
AKA: exactly what shared style should be.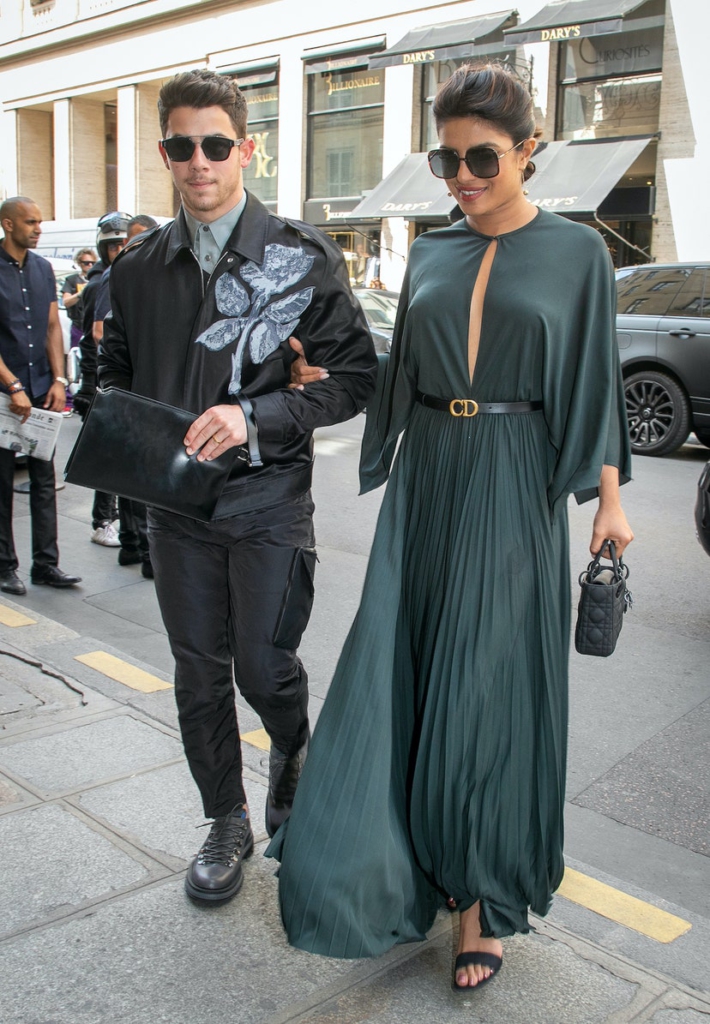 Stick to jet-black shades
When: 1 July 2019

Why it works: This couple always excel in the accessories department.
Case in point: their arrival to a Dior show in Paris last year, for which their earthy (and certainly formal) outfits were finished with a bunch of belts, bags and sunglasses.
We're into those shades here especially: both Jonas and Chopra opted for bold, jet-black designs that brought a serious amount of sharpness to their elegant ensembles.
Invest in some sunglasses of a similar style for an instant uplift to your outfits.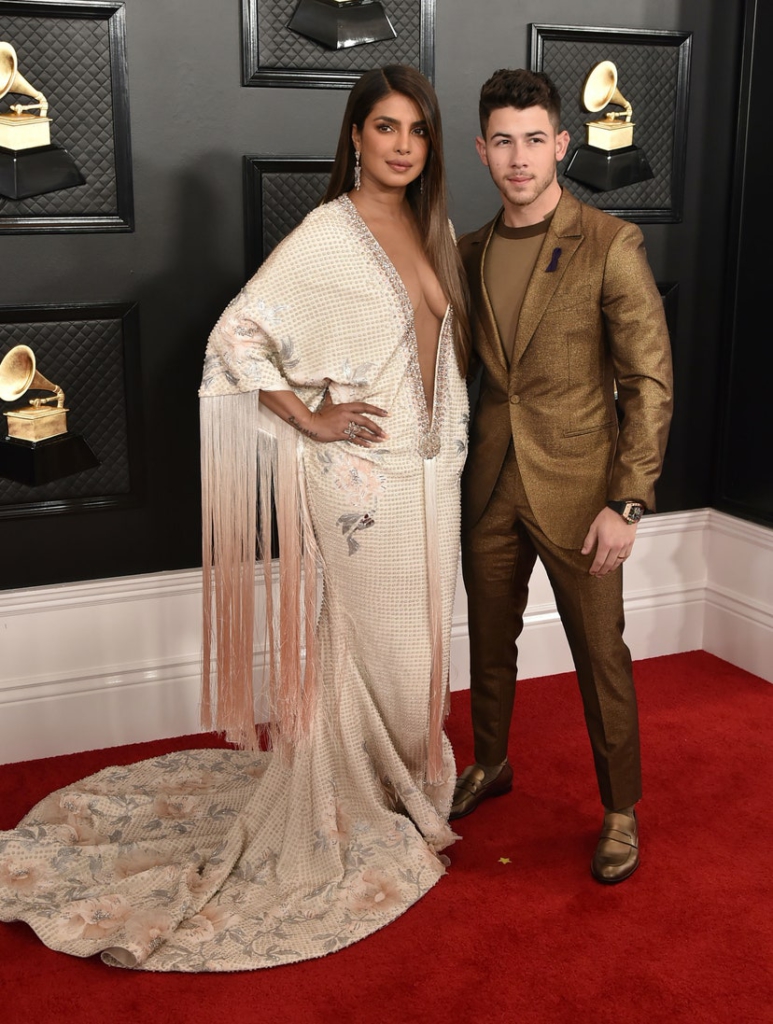 Go for gold (literally)
When: 26 January 2020
Why it works: How to show the golden status of your relationship? Through literal gold tones.
Rocking up to the 62nd Annual Grammy Awards in Los Angeles earlier this year, Chopra and Jonas showed that regal style is all you really need to win the couple dressing game.
Chopra opted for a heavily embellished, fringe-complete gown, while Jonas braved a sparkling, single-breasted gold suit.
If a socially distanced formal event sits on your calendar this December, you know who to turn to for inspiration.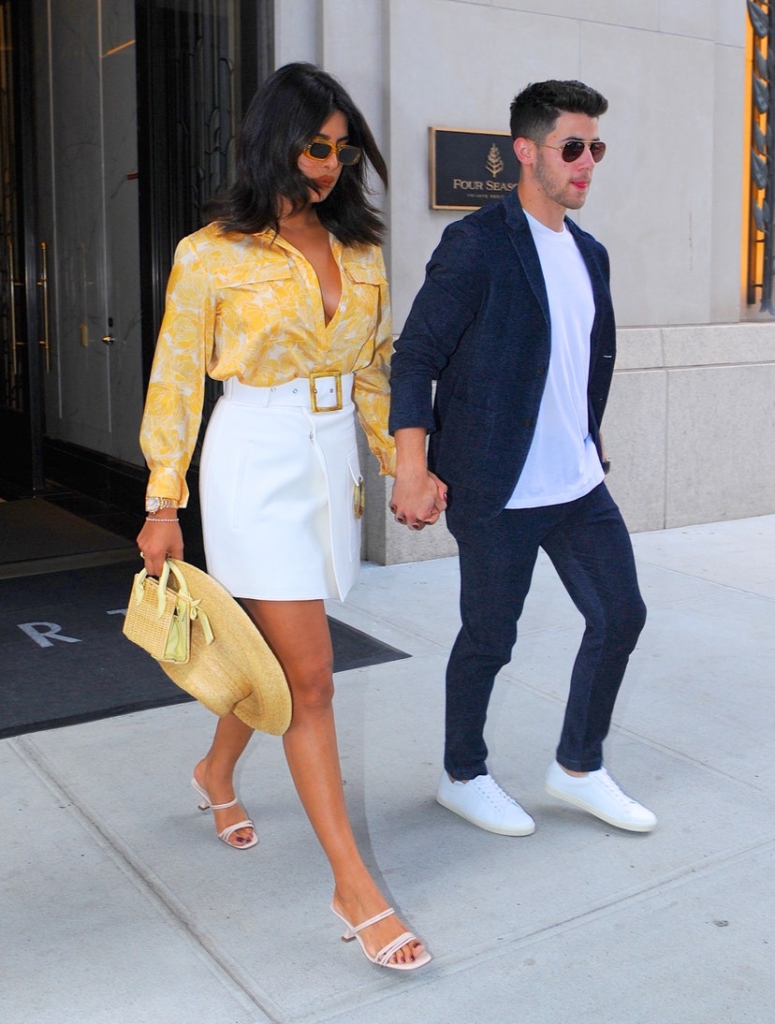 Combine your textures
When: 1 September 2019

Why it works: When in doubt, turn to the essentials section of your wardrobe.
That's what Chopra and Jonas often do and, let us tell you, it always works.
For this outing late last year, white was a running thread, cladding Chopra's simple buckle skirt, Jonas' crewneck tee and, of course, his simple white tennis trainers.
In short, you can always rely on the basics to see you through any occasion, be it an afternoon outing or an evening soirée.
Frankly, this look above works at any hour of the day.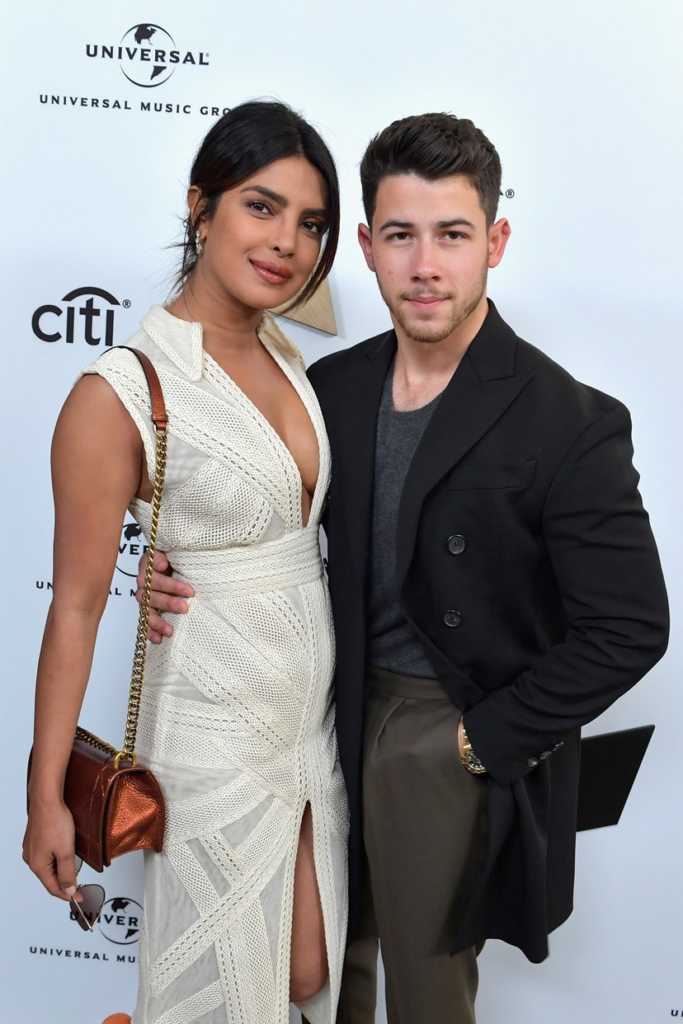 Combine your textures
When: 9 February 2019

Why it works: Searching for couple inspiration this Autumn? This is the shared look you need to emulate, for two reasons. One: it sticks to minimal tones. Two: it hits a broad variety of textures.
Chopra's embossed cream dress mixes well with Jonas' sharp black coat and khaki trousers.
Keep the accessories and finishing touches to a minimum; refined elegance leads the way here.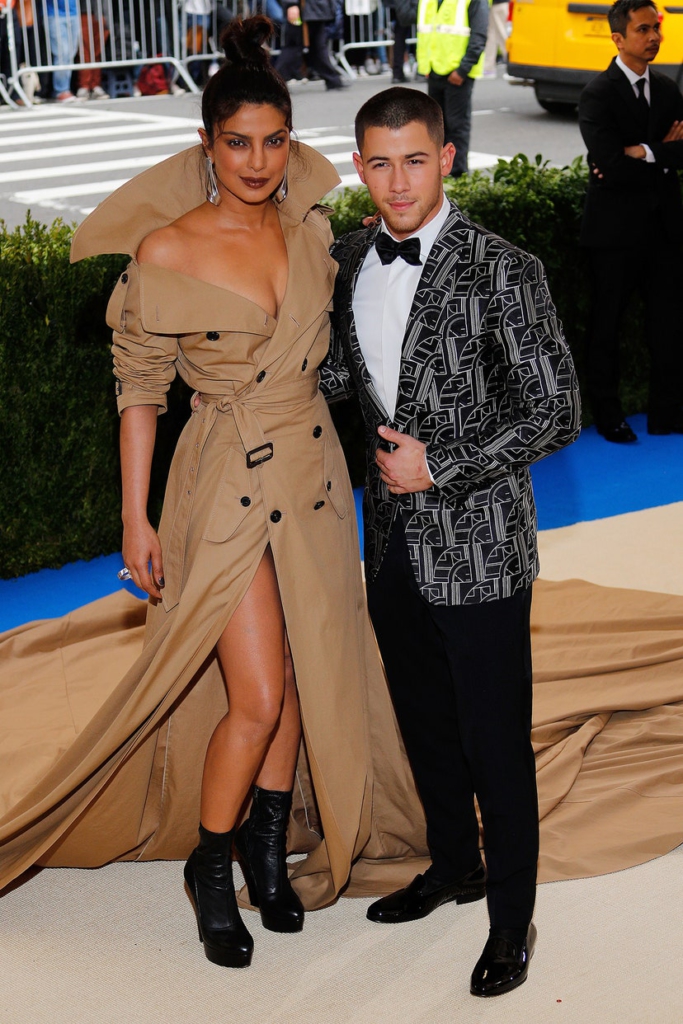 Statement outerwear is key
When: 1 May 2017

Why it works: When our couple of the week turned up to the Met Gala in 2017, heads turned.
That was largely down to Chopra's show-stopping trench-coat dress, but Jonas' art deco-style blazer steals just as much attention.
It was a look that proves they are equally bold, through her (highly) unconventional take on formal dressing and his alternative choice of print.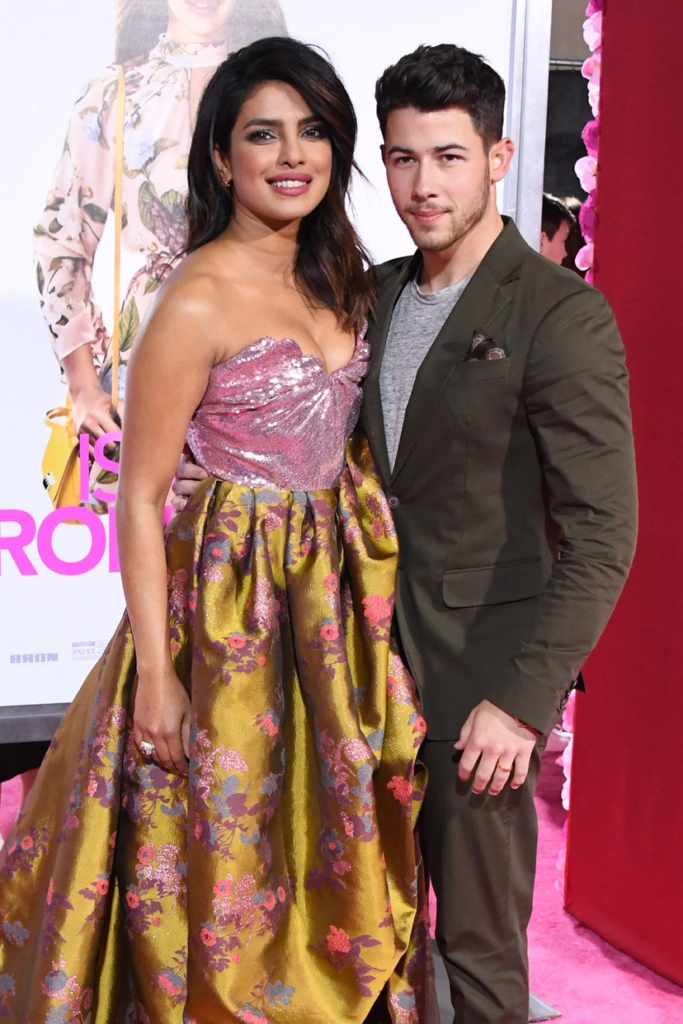 Keep it romantic
When: 11 February 2019

Why it works: Florals? For spring? Not exactly groundbreaking. But if you're going to style them with as much sophistication as Chopra, you'll receive a seal of approval from pretty much everyone.
This dual arrival to the Isn't It Romantic premiere fitted the film's themes; pinks and florals speak of love, optimism and a blooming relationship.
Women: wear satin, ideally in these regal shades. Men: you can never go wrong with a khaki suit and subtly matching the floral theme of your beau through a pocket square.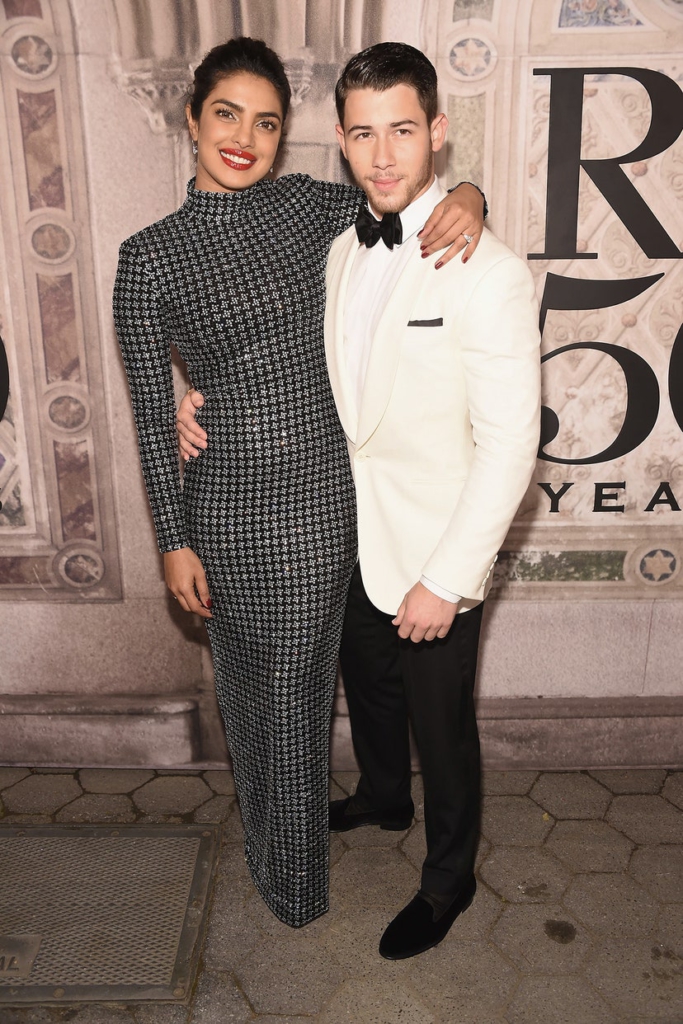 A timeless theme always works
When: 7 September 2018

Why it works: Less is always more. The first tip to take from this look: stick to sharp structures on top.
The second: for a modern approach to elegance, the winning codes are always black, white and copious glamour. Ladies: opt for a studded, floor-length dress like Chopra.
Gents: a black-and-white suit works wonders, especially when it's finished with a velvet bow tie.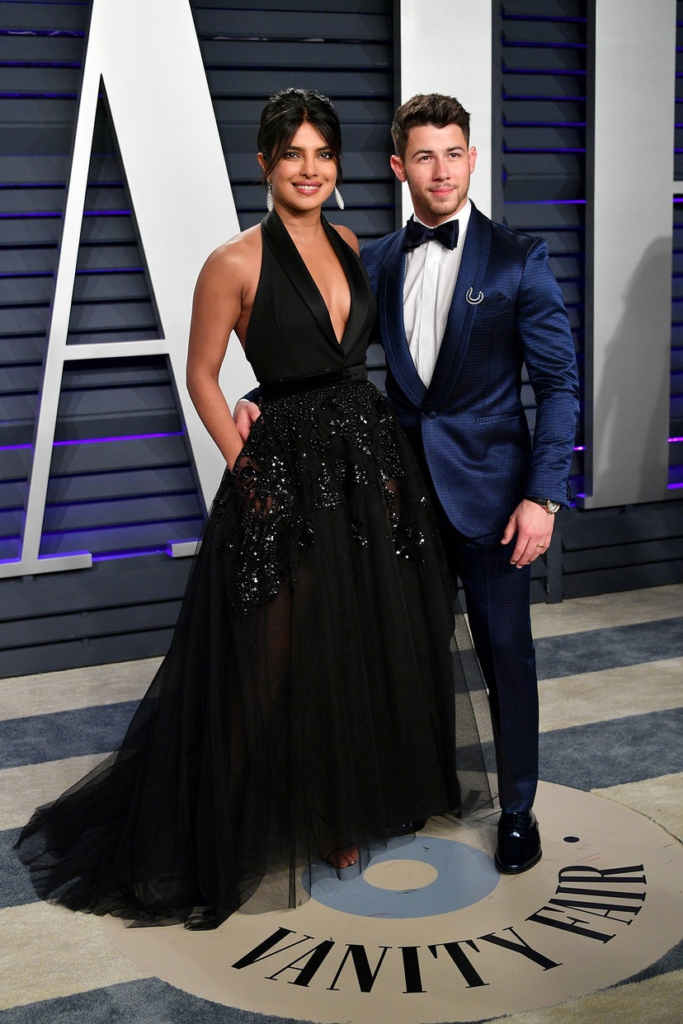 Share a lapel statement
When: 24 February 2019

Why it works: Upon arrival to this year's Vanity Fair Oscars party, Jonas and Chopra emitted sophistication.
That was largely down to their shared lapels: both tailored the classic tux structure to their personal preferences and the result was a couple look we want to re-create.
The tip to take is simple; tailored top halves aren't just for men. To communicate star-studded status, embellishment goes a long way, as do those earrings Chopra's wearing.