OccupyGhana, a Civil Society Organisation (CSO), has demanded a Commission of Inquiry into return of state lands to "pre-acquisition owners."
The Organisation in a release stated, "we (OccupyGhana) think that, in accordance with Article 278 of the Constitution, the President should be satisfied, or the Council of State should advise, or Parliament should request, that a Commission of Inquiry be appointed. The people of Ghana need to be informed of ALL return of state lands to "pre-acquisition owners" since the Fourth Republican Constitution came into being on 7 January, 1993."
They added that "there is no better way of doing this than by establishing a Commission of Inquiry appointed under Chapter 23 of the Constitution, with "the powers, rights and privileges of the High Court or a Justice of the High Court at a trial" specified in Article 279."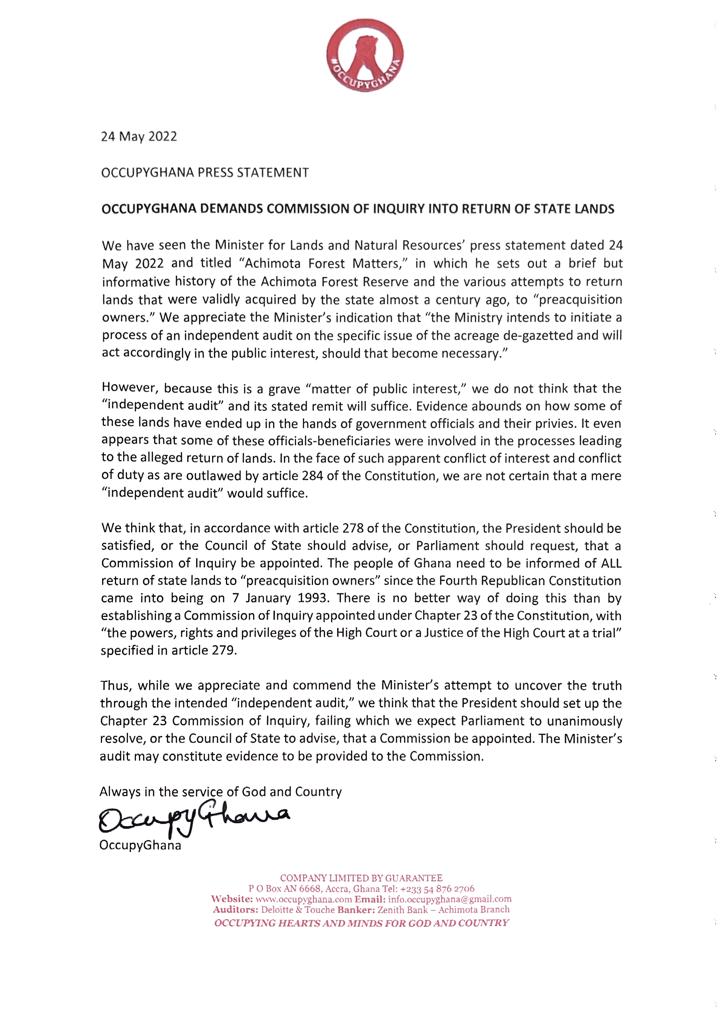 According to OccupyGhana, although they appreciate and commend the move by the Lands Minister, Samuel Abu Jinapor to set up an "independent audit on the specific issue of the acreage de-gazetted, we do not think that the "independent audit" and its stated remit will suffice."
This, they explained, is because the issue is "a grave matter of public interest."
"Evidence abounds on how some of these lands have ended up in the hands of government officials and their privies. It even appears that some of these officials-beneficiaries were involved in the processes leading to the alleged return of lands. In the face of such apparent conflict of interest and conflict of duty as are outlawed by Article 284 of the Constitution, we are not certain that a mere "independent audit" would suffice," parts of the release dated May 24, 2022 indicated.
Background
Last week, the President signed an Executive Instrument to declassify the Achimota Forest. The Instrument gazetted on behalf of President Akufo-Addo by the Lands Minister, Samuel Abdulai Jinapor, stipulated that effective May 1, 2022, the land on which the Forest is located shall cease to be a forest reserve, pursuant to Section 19 of the Forest Act, 1927 (CAP. 157).
The cessation, per that document, was to be effective on May 1, 2022.
However, the Minister of Lands and Natural Resources, Samuel Abu Jinapor, has said the government is not selling the land.
According to him, plans are rather afoot to upgrade the Achimota Forest into a world-class asset.
Addressing the press on Tuesday, May 17, the sector Minister emphasised that widespread reports about the supposed sale of the Forest are false and baseless, as government has no such plans.
"The government intends to enrich the Achimota forest, revamp it and hopefully in the not too distant future, transform it into the likes of High Park of London and Central Park of New York, where Ghanaians can go and enjoy the beauty of nature and forest reserve as it happens in other parts of the world".
DISCLAIMER: The Views, Comments, Opinions, Contributions and Statements made by Readers and Contributors on this platform do not necessarily represent the views or policy of Multimedia Group Limited.