A pressure group, OccupyGhana has requested the Supreme Court to provide an update on the lawsuit that sought to demand an interpretation of the powers of the Auditor-General.
Occupy Ghana has written to the Supreme Court in recent months but has received no response, prompting the rejoinder.
OccupyGhana's follow up on the Suit No J1/02/2019 came after its lawyers indicated to them that the Supreme Court has "not responded to that letter (the amicus brief). Neither have they been notified of any scheduled hearing dates."
"We refer to the letter from our lawyers, Sory@law to you dated 20 May 2022 on the above matter – Wilberforce Mensah v Auditor-General and others (enclosed), in which we filed an amicus brief with leave of the Honourable Court on 26 October 2020. That letter enquired from you the status of the matter, and requested an update on the next hearing," portions of the letter read.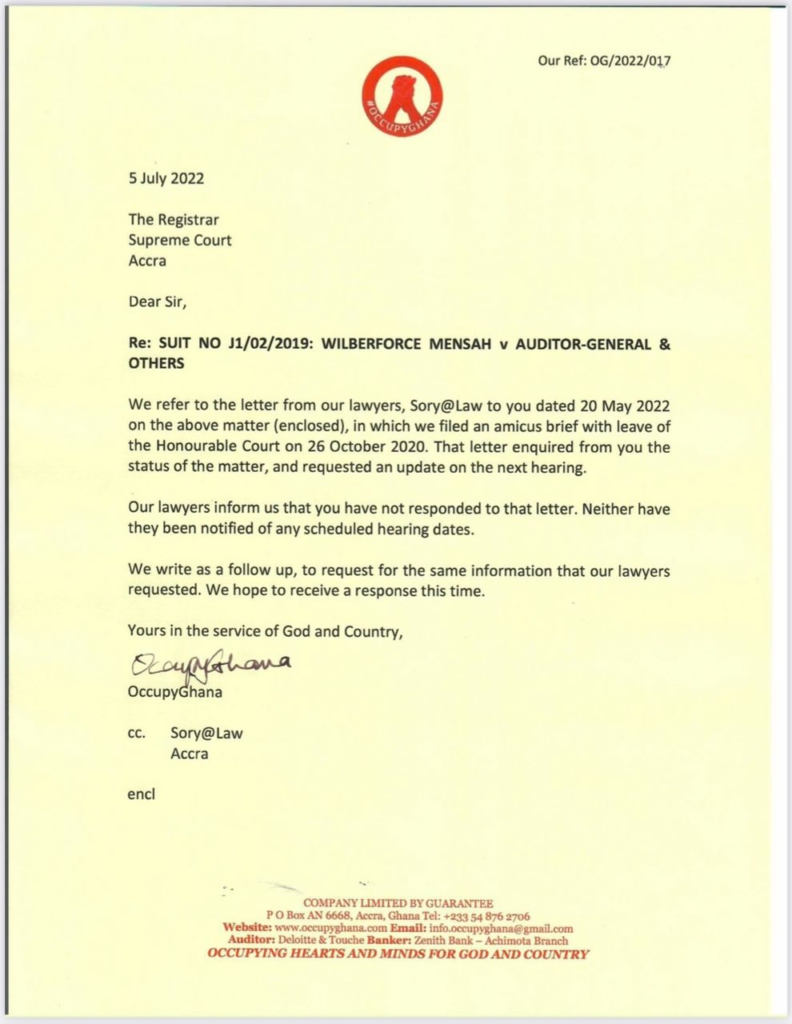 "We write as a follow up, to request for the same information that our lawyers requested. We hope to receive a response this time," OccupyGhana stated.
Background
Lawyer Isaac Wilberforce Mensah filed a Supreme Court petition in 2019 against the Auditor-General and the Audit Service Board, arguing that the Auditor-General is limited to his audit functions and activities that are necessarily incidental to those functions.
He also claimed that the appointment of Audit Service officers and other employees is "the sole and exclusive responsibility of the Audit Service Board," with no interference from the Auditor-General.
In October 2020, the Court allowed OccupyGhana to join the suit challenging the extent of the Auditor-General's independence and powers.
The Audit Service Board, the Attorney-General and the Minister of Justice were joined to the case at the Supreme Court.