A concert by Sting will reopen the Bataclan hall in Paris for the first time since 90 people were killed by jihadists from so-called Islamic State.
Scores of survivors are expected to attend the concert, which is being held on the eve of the first anniversary of France's bloodiest terror attack.
Organisers said they decided to reopen the famed Paris concert venue to prevent it becoming a "tomb".
Sting will donate the proceeds from the concert to two victims' charities.
The Bataclan was the last place the militants targeted on Friday, 13 November 2015.
The co-ordinated attack had already struck the Stade de France and restaurants filled with people enjoying their evening.
The 130 people who lost their lives that night will be remembered in a series of low-key events over the weekend.
But the concert at the Bataclan, where about 1,500 people had been watching American band Eagles of Death Metal when the gunmen burst in last year, is one of the most symbolic.
Jules Frutos, who has co-run the venue for the last 12 years, told AFP news agency: "We had to go on after such horror and not leave a mausoleum, a tomb."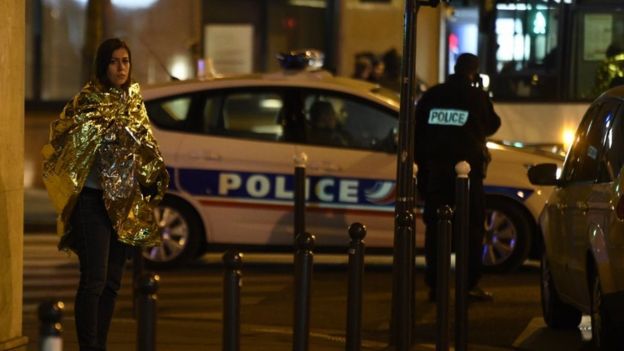 Image copyrightGETTY IMAGES
Image captionA survivor after the attack – the deadliest in France
Mr Frutos contacted British rocker Sting, who first performed at the Bataclan in 1978, about the concert after reading he wanted to help.
Sting says he hopes the concert will "respect the memory as well as the life affirming spirit of those who fell".
The 1,000 tickets on offer for the concert sold out within 30 minutes of going on sale.
Hundreds of tickets were held for survivors, and there will be psychologists and counsellors on stand-by for anyone who needs.
"The whole world is going to see the Bataclan live again," Jerome Langlet, of the venue's owners Lagardere Live Entertainment, added.
The concert venue will be closed on Sunday, the actual anniversary, when a plaque is due to be unveiled in memory of those who lost their lives.
The Bataclan, the interior of which has been completely replaced, is opening again on Wednesday for a series of concerts by British singer Pete Doherty, Senegalese star Youssou N'Dour and British Sixties legend Marianne Faithfull.