Each spring watch collectors descend in a frenzy on the "rare and important" timepiece auctions taking place in Geneva. This May they're drooling a bit more than usual over Philips' special sale on May 14, "Start-stop, Reset: Epic Stainless Steel Chronographs."
The auction will present chronographs produced by the most prestigious watch manufacturers of the last century, including Rolex, Patek Philippe, Breitling, and Omega — that's on top of Phillips' regularly scheduled Geneva watch sale the next day.
Of course, Sotheby's and Christie's are also staging their usual auctions loaded with highly-coveted investment grade watches, several of which are making their first appearance in public. Among the items of note are a number of pieces with fascinating military and motorsports provenance.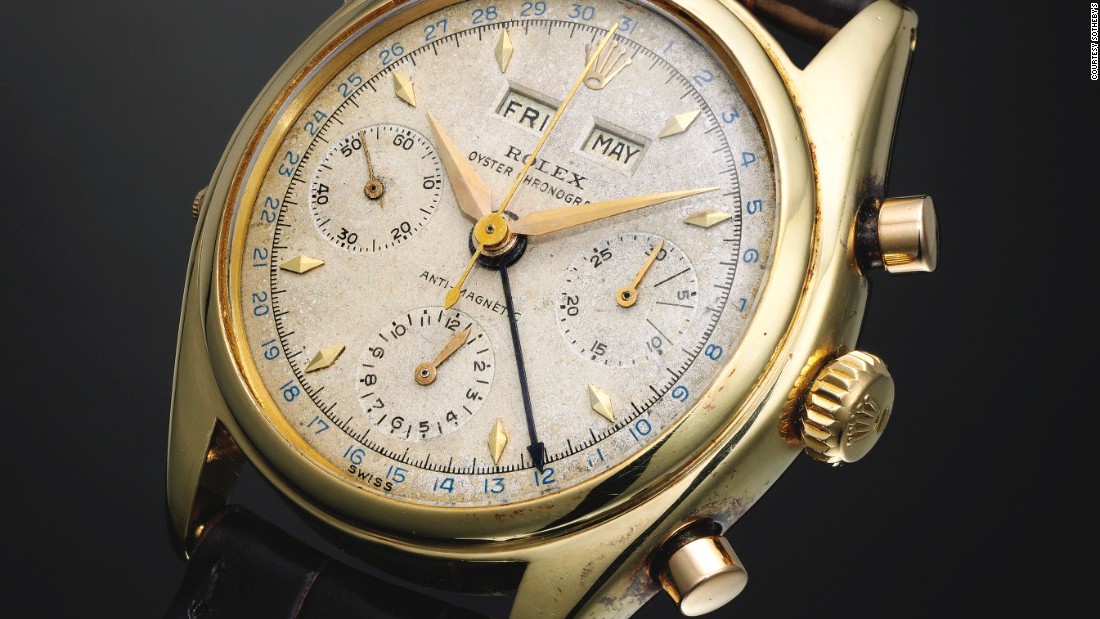 Rolex "Jean-Claude Killy" Dato–Compax Chronograph Ref. 6036, up to $154,000 (Sotheby's, May 14) – Made circa 1955, this sporty chronograph has been named after dashing French skiing champion Jean-Claude Killy, a triple Olympic champion who wore this model on and off the slopes.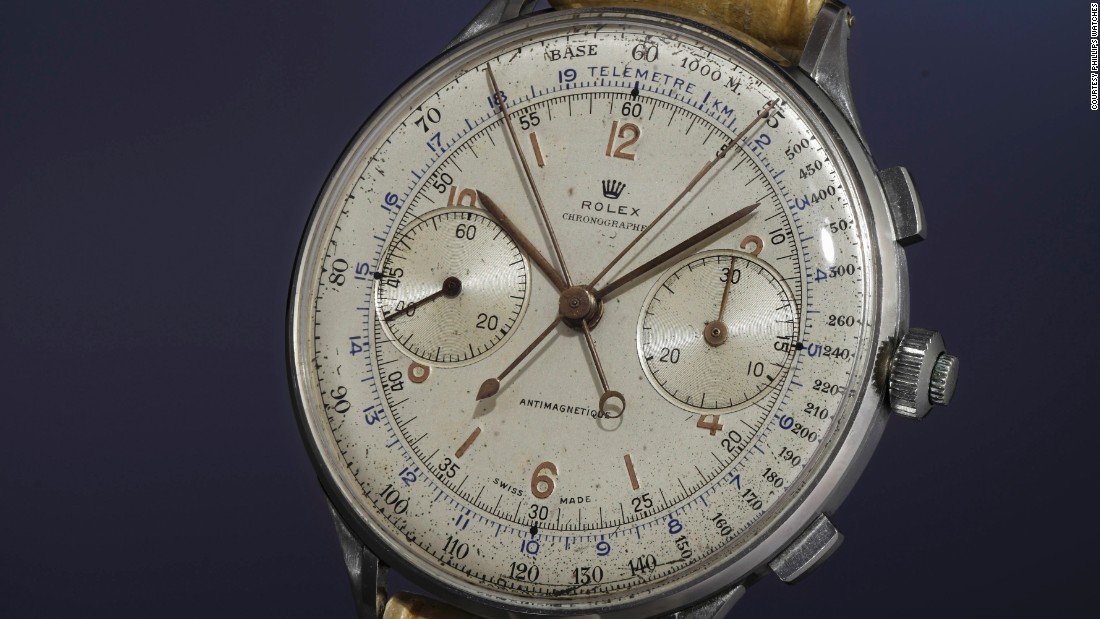 Rolex Split-Seconds Chronograph Ref. 4113, up to $1.4 million (Phillips, May 14) – The Ref. 4113, known as the world's most expensive Rolex, was never offered for sale publicly and was only presented to a select group of racing teams and their drivers. Made in 1942, this is one of only a few known to exist — and all the more precious to some for being in original condition.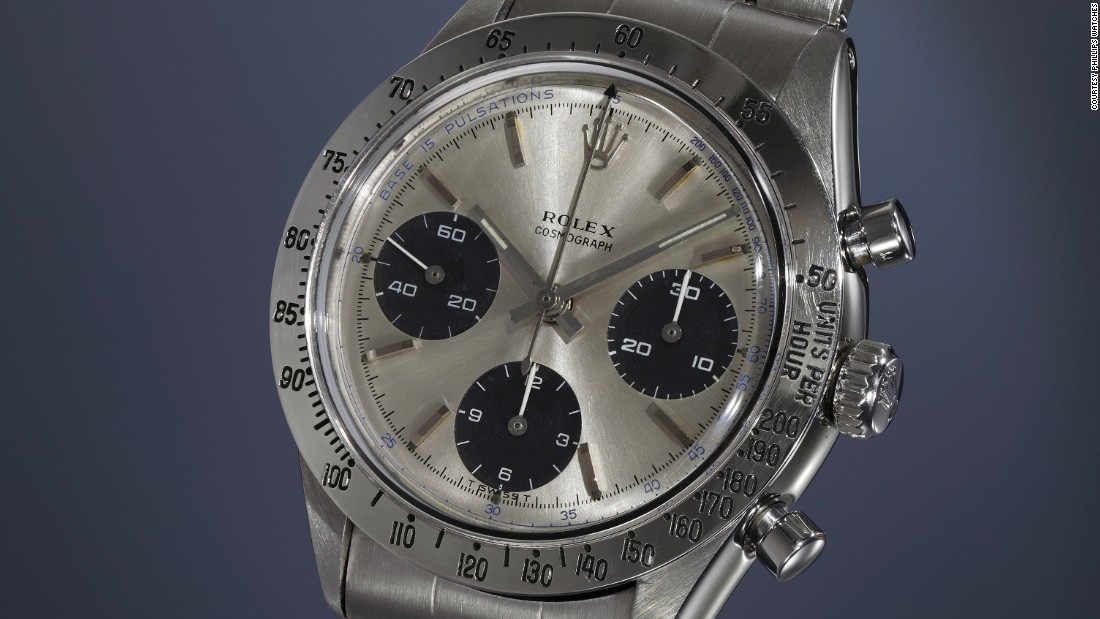 Rolex Daytona Ref. 6239 "The Doctor" Ref. 6239, up to $780,000 (Phillips, May 14) – The Daytona was designed for motor racing enthusiasts with a scale for converting time into speed. This example, however, has a pulsometer scale for calculating heart rates instead.
Known as "The Doctor," this watch was made in 1966. One of less than a handful known to exist, Phillips calls it "one of the rarest treasures in the revered Rolex Daytona family."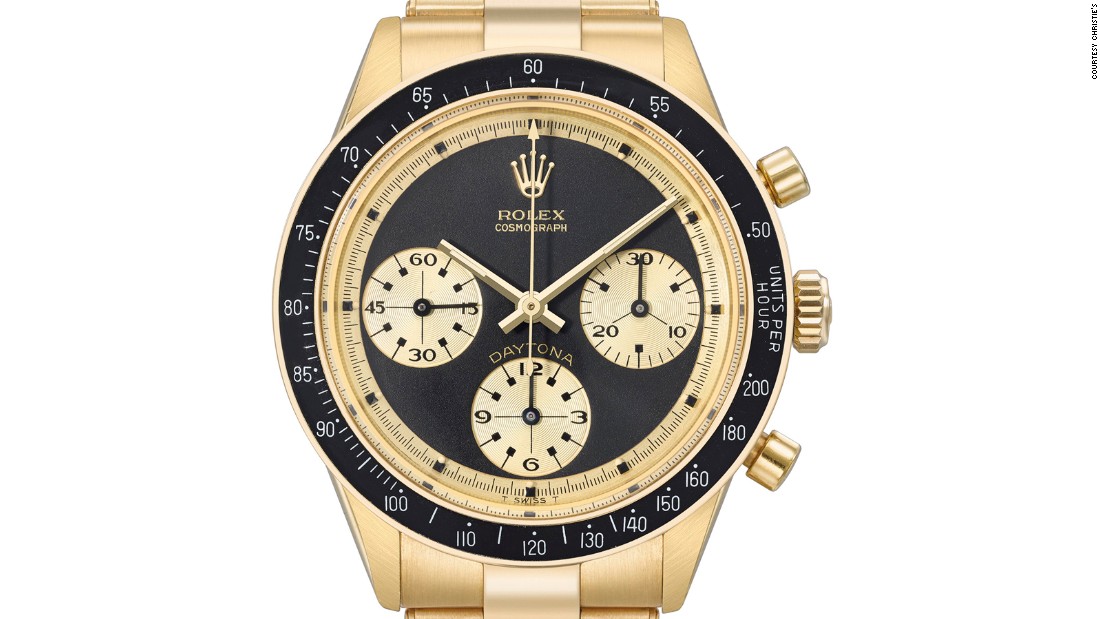 Rolex "John Player Special Paul Newman" Daytona Ref. 6241, up to $308,000 (Christie's, May 16) – The black and gold color scheme of this rare Daytona — the model made famous by actor and racing driver Paul Newman — is known for its resemblance to a later racing icon: Ayrton Senna's Lotus Grand Prix car. Its the car witch which he won his first important Formula One victory in 1985.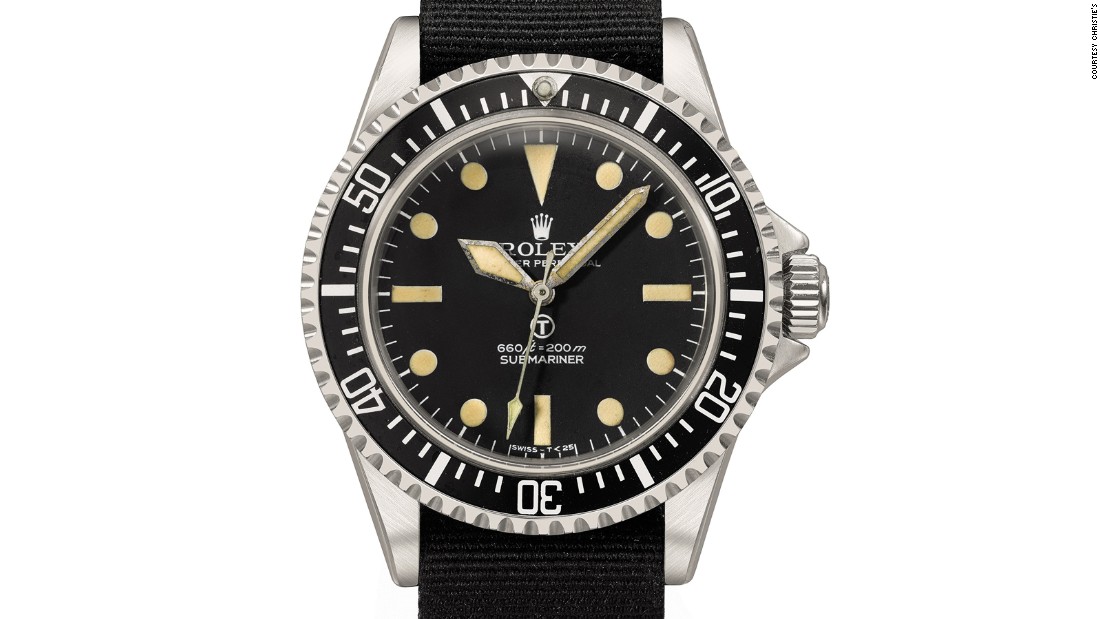 British Military Rolex Submariner Ref. 5513, up to $123,000 (Christie's, May 16) – Made circa 1972, this is one of the much-copied original "Milsubs", preserved in excellent overall condition. The Military version of the iconic Submariner ref. 5513 was adapted according to specifications set out by the British Ministry of Defense, and is engraved as such on the caseback.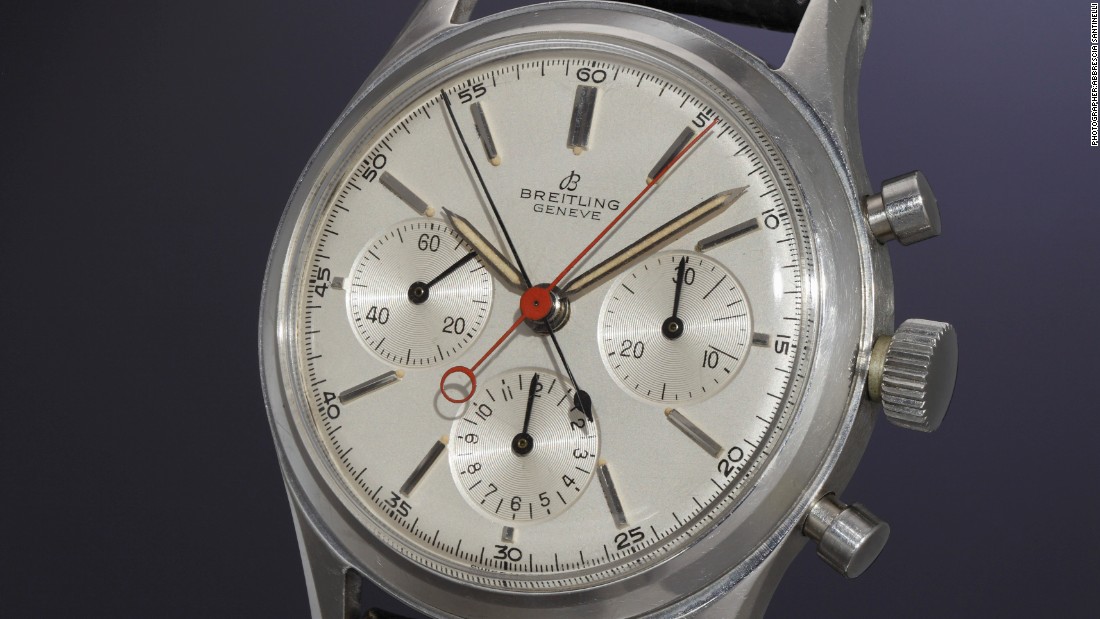 The Ex-Jack Brabham Breitling Duograph Ref. 791, up to $60,000 (Phillips, May 15) – Jack Brabham was an Australian race car driver and constructor who was Formula One World Champion in 1959, 1960, and 1966. He was also the first — and still the only — man to win the Formula One world championship driving a car that he himself built.
Phillips calls his watch "one of the most exciting Breitlings to appear on the market in recent history."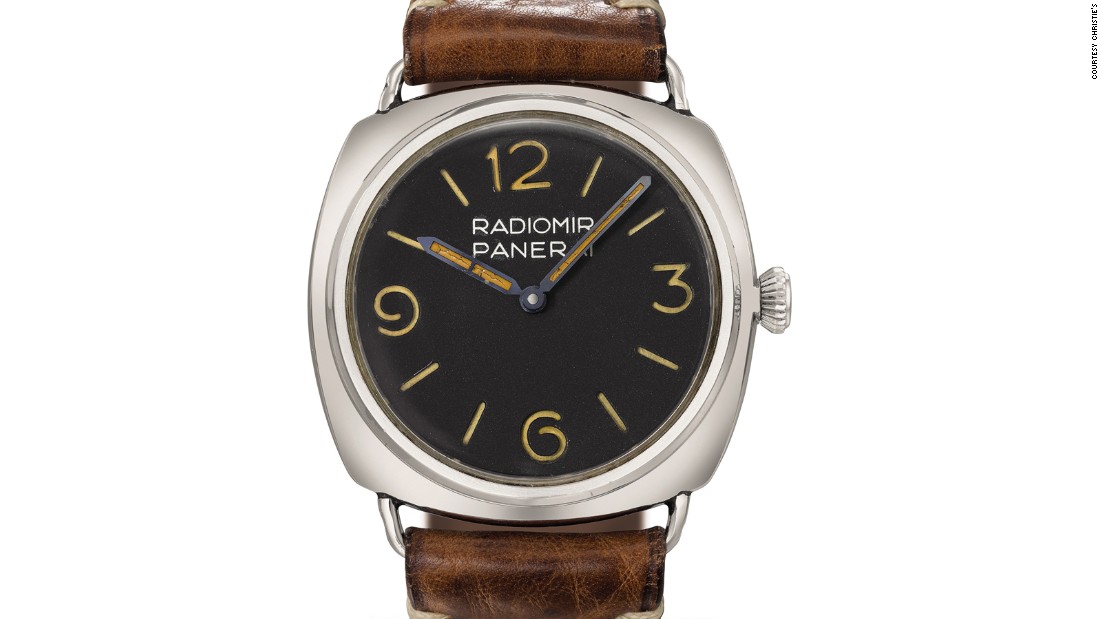 Italian Navy Issue Panerai Radiomir Ref. 3646, up to $93,000 (Christie's, May 16) – Rolex produced the movements for these early Italian military Radiomir diving watches, which bear the signatures of both iconic brands.
The extremely rare watches were supplied to the renowned Decima Flottiglia MAS, a pioneering Italian commando frogman unit of the Royal Italian Navy during World War II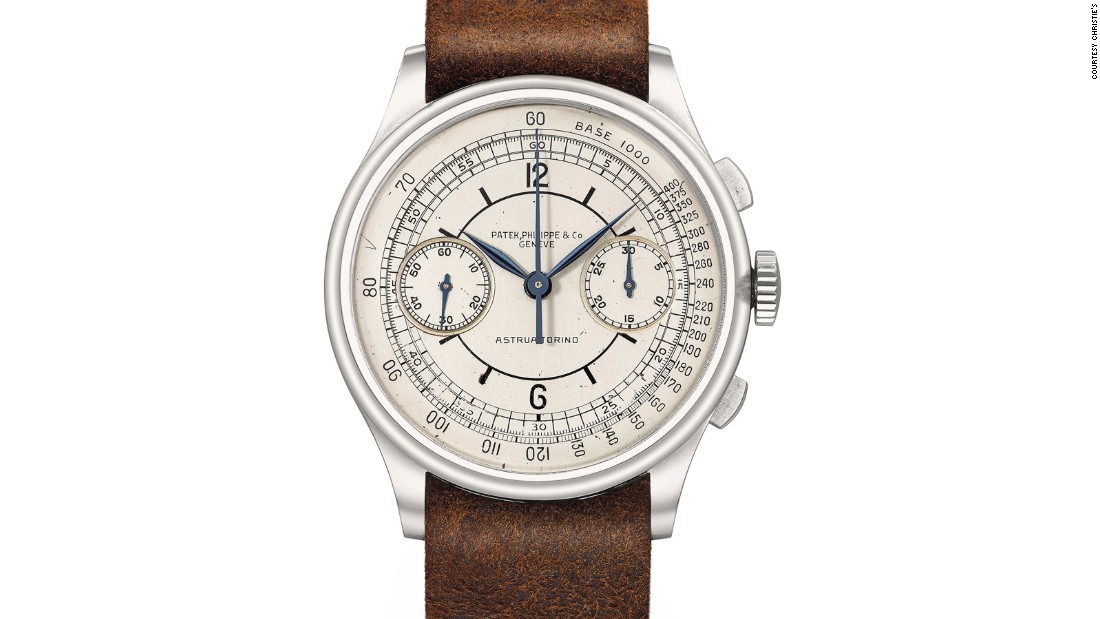 Patek Philippe Staybrite Stainless Steel Chronograph, Ref. 530, up to $823,000 (Christie's, May 16). – This rare Patek chrono, previously unknown to the market, is possibly one of a kind. It's one of the most impressive oversized chronographs ever made by Patek Philippe, produced in 1938 and retailed by Italy's Astrua. Christie's notes it "rewrites the book" for the reference 530.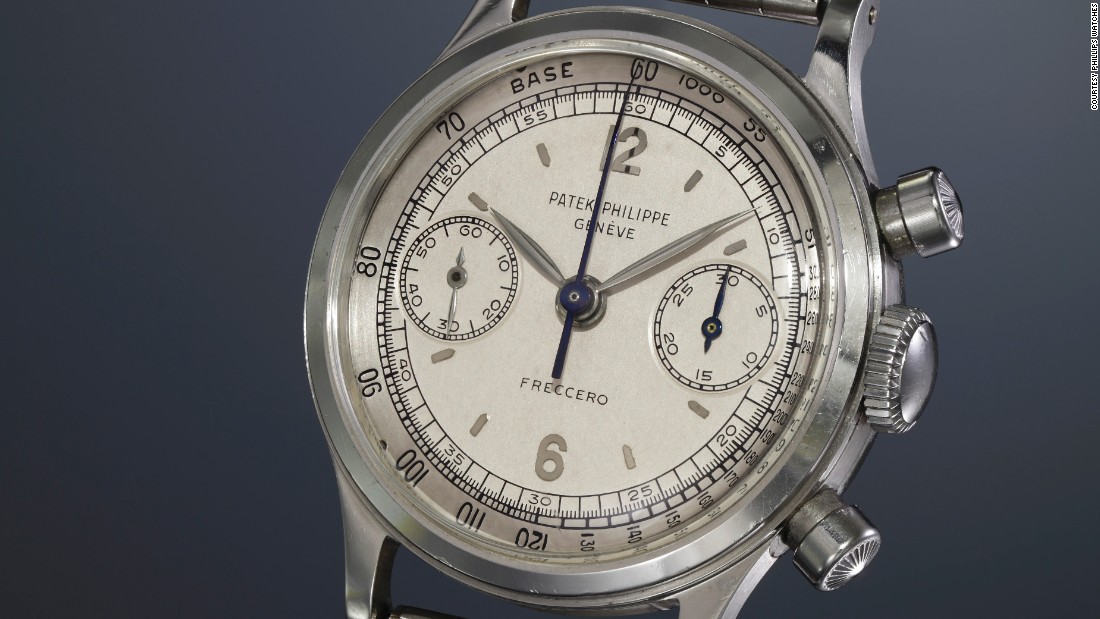 Patek Philippe "Freccero" Chronograph Ref. 1463, up to $575,000 (Phillips, May 14)
Patek dress models in gold command higher auction prices but the rare stainless steel sports models are much cooler. This water-resistant chronograph from 1955 features a two-tone silvered dial, applied Arabic and baton hour markers, and an outer tachometer scale. It was sold by the famed firm of Freccero & Cia.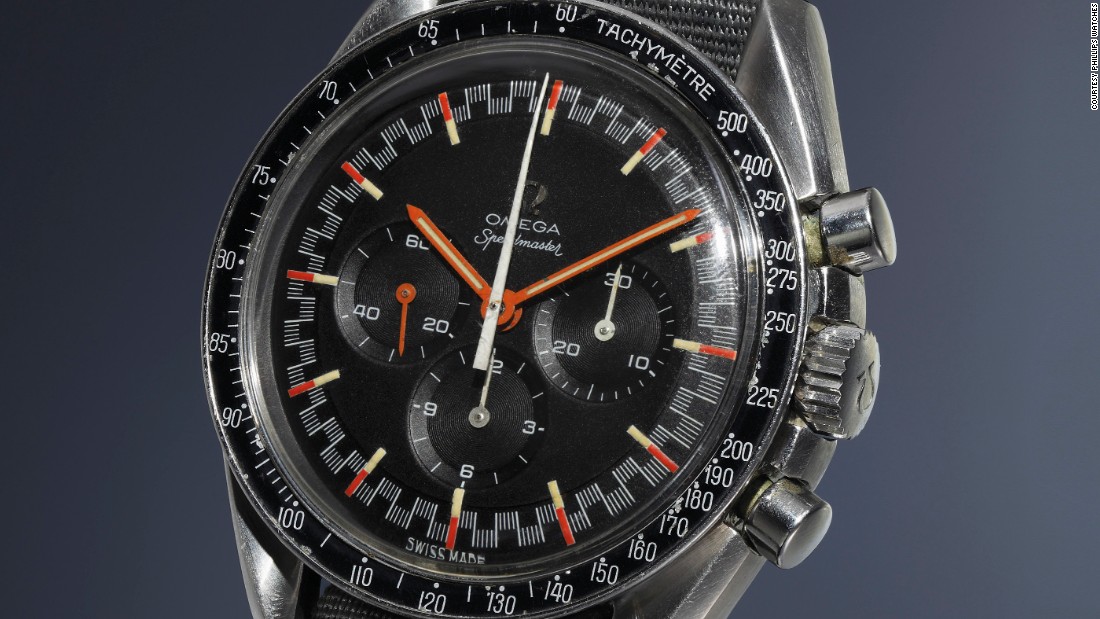 Omega Speedmaster Ref. 145.012-67 SP, up to $62,000 (Phillips, May 14) – One of the rarest and most valuable Speedmasters ever, this example features "lyra" style twisted lugs with an asymmetric case incorporating crown guards and a tachometer scale on the bezel.
The extremely rare matte black "racing dial" is one of just ten examples known to exist.