Robert and Sons Optical Limited has donated a 15,000-liter water storage tank and 40 packs of Braille worth ¢10,000 to the Akropong School for the Blind.
Deputy Manager for the company, Monique Atta said the gesture is to support the school in providing the needs of the students amid the Covid-19 pandemic.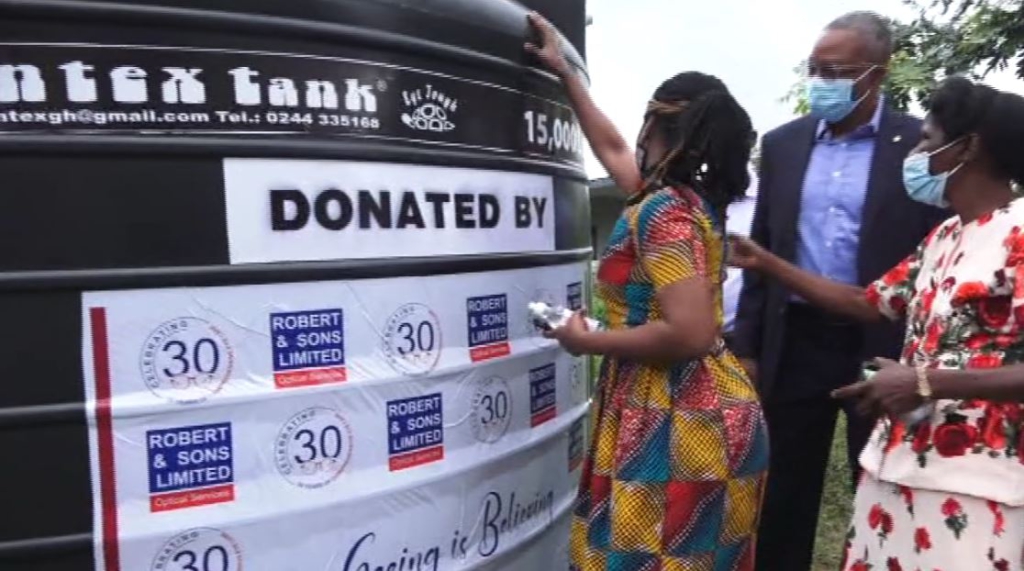 "In line with our 30th anniversary and the pandemic, we thought through to help them provide get some essential services," she said.
She added that the company is offering comprehensive eye care to every student as well as the administrative body.
The Deputy Manager also advised Ghanaians to have their eye checked every 18 months to avoid complications.
Headmistress of the school, Mahela Narh expressed gratitude for the kind gesture, noting that the tank is the biggest in the school and it will serve them very well.
"We are grateful, they said they would come but we did not expect this because we do not have a bigger tank like this here," the excited headmistress said.
According to her, even though the school has boreholes, some of them are in bad condition.
"We have boreholes but some are spoilt and water does not flow every day. So when the taps are flowing, we fetch water into our tank so this is a great support and a blessing," the headmistress noted.
Although school is yet to resume, there were some students around who also thanked Robert and Sons for their donation.
One of them said the company's "name will forever be remembered for the good work they have done in the school."
"I really appreciate their coming, even if I leave out the water tank, it's not easy getting braille sheet around here considering the cost," another student said.