Ensuring gender equality, decent work and economic growth in women businesses, Social Enterprise Ghana with its partners launched the #LetsEmpowerHer project.
The four-month initiative seeks to advocate and engage various stakeholders for more women inclusive policies and financial services that support and provide a conducive environment for women businesses.
The objective of the program is to organize a series of dialogue meetings that will allow the opportunity for women Sustainable Development Goal business owners to meet the duty bearers and stakeholders.
This is geared toward creating opportunities tailored to meet their needs which will in turn help foster a more sustainable inclusive future.
"In Ghana, women have an increased potential to drive economic growth and impact, this project will empower and support women to thrive economically to achieve gender equality, decent work, and economic growth" stated Edwin Zu-Cudjoe Executive Director at SE Ghana.
The campaign has carried out strategic activities to drive the agenda.
A one-day sensitisation workshop aimed at connecting women social entrepreneurs to financial service providers to improve their knowledge on how to access various financial services for the promotion of gender equity, economic growth, and shared prosperity.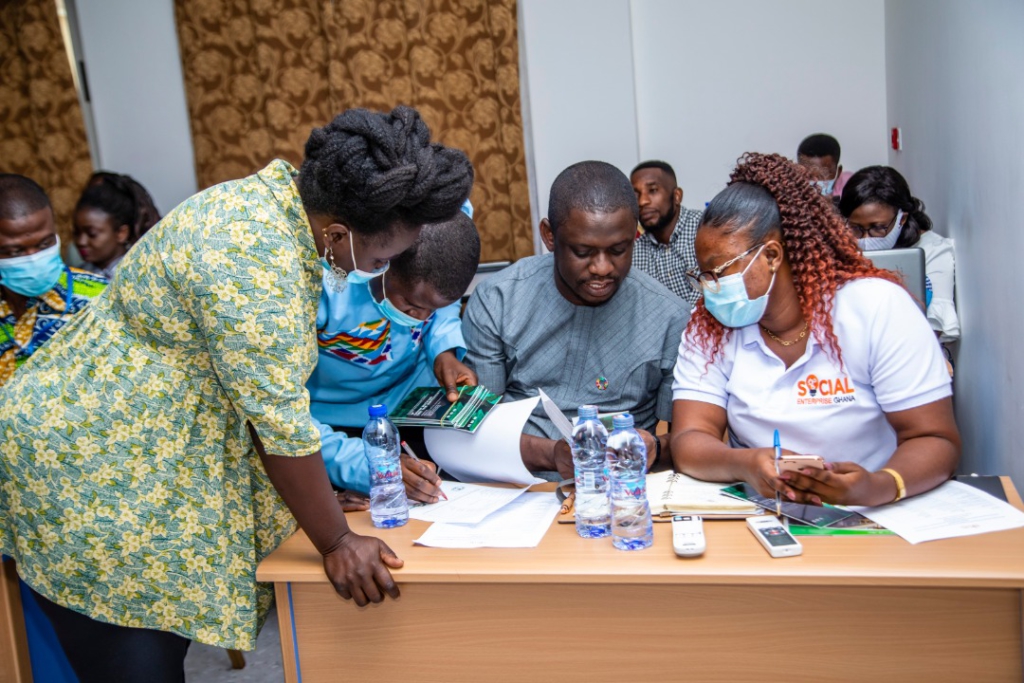 The event had representatives from ABSA Bank, Access Bank,  Enterprise Life Insurance, Grofin, Oze (an android app that helps track money coming in and out of business), Built Accounting and Venture Capital Trust Fund talked about a service package they have that is aimed at supporting women businesses.
Speaking at the event, Chief Executive Officer (CEO) of Social Enterprise Ghana, Amma Lartey, stated that, "We believe that with innovation, we can make capital available for businesses that need that capital to be able to grow. There is a need for funds focused on the impact that will then lend to other funds to be able to support social businesses.
In Ghana, all enterprises need patient capital, the capital that we have currently is mostly debt capital, which then puts the liability on the company. We need to have more equity capital and other capital that is patient to work with the entrepreneurs for ten years to allow the business to grow before it begins to receive returns."
The expected outcomes of the project are to increase awareness on the financial challenges faced by women in businesses that hinders their ability to expand their businesses, increase the number of social women entrepreneurs and equip women with adequate information on how to be investment-ready as well as how to access the available funding to expand their business and obtain committed stakeholders who will support them with access to capital to expand their businesses.
To keep updated about the project, visit www.seghana.net and all other social networks.
Social Enterprise Ghana, is the network of high-impact social entrepreneurs in Ghana with a policy and advocacy group that works to identify policies that can be implemented by the government and other stakeholders to increase growth and impact.
The event was funded by the Women Environmental Program Women2030.