Standard Chartered Bank Ghana Limited has rewarded a lucky customer with a sleek Citreon C5 Aircross from Silver Star Auto to end its Season of Surprises promotion.
Madam Margaret Yeboah emerged the overall winner and was full of praise for the bank which in spite of the COVID-19 pandemic still put its customers first.
Over the last six months, hundreds of lucky customers have been awarded various goodies in the first and second draws respectively including the exciting free 60 seconds shopping spree.
At the grand draw held in Accra, the first and second runners up won weekend at Aqua Safari Resort and a 55inch Samsung television respectively.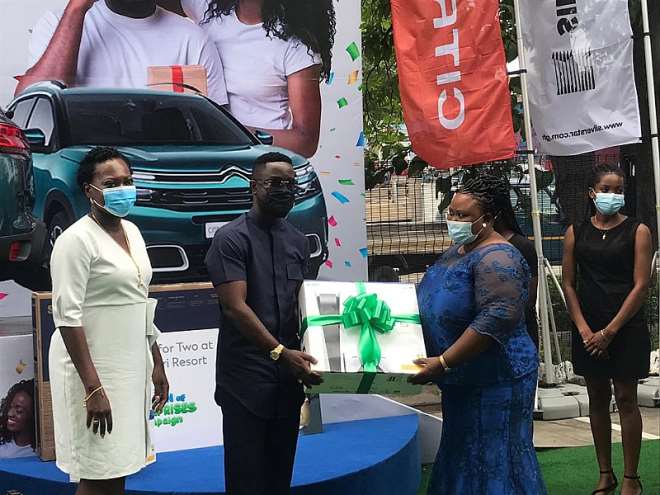 Two other clients also walked away with brand new Play Station 5 consoles.
Head, Consumer, Private and Business Banking at Standard Chartered Bank, Yvonne Gyebi said they will continue to make the needs of their clients a priority.
"As we award all our grand prize winners, I wish to remind our clients that banking with Ghana's most credible and number one digital bank, Standard Chartered is not only seamless and convenient but rewarding. I, therefore, urge all our existing clients to fully utilize our SC Mobile platform which is literally a bank in your palm" she said.
The StanChart Head of Consumer, Private and Business Banking applauded Madam Margaret and the other customers who won prizes during the promo.
Assuring that her outfit will continue to have clients at heart, Mrs. Yvonne Gyebi also appreciated Silver Star Auto for their partnership in the campaign.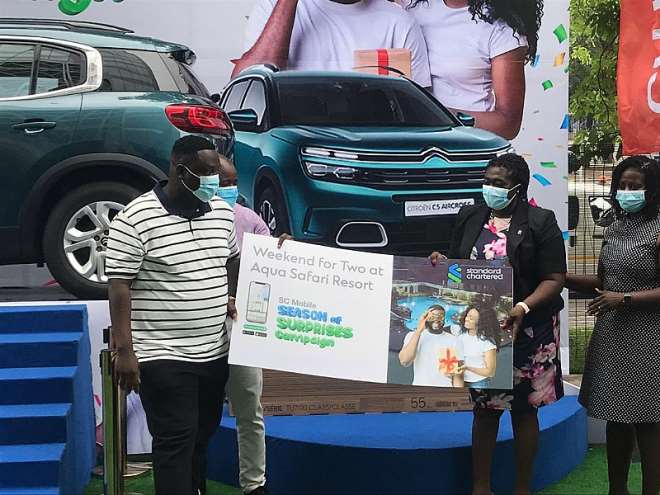 Also, Chief Executive Officer at Silver Star Auto, Arzad Nazir said his outfit is pleased to have been part of the promotion to reward customers of SC.
He said while Silver Star Auto remains keen on maintaining a solid relationship with Standard Chartered Bank, it will work to make Citreon a household brand in Ghana.
For his part, brand influencer, Michael Owusu Addo, popularly known as Sarkodie urged clients of Standard Chartered Bank to continue trusting the bank.
He encouraged the public and existing clients to use the SC Mobile App to stand the chance of winning more prizes.
"Standard Chartered has literally turned Sarkodie into Father Christmas so there is more coming. Don't just download the SC mobile app, register and use it to also win all the amazing prizes," Sarkodie added.
Standard Chartered Bank has achieved key milestones in its digital transformation agenda, initially by launching the first fully digital bank on mobile – SC Mobile app.
The app comes with enhanced features including full onboarding of new clients in 15 minutes then installing Digital Banking Centres (DBCs) to augment its branch network and give clients access to investment products through its digital banking experience.