After the whole lavish marriage ceremony and the honeymoon experience, many marriages begin to hit rock bottom.
Most often than not, this is due to the presence of in-laws that make marriage feel very communal rather than a two people relationship.
The question then arises if it is important to impress your partner's family.
On Wednesday's Strong and Sassy with Animwaa Anim-Addo, both guests - TV and Radio Presenter, Akumaa Mama Zimbi and CEO of Food Pharmacy, Judith Boate said it is essential for one to impress his or her in-laws.
Although it is quite difficult to impress one's mother-in-law, should it be achieved according to Judith Boate, it reflects well on the other spouse and helps strengthen the marriage.
"Even from your partner, it is my belief that they want their families to like their partners and so if you impress the family, you are also impressing your partner. Irrespective of what the family thinks, you may have a horrible mother-in-law but for you as the spouse, boyfriend or girlfriend, it is important to keep that relationship. A good relationship because if anything happens, the family is there to support and back you," she said.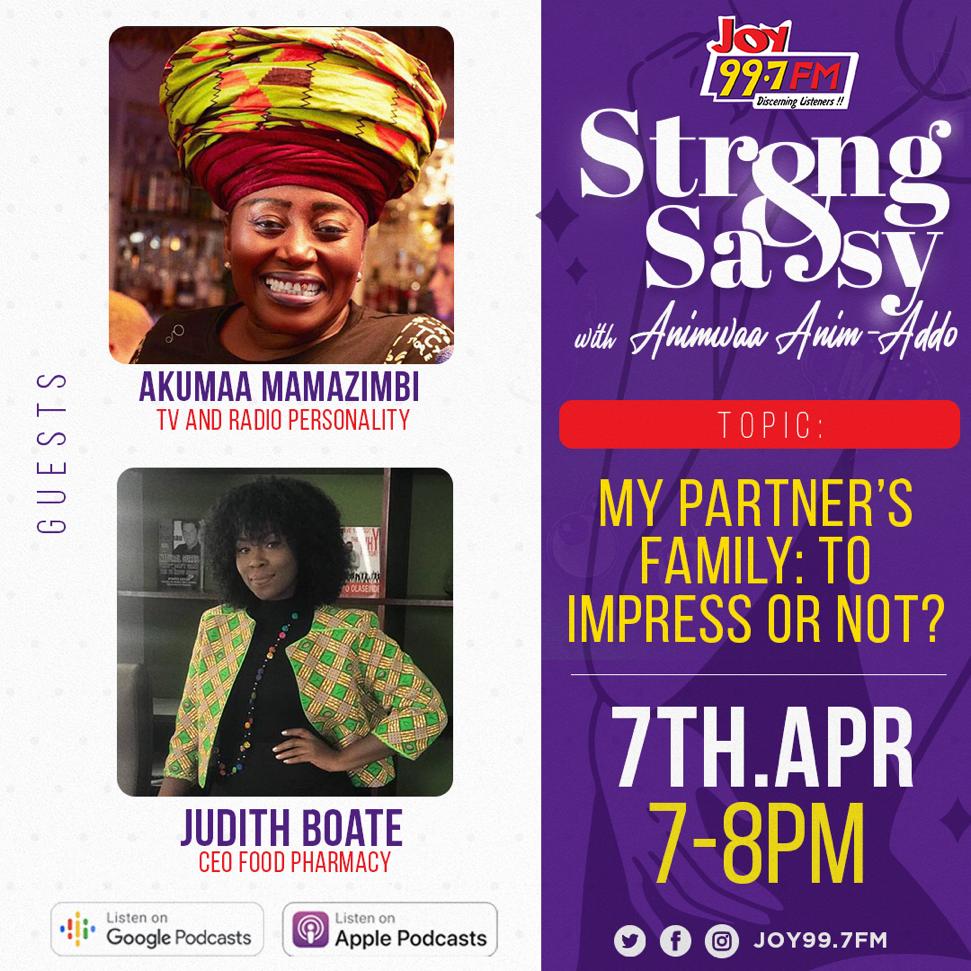 Making reference to the Ghanaian culture, Akumaa Mama Zimbi made mention of the fact that in-laws play an important role and that cannot be taken for granted.
For her, it is imperative for both spouses to make the efforts to have a good relationship with each partner's family.
The efforts, according to her should be split equally and not one spouse making all the efforts while the other does nothing.
However, she urged partners who are unable to bear abuses from their in-laws or future in-laws to exit their relationships.
"They need to bless that marriage for us and it is very important. Sometimes, our parents are something else. You will do whatever...Mummy, she is cool. She will say no," she added.
Sometimes, the life of a relationship hangs on the whims of in-laws whether their son or daughter has found someone who can take care of them as expected.
It also gets to the point where either the father or mother of your partner accepts the relationship and the other strongly opposes it.
On the basis of leaving a relationship because of issues surrounding ethnicity, it is a no-no according to the Strong and Sassy women.
They say "when Jesus died, was it on the cross,' it is finished except for Ewes, Fantes, Krobos?' God says He has made us in his own image."
The team advised that partners should be courageous enough to stand by their partners in difficult times with prayers.
Below is the full coverage of the interaction:
The host, Animwaa Anim-Addo is also co-host of the Super Morning Show on Joy 99. 7 FM.
DISCLAIMER: The Views, Comments, Opinions, Contributions and Statements made by Readers and Contributors on this platform do not necessarily represent the views or policy of Multimedia Group Limited.