US retailer Target is removing some items from its LGBTQ Pride Collection range after threats and confrontations in certain stores.
The company said on Tuesday the move would protect employees after what it described as "volatile circumstances" in some of its 2,000 shops.
In some states, Target said it had moved Pride Month merchandise to the back of the store.
The 2,000-item range includes rainbow motifs and "love is love" t-shirts.
Other items include "gender fluid" mugs and children's books titled "Bye Bye, Binary," "Pride 1,2,3" and "I'm not a girl."
"Since introducing this year's collection, we've experienced threats impacting our team members' sense of safety and well-being while at work," Target said in a statement.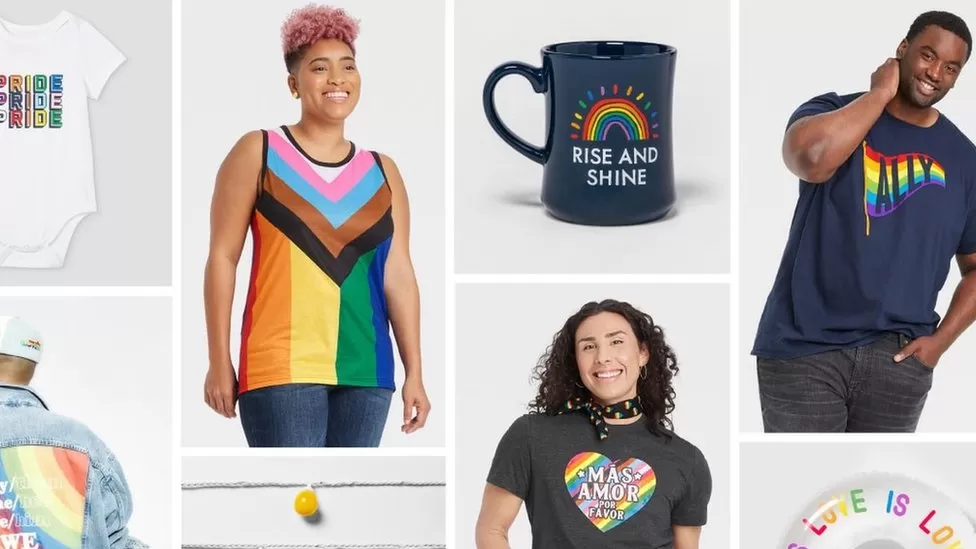 "Given these volatile circumstances, we are making adjustments to our plans, including removing items that have been at the centre of the most significant confrontational behaviour."
A spokesperson said there has been an increase in incidents of Pride merchandise being thrown on the floor.
The products Target is withdrawing are being removed from all its US stores and its website, the spokesperson told Reuters news agency.
While various Pride Collection products are under review, the ones being immediately removed are under the Abprallen label, which has been criticised for using images of pentagrams, horned skulls and other Satanic visuals.
It comes as brands across the world find themselves mired in controversy over product ranges that hope to reflect and champion LGBTQ diversity.
In Malaysia, Swatch said authorities confiscated 164 rainbow-coloured watches worth $14,000 (£11,271) from its stores, including in the capital Kuala Lumpur last week.
Homosexuality is forbidden in Malaysia, a Muslim-majority Southeast Asian nation. Although enforcement is rare, gay sex can be punished with imprisonment and whipping.
"We strongly contest that our collection of watches using rainbow colours and having a message of peace and love could be harmful," said Swatch Group CEO Nick Hayek. "This has nothing political."
"We wonder how the home ministry's enforcement unit will confiscate the many beautiful natural rainbows that are showing up thousand times a year in the sky of Malaysia," Mr Hayek said.
Swatch will replenish stocks of its Pride Watches range and display them on store shelves, as instructed by its headquarters in Switzerland, said the company's marketing manager, Sarah Kok.
Based on a summons notice to Swatch that was seen by AFP, the watches had "LGBT elements" and violated a 1984 printing law that government critics had long criticised as draconian.
DISCLAIMER: The Views, Comments, Opinions, Contributions and Statements made by Readers and Contributors on this platform do not necessarily represent the views or policy of Multimedia Group Limited.