The fact that the fashion industry, specifically garment production, takes a huge toll on the environment is common knowledge.
With the abundance of information now readily available to consumers, most are also privy to the reality that practices like mending and upcycling are positive.
The problem, then, lies with the stigma that surrounds the processes of extending garments' life cycles.
One of the primary issues is that we are hung up on newness, something that the entire fashion system was built on.
While something like upcycling may be good for the garment, it can also alter the "pristine" look we are so used to when we buy something brand-new.
Practices like mending, upcycling, or even washing the item less go against everything the industry has conditioned us to believe.
We need to rethink what we value in terms of our clothing and lean into the unique qualities that present themselves when we put more care into them.
We spoke with four sustainable brands about all the ways we can make our clothing last longer, even if public perception works against them.
MENDING CAN CREATE A VISUAL ASSET RATHER THAN A DEFECT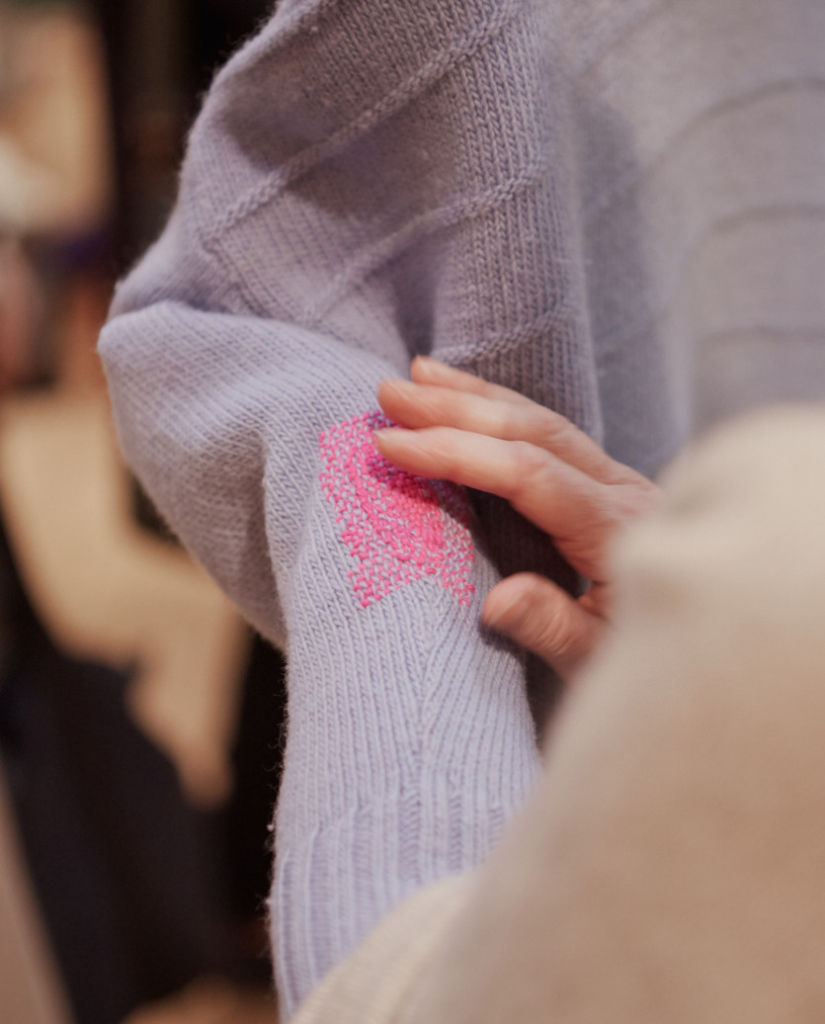 A common notion that many of us have is that once we find an imperfection in a clothing item—a rip, overuse, etc. it's time to throw it away.
Brands like TOAST, a clothing company with an emphasis on slow fashion, are challenging that mindset by not only encouraging their shoppers to mend their clothing, but actually providing the service themselves.
Customers can bring back torn or worn garments and have them repaired by an in-house technician. If you're not in the physical vicinity of a TOAST shop, you can access an online care guide full of advice on ways to extend the life cycle of a garment.
"We recognize that using expert craftsmanship and natural, quality materials is only part of the longevity journey; we want to ensure our customers know how to treat those particular fibers, how to store them, and how to respond as they age," explains CEO Suzie de Rohan Willner.
TOAST offers workshops where skilled textile technicians actually explain the art of repair.
For example, one featured a tutorial on Sashiko repair, "the Japanese practice of reworking and visibly mending textiles through piecing, patching, and stitching."
The place of mending, then, becomes a visual asset versus a defect, breathing new life into the garment.
"I find there is beauty in clothing that has been cared for over time. Whether darned, reworked, or visibly mended using techniques like Sashiko repair, a garment begins to tell a story of the wearer," says de Rohan Willner.
"At TOAST, we value longevity and want our customers to cherish garments that, over time, hold an imprint of their own movements, giving a uniquely beautiful patina."
UPCYCLING IS GOING TO PRODUCE DIFFERENT CHARACTERISTICS IN FABRIC, BUT THE QUALITY REMAINS THE SAME
The New Denim Project is the newest venture of Iris Textiles, a mill in Guatemala City focused on upcycling materials.
Their goal is to create zero waste during production, which they achieve by collecting fiber waste from spinning mills, fabric offcuts from denim cutting tables, and post-consumer clothing that was unable to be resold, breaking all three materials down to use as their main raw material.
They then partner with brands from Madewell to Philip Lim to Mara Hoffman to offer not only materials, but design advice, as well.
Needless to say, they're doing solid work within the realm of sustainability.
The problem they face arises in consumer perception of upcycled materials. They are specifically trying to create an elevated, polished product of a high quality that will last in your closet.
That said, an upcycled garment is inherently going to have a slightly different appearance than your traditional fabrics due to process.
"We think part of the problem is the narrative in the industry," explains Arianne Engelberg, creative director of the New Denim Project. "Certain nicks are considered defects and not characteristics."
They also don't use any dyes in production—60 to 70 percent of textiles' negative impact is from the dying process—and therefore have to rely on the coloring of the waste the new materials are made from to color the finished product.
"So if the denim scraps are this indigo color, the fabric will look like a sky blue because the fabric is raw yarn in the warp and indigo yarns in the weft," explains Engelberg.
Without adding new dye, you cannot possibly achieve the exact same shade every time.
"Our work in sales with our clients is really more like an education for them to understand that this variability in color is the special part of upcycling and is not considered a defect," says Engelberg.
WE NEED TO REDEFINE THE NOTION OF "DIRTY"
One of the toughest perceptions for brands to change is how much the public believes they should be washing their clothes.
"What if we told you that the aftercare of a clothing product sometimes causes as much as four times the amount of harm than the entire manufacturing process?
Water wastage is an obvious one to consider, but laundry also creates around 25 percent of the carbon footprint of clothing as a result of energy use, too," says the PANGAIA collective.
Sweat and stains are the key culprits in our perception of a garment qualifying as dirty. According to PANGAIA, "sweating creates bacterial activity on the skin, which results in this body smell, making clothes feel or smell 'dirty.'"
PANGAIA has been implementing a new peppermint-oil treatment to combat clothing's odor with antibacterial properties.
With this new treatment, consumers won't have to wash that item after every single wear, which can reduce the environmental impact while also extending the life of the actual product.
Aside from special treatments, there are certain materials that naturally don't require as much washing, such as wool.
Says Meg Van Brocklin, wool-based brand Wool&'s marketing and communications specialist, "We believe in the power of merino wool because of all of its benefits as a material: wrinkle resistant, odor resistant, breathable, temperature regulating, naturally soft, and quick-drying." Over 200 women have actually worn Wool& dresses for 100 days in a row without washing them.
Not to mention, it's better for the actual garment to wash it less.
"We've read that 25 percent of a garment's carbon footprint comes from its lifespan of care (washing, drying, dry cleaning), and all that cleaning takes a toll on the garment itself," Von Brocklin adds.
"Washing often can break down the material, thin it out, and generally make the garment look more worn."
"Changing the collective consumer mindset is definitely a problem. We have gotten used to throwing our clothes in the wash after every wear, when in fact washing our clothes so often is not always necessary," adds the PANGAIA collective.
AS ALWAYS, LESS IS MORE
While producing sustainably made garments is a wonderful practice, a key pillar to the concept is to actually own less stuff or at least to buy something that you keep for a very long time.
"Our design team doesn't follow trends," says TOAST's de Rohan Willner. "We therefore create clothes and home products that are durable—both in their life cycle and in their style—making it possible to use them for many years, if not decades to come."
When The New Denim Project works with brands, they not only provide them with production guidance and upcycled raw materials, but they also work with the designers to create a quality product that will last for years in someone's closet.
Engelberg repeatedly emphasized the impact of poor design and how it combats longevity in clothing.
Even if you don't tick every trend box one season, you are building a stronger, enduring wardrobe.
"We like to say 'live simply, consume carefully, and do good,'" adds Wool&'s Von Brocklin.