The Multimedia Group has been honored by the Ministry of Education and National Teaching Council (NTC) for the station's sponsorship of the Ghana Teacher Prize 2021.
Registrar of the council, Dr. Christian Addai-Poku who presented the award at a ceremony to recognize sponsors, described this year's program as the best.
The involvement of the group also generated national conversations around the event especially on social media that entire day.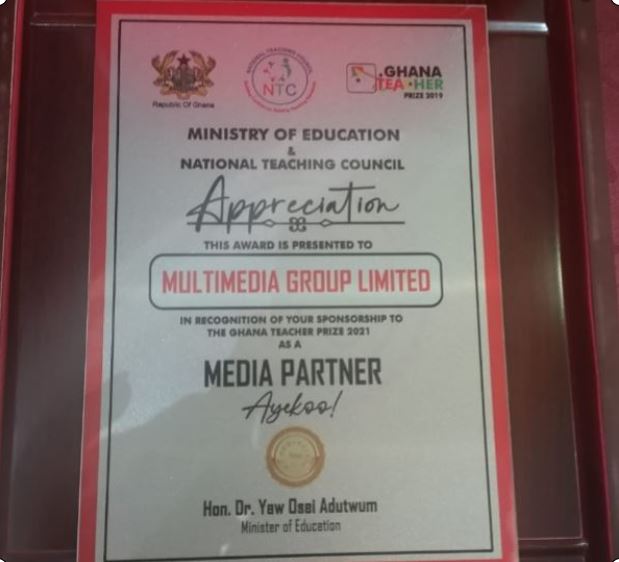 Rebranded from National Best Teacher Award to Ghana Teacher Prize, the scheme recognizes the efforts of teachers whose hard work has positively impacted the output of their students.
This year's awards, held on October 2021 recognized some teachers at Sunyani in the Bono Region.
Among them were; Hellen Tanlugu of TUTCO Demonstration School in Sisala East as Ghana's Best Kindergarten Teacher, Ebenezer Kojo Otto of the Winneba Secondary School recognised as Ghana's Most Outstanding Teacher.
Deputy Education Minister, Gifty Ampofo Twum who described the event for the teachers as remarkable, acknowledged the role of proper planning and promotion with sponsors for its success.
Dr. Christian Addai-Poku appreciated the sponsors for their contribution in making the teachers highly motivated.
Other sponsors included GES Occupational Pension Scheme, GETFund, Glico, Prudential, Life, EPP Book services, Databank Financial Services Limited and SIC life.