About 2,000 people have been evacuated from their homes as a wildfire rages through California's wine country.
The Kincade fire has engulfed 10,000 acres of land in Sonoma County and is not yet contained, the state's fire protection department says.
It is being driven by powerful winds and is moving south, a California fire spokeswoman said.
California is still recovering from wildfires last year that killed about 100 people.
The fire is moving some 75 miles (120km) north of San Francisco.

Jets drop fire retardant on California blaze
Wind gusts of up to 70mph (112km/h) have affected much of the state, the AP news agency reports. The winds are expected to die down on Friday but will pick back up again at the weekend.
More than 900 residents of the town of Geyserville, Sonoma County, have been ordered to evacuate by fire officials.
Many Geyserville residents said they did not have much time to gather their belongings together.
Dwight Monson, 68, told the Los Angeles Times that by the time his family jumped into their cars and headed into the valley below, the flames were already on the far edge of their property.
An evacuation warning has also been issued in the nearby town of Healdsburg.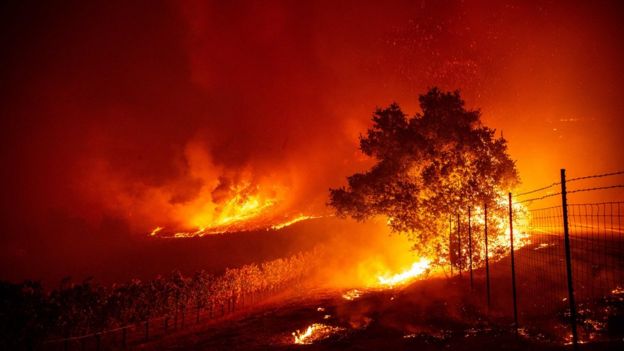 The fire has spread rapidly due to heavy winds in the area
"This fire is moving fast, please pay attention to evacuation orders," state Senator Mike McGuire tweeted.
"CalFire continues to mobilize major resources from throughout NorCal for the #KincadeFire," he wrote on Thursday morning. "Engines, bulldozers and personnel started flowing in overnight and will continue thru the day."
Nearly 180,000 homes are without power after Pacific Gas & Electric shut off power in 15 southern California counties to prevent the risk of any accidental fires.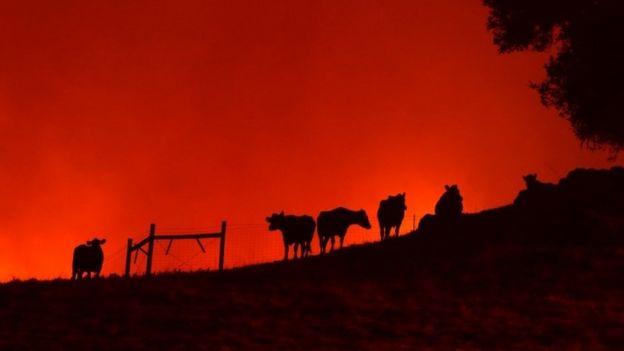 The cause of the blaze is not known
More than 308,000 customers in seven counties, including Los Angeles, San Bernardino and Ventura, are under consideration for power shutoffs, according to the Southern California Edison.
About 500 emergency responders are tackling the blaze with support from air tankers and helicopters.
The fire is believed to have started in a mountainous area near Kincade Road and Burned Mountain Road. Its cause is not yet known.
Earlier this month, wildfires razed 4,700 acres north of Los Angeles, California, and forced thousands to flee.

Californians cope with mass power outages