The alleged suicide of a television actress has been making headlines in India because of the circumstances surrounding her death and the arrest of her former boyfriend amid accusations of religious manipulation.
Tunisha Sharma was found dead on 24 December in a toilet on the set of her show Alibaba – Dastaan-e-Kabul.
A day later, her co-star and former boyfriend Sheezan Khan was arrested by police after Sharma's mother accused him of "abetment to suicide" – which he denies.
Senior police official Chandrakant Jadhav has told reporters that Sharma took her own life, and that they are investigating what led her to do so.
The 20-year-old's death has shocked India's entertainment industry – she was a rising star and had a huge fan following on social media.
Just hours before her death, she had posted a photo of herself on Instagram with the caption "those who are driven by their passion doesn't [don't] stop".
The post has more than 800,000 likes and thousands of comments, with fans expressing shock over her sudden death and wondering how a person who seemed "so positive could take such a drastic step".
The tragic incident has been obsessively covered by the media, with the actress's life and relationships under the microscope. Live news pages have given minute-by-minute updates on every aspect of the police investigation.
And everyone from Sharma's peers and friends to close family has been tapped for interviews, leading to a pool of stories rife with speculation and unverified claims.
Who was Tunisha Sharma?
Born in the northern Indian city of Chandigarh, Sharma harboured dreams of becoming an actress from a young age.
She was barely 13 when she began acting in TV shows and gradually made her way to the big screen, playing small roles in films starring popular Bollywood actors such as Katrina Kaif and Vidya Balan.
But it was her success on the small screen that brought her fame. The actress portrayed diverse roles – in her latest show inspired by the folk tale Ali Baba and the Forty Thieves, she was playing a royal princess.
But despite her seemingly charmed life, the young actress was struggling to cope. In earlier interviews, she had spoken about battling depression and anxiety and struggling with stress brought on by work and social media scrutiny.
After her family blamed Khan, her 28-year-old co-star from the show, for her death, he was arrested on 25 December and remains in judicial custody.
The voyeuristic coverage in the media has also extended to Khan's life and his time in custody.
It has continued despite warning from legal experts that intense media coverage around cases where all the facts are not known can hamper the investigation and be prejudicial towards the accused and disrespect the deceased.
The media war
According to reports, Sharma and Khan had been dating for a few months but police say the couple had broken up 15 days before her death.
They say the separation had put the actress under "extreme stress" and was suspected to have "driven her over the edge".
The police have questioned several people in connection with the case and also scanned several pages worth of WhatsApp chats between Sharma and Khan.
They have also accused Khan of not co-operating with the investigation – an allegation the actor's lawyer has denied. The actor's bail plea is due to be heard on Saturday. His lawyer says he is innocent.
Family members of Khan and Sharma have been sharing details with the media about the couple's relationship and have also been trading accusations against each other.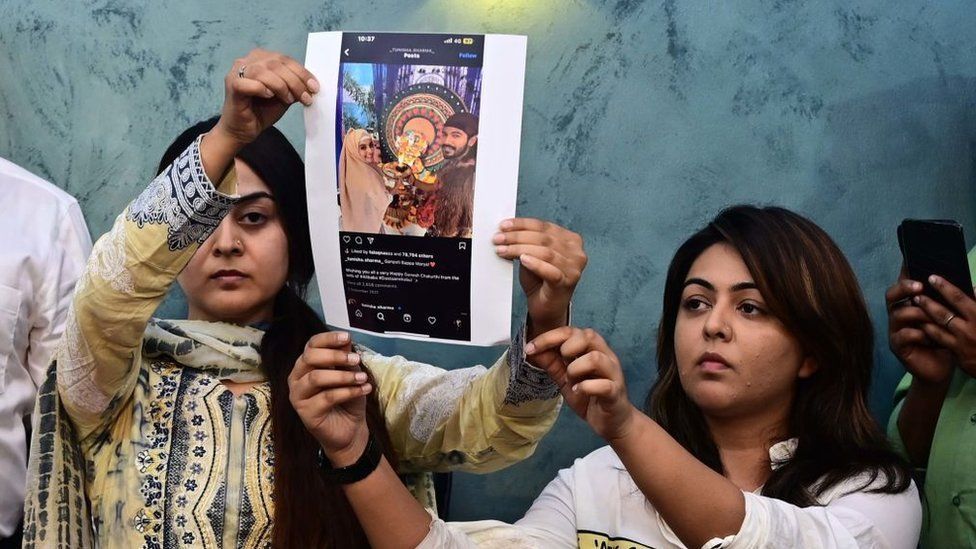 Sharma's mother, Vanita, has alleged that Khan cheated on her daughter and accused him of hitting her on set.
She also said that she suspected her daughter had been "murdered" and accused Khan of not calling an ambulance immediately after finding her daughter's body.
On Monday, Khan's sisters, his lawyer and mother addressed a press conference where they rejected all the allegations against him – that he took drugs, had affairs or assaulted Sharma.
They also levelled several allegations against Vanita Sharma, saying that her relations with her daughter were "strained", that she "controlled her [daughter's] life and finances".
Sharma's family has denied "all the allegations" and said that they would respond in detail soon.
Khan's sisters have also insisted that Sharma's depression was "brought on by childhood trauma" and that it had nothing to do with her break-up which they say was mutual and happened on a "good note".
By Sharma's own accounts, she shared a close relationship with Khan and his family.
A month before her death, she had posted a photograph with Khan on Instagram where she had called him "the most beautiful Man in my life".
And in December, she shared photographs with one of Khan's sisters, describing her as "my favourite person".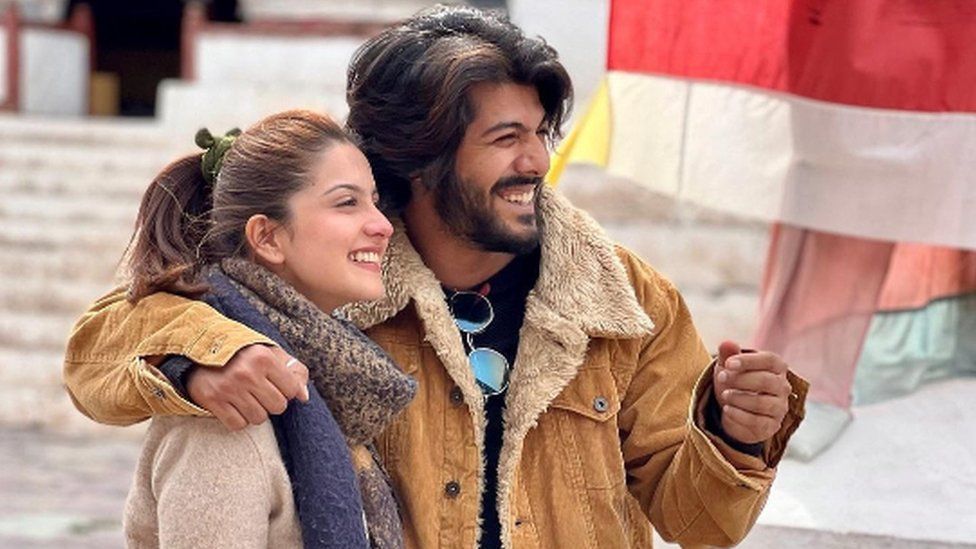 The unrelenting focus on the tragedy is also partly due to the fact that Sharma was Hindu while Khan is Muslim.
Although Mr Jadhav, the police official, told ANI news agency that "no religious angle had come to light" during the investigation, Hindu right-wingers have insinuated that religion may have played a part in the death.
Members of Hindu nationalist groups, including India's governing Bharatiya Janata Party (BJP), have alleged that the case could have a "love jihad angle" – a term radical Hindu groups use to promote a baseless accusation that Muslim men are converting Hindu women by marriage.
BJP leader Girish Mahajan, who is a minister in the western state of Maharashtra, told ANI that such cases were "increasing" and the state government was considering a "strict law against it".
Sharma's family too alleged that she had begun wearing the hijab and had "changed her lifestyle" after she started dating Khan.
A photograph of the actress wearing the hijab began circulating on social media soon after her death, sparking outrage among hardline Hindus.
Khan's sister denied allegations that they had "forced" Sharma to wear the hijab and insisted that the picture was from the set of her show.
DISCLAIMER: The Views, Comments, Opinions, Contributions and Statements made by Readers and Contributors on this platform do not necessarily represent the views or policy of Multimedia Group Limited.