Changes to the rules on international travel are expected to be announced by the UK government later.
Ministers are considering scrapping the requirement for double-jabbed people returning to the UK to take PCR tests.
The traffic light system could also be simplified, with the amber list removed entirely.
Any changes would apply to England initially, as the UK's devolved administrations are in charge of their own travel rules.
Meanwhile, the Guardian and the Times have reported that dozens of countries will be removed from the red list – the highest level of alert for international travel which means returning travellers must spend 11 nights in hotel quarantine at a cost of £2,285.
There are currently 62 countries on that list.
Currently, travellers who are not fully vaccinated are required to quarantine upon returning to the UK from an amber list destination.
By removing the amber category, only passengers arriving from red list countries would have to quarantine in a government-approved hotel.
Ministers have also been under pressure to reconsider the testing requirements for travellers – with the industry and holidaymakers hoping for the change ahead of the October half-term holiday.
Under current rules, people arriving from green list countries must take a Covid test shortly before their return and submit a PCR test on their second day back in the UK.
Tim Alderslade, chief executive of Airlines UK told the BBC that testing requirements were preventing the UK travel industry from competing with European rivals.
He also warned that thousands of jobs could be at stake if restrictions remain while furlough support ends.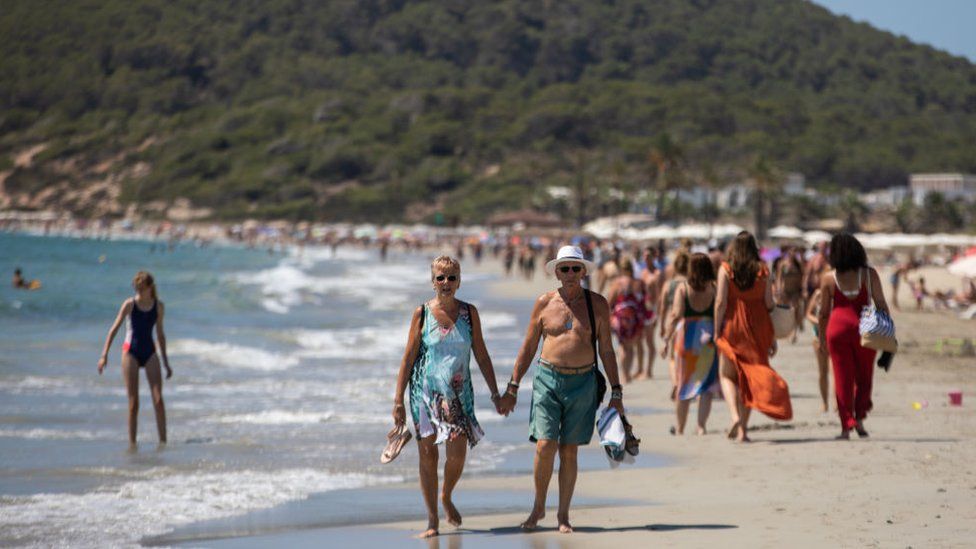 Huw Merriman, Conservative chairman of the Commons Transport Select Committee, said PCR tests were expensive and "putting people off travel" while the rapid lateral flow tests were "just as safe". The NHS charges £68 for a lab-processed PCR test.
Fully vaccinated people should only need a PCR test as confirmation if their lateral flow test came back positive, he said.
One justification for requiring PCR tests is that they can be used for gene sequencing and tracking coronavirus variants.
But Mr Merriman said just 5% of positive tests were sequenced in July, adding that people were being "ripped off".
Alan McNally, professor of Microbial Evolutionary Genomics at the University of Birmingham, said lateral flow testing would be "sufficient" for travellers given the UK's high Covid rate, but argued it was "vitally important" that genome-level surveillance of travel-related Covid cases continued.
He told BBC Radio 4's Today programme: "I would really hope that there will be very strong mandate that any [lateral flow] tests from travel have to get a confirmatory PCR test."
He said past experiences and the emergence of the Delta variant showed that travel-related Covid cases were a "very high risk" to the UK and could cause "big trouble" if they were not being monitored.
With countries such as those in the EU, there is a greater degree of confidence that variants are being reported and vaccination records are accurate, he said. But he said in others it may be less certain.
A Department for Transport spokesman said: "Our top priority is to protect public health – decisions on our traffic light system are kept under regular review and are informed by the latest risk assessment from the Joint Biosecurity Centre and wider public health factors."