Thousands of people are being evacuated downstream of a major dam which has collapsed in Russian-held Ukraine.
President Zelensky said 80 towns and villages were at risk of flooding after the destruction of the dam at Nova Kakhovka, which he blamed on Russia.
Water is surging down the Dnipro river and is said to pose a catastrophic flooding risk to the city of Kherson.
Russia has denied destroying the dam - which it controls - instead blaming Ukrainian shelling.
Neither Ukraine nor Russia's claim has been verified by the BBC.
The Kakhovka dam is crucial in the region. It contains a reservoir, which provides water to farmers and residents, as well as to the Zaporizhzhia nuclear power plant. It is also a vital channel carrying water south to Russian-occupied Crimea.
Video footage shows a torrent of floodwater gushing through a breach in the dam. Several towns are already flooded, while people in areas further downstream were forced to flee by bus and train.
Around 40,000 people need to be evacuated, Deputy Prosecutor-General Viktoriya Lytvynova said on Ukrainian television - 17,000 people in Ukraine-controlled territory west of the Dnipro River and 25,000 on the Russian-controlled east.
Also speaking on Ukrainian television, Interior Minister Ihor Klymenko said about 1,000 people had been evacuated so far and "24 settlements" had been flooded.
He accused Russia of shelling the southern region of Kherson, where people were being evacuated from, and issued a warning about the dangers posed by mines being exposed by the rising water levels.
https://emp.bbc.com/emp/SMPj/2.49.3/iframe.htmlMedia caption,
A building is seen floating along the Dnipro river in the Kherson region
One local resident Andriy, who lives close to the dam - which has been under Russian control throughout the invasion - said he believed Russia wanted to "drown" his city.
In Kherson, a woman called Lyudmyla - who was loading her belongings including a washing machine onto a trailer that was attached to an old car - said: "We're afraid of flooding. We're taking our things a little higher up."
She called for Russian forces to be "kicked out of here... they're shooting at us. They're flooding us or doing something else".
Another resident of the city, Serhiy, said he feared "everything is going to die here".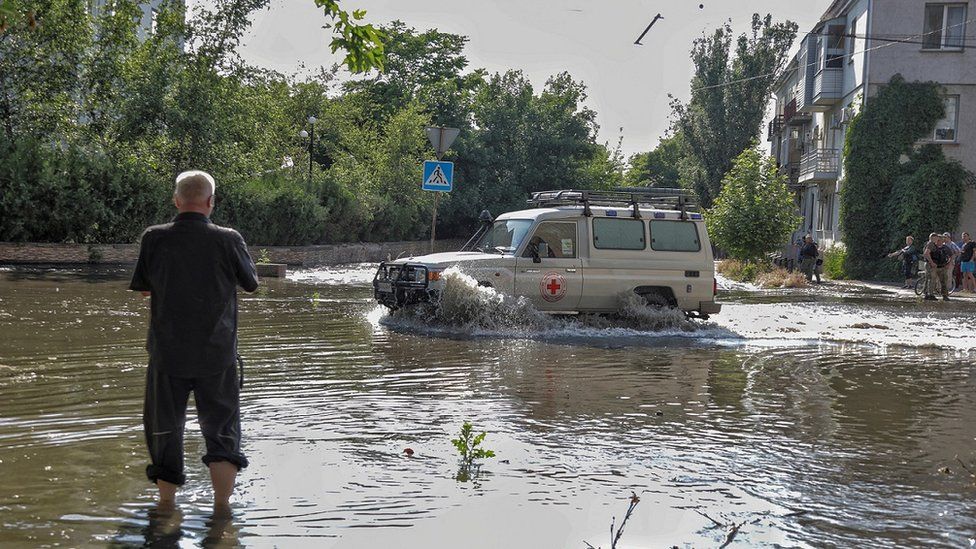 "All the living creatures, and people will be flooded out," he said, gesturing at nearby houses and gardens.
On the Russian-controlled riverbank, Vladimir Leontyev, the Moscow-installed mayor of Nova Kakhovka where the dam is located, said the city was underwater and 900 people had been evacuated.
He said 53 evacuation buses were being sent by the authorities to take people from the city and two other settlements nearby to safety.
https://emp.bbc.com/emp/SMPj/2.49.3/iframe.htmlMedia caption,
Watch: Swans seen swimming through Nova Kakhovka
Nova Kakhovka's Russian-installed mayor said water levels had risen to over 11m (36ft) and that some residents had been taken to hospital, but gave no further details.
The Kazkova Dibrova zoo on the Russian-held riverbank has been completely flooded and all 300 animals are dead, it said in a post on its Facebook page.
There are concerns about the impact on the Zaporizhzhia nuclear power plant, which uses water from a reservoir behind the dam for cooling.
The situation there is said to be under control and the International Atomic Energy Agency (IAEA) has said it is monitoring the situation closely.
The UN agency said it saw "no immediate nuclear safety risk" at Europe's biggest atomic plant.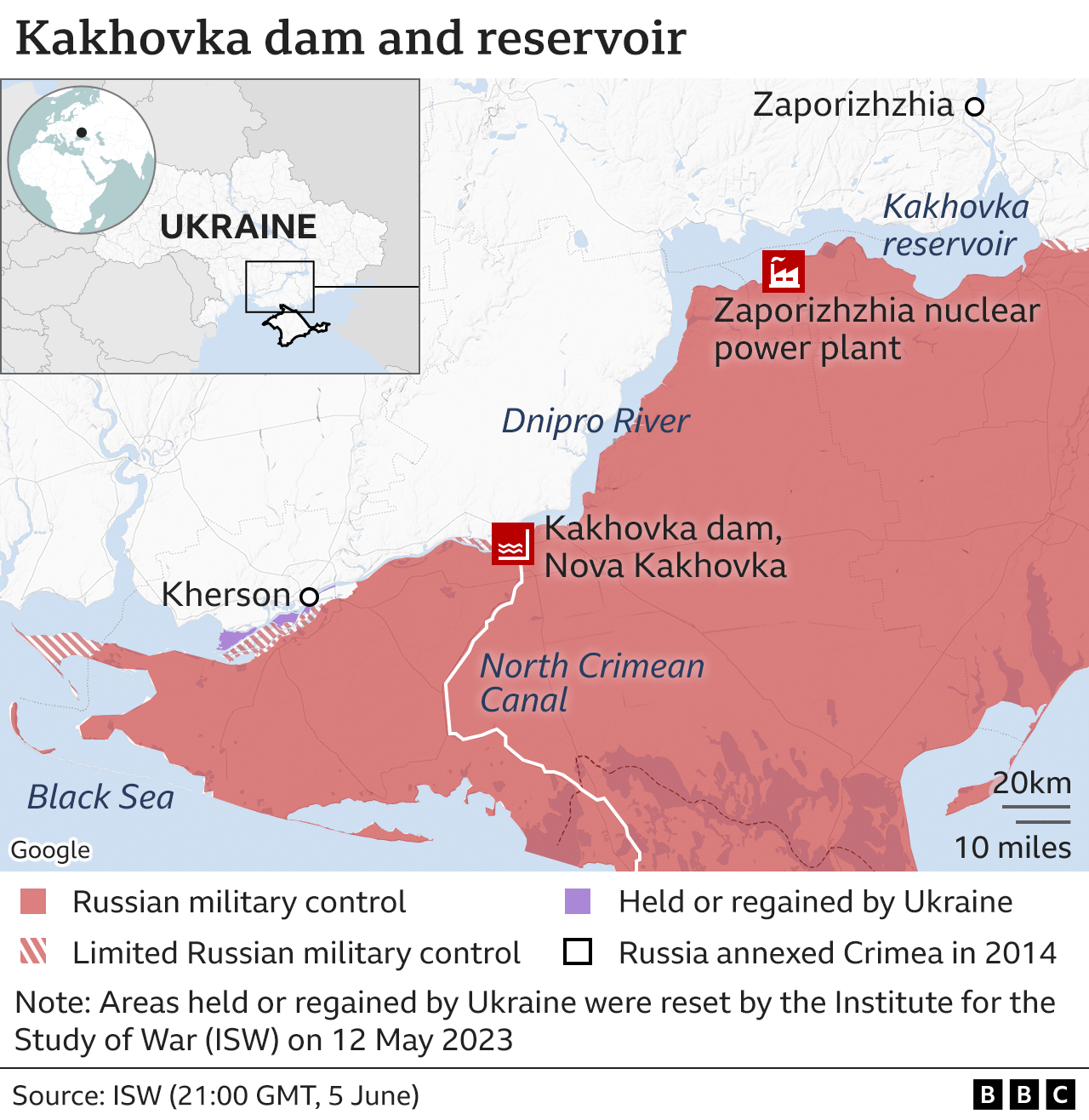 It is not yet clear what caused the breach in the dam, but Ukraine's military intelligence has accused Russia of deliberately blowing it up early this morning.
This seems plausible, as Moscow may have feared that Ukrainian forces would use the road over the dam to advance into Russian-held territory, as part of their counter-offensive.
For Russia, anxious to defend conquered territory in southern Ukraine, the dam represented an obvious problem.
Just as Ukrainian forces attacked road and rail bridges further downstream last autumn in a successful effort to isolate Russian forces in and around Kherson, Russia may have decided to destroy the dam to hold up Ukraine's counter-offensive, which it fears could come from multiple directions.
However, a Russian official claims Ukraine carried out the attack on the dam to detract from what they said were the failures of its counter-offensive and to deprive Crimea of fresh water.
A major Ukrainian push has long been expected. Kyiv has said it would not give advance warning of its start but a recent increase in military activity is being seen as a fresh sign that the counter-offensive may have begun.
Senior Ukrainian military commander Serhiy Naev said the dam blast would not stop Ukraine from advancing.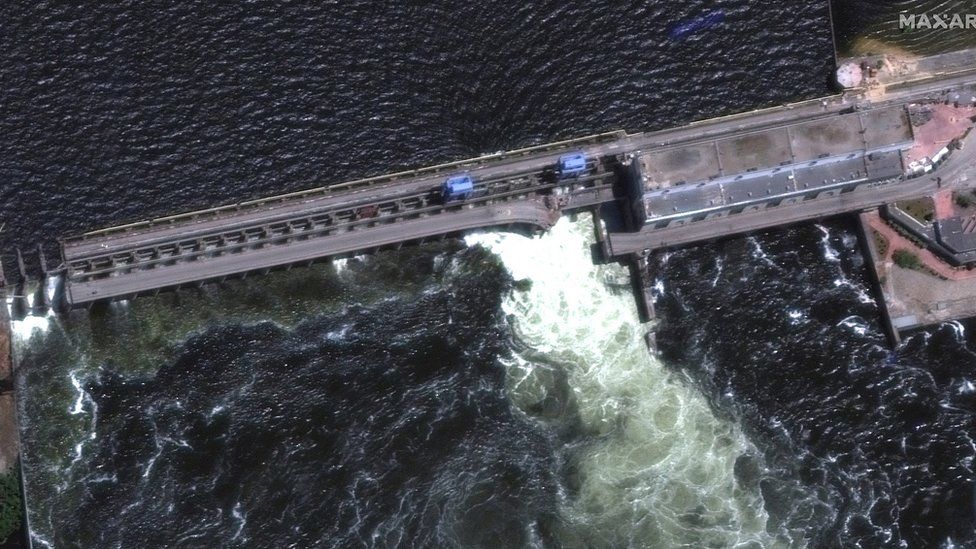 On Monday, Ukraine's deputy defence minister Hanna Maliar said Ukrainian forces had advanced around the "epicentre of hostilities" in Bakhmut, but did not say whether the counter-offensive had begun.
Bakhmut has for months been at the heart of fierce fighting. It has little strategic value - but is important symbolically both for Kyiv and Moscow.
In the aftermath of the attack on the dam, Mr Zelensky said he had called a meeting of the country's security and defence council.
Blaming "Russian terrorists" for the partial destruction of the dam, Mr Zelensky said "it's only Ukraine's victory that will return security".
Yuri Sak, an adviser to Ukraine's ministry of defence, told the BBC Radio 4's Today programme that phone intercepts suggest Russia wants to target more dams.
"They're actually calling to blow up more dams on the Dnipro river," he said.
Ukraine has branded the attack on the dam "ecocide" and said that 150 tonnes of engine oil has spilled into the Dnipro river.
Ukraine's hydroelectricity operator has said that a power station linked to the dam had been "completely destroyed... the hydraulic structure is being washed away".
World leaders have laid the blame for the blast at Russia's door, with some calling it a war crime.
UK Prime Minister Rishi Sunak said that if Russia was found to be responsible for the collapse of the dam it would "demonstrate the new lows that we will have seen from Russian aggression".
The head of Nato, Jens Stoltenberg, said the destruction of the dam demonstrated once again the brutality of Russia's war in Ukraine, while Charles Michel, the president of the European Council, said he was "shocked by the unprecedented attack".
The Geneva Conventions explicitly ban targeting dams in war due to the danger it poses to civilians.
DISCLAIMER: The Views, Comments, Opinions, Contributions and Statements made by Readers and Contributors on this platform do not necessarily represent the views or policy of Multimedia Group Limited.