Former President Barack Obama has said senior US Republicans are undermining democracy by going along with President Donald Trump's unsubstantiated claims of election fraud.
In an interview with CBS News, due to air on Sunday, Mr Obama said President-elect Joe Biden had "clearly won" this year's race for the White House.
The result was projected by US media on Saturday but some counting continues.
Claiming ballot tampering, Mr Trump has launched a flurry of legal challenges.
The president's team has yet to provide any evidence to support their claims.
Mr Obama – Mr Trump's Democratic predecessor – said the allegations were motivated by the fact that "the president doesn't like to lose".
"I'm more troubled by the fact that other Republican officials, who clearly know better, are going along with this," he added. "It's one more step in delegitimising not just the incoming Biden administration, but democracy generally, and that's a dangerous path."
Mr Obama was speaking ahead of the release of his new memoir, A Promised Land, which charts his rise to the US Senate and first term as president. Due for release on 17 November, it is the first of two books covering his time in the White House.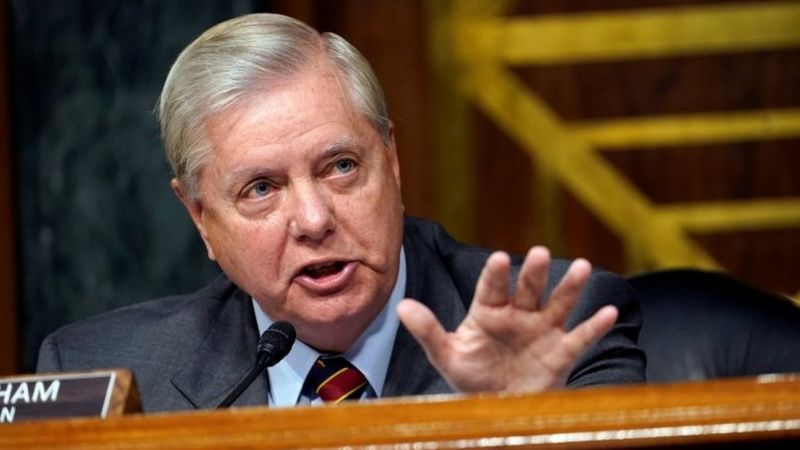 In his memoir, Mr Obama said President Trump ascended to power by stoking fears about a Black man leading the country, according to excerpts quoted by CNN.
"It was as if my very presence in the White House had triggered a deep-seated panic, a sense that the natural order had been disrupted," he reportedly wrote.
"For millions of Americans spooked by a Black man in the White House, [Trump] promised an elixir for their racial anxiety."
What's the latest in the transition?
On Thursday, the two top congressional Democrats – House Speaker Nancy Pelosi and Senate minority leader Chuck Schumer – called on Republicans to "accept reality" with Joe Biden's victory.
A small but growing number of Republicans on Capitol Hill have congratulated Mr Biden or backed calls for him to be given daily intelligence briefings – a usual practice for incoming presidents.
But most in the party are standing by President Trump in refusing to acknowledge Mr Biden's victory.
The president-elect is 5.2 million votes ahead of Mr Trump – about 3.4% – and is projected to have enough electoral votes needed in the state-by-state Electoral College to take the presidency.
There are reports Mr Trump has told friends he wants to start a digital media company to undermine the conservative network Fox News, whose once full-throated support he now feels lacking.
Meanwhile, a group of senior US officials responsible for the integrity of the election has called last week's race "the most secure in American history," saying they had found no indication it was compromised.
"We can assure you we have the utmost confidence in the security and integrity of our elections, and you should too," the group said in a statement.
What has Biden been up to?
He has picked veteran political operative Ron Klain to be White House chief of staff. Mr Klain has served as a top aide to Mr Biden since the 1980s in the Senate and later when he was vice-president.
The White House chief of staff manages the president's daily schedule and is often described as his gatekeeper.
Mr Biden has also continued to call world leaders and other important figures as he presses ahead with preparations to assume the presidency.
On Thursday he spoke with Pope Francis, who offered Mr Biden his "blessings and congratulations". Mr Biden will be only the second Roman Catholic president of the US.
DISCLAIMER: The Views, Comments, Opinions, Contributions and Statements made by Readers and Contributors on this platform do not necessarily represent the views or policy of Multimedia Group Limited.