The CEO of Women's Empowerment and Investment Group, Adeline Akufo-Addo Kufuor has been nominated for this year's Forty under 40 Awards.
The women-led Ghanaian Investment Holding Company is set up to efficiently channel capital into high-potential Small and Medium Scale Enterprises (SMEs) that prioritise female empowerment and entrepreneurship.
WEIG does this by making permanent capital investments of between $200,000 and $2 million in women-focused greenfield and brownfield businesses/business opportunities in Africa's "KINGS" economies namely Kenya, Ivory Coast, Nigeria, Ghana and Senegal of which Ghana is its launch and primary focus country.
The Group has been supporting local dressmakers with contracts to produce PPE's. The aim of this is to minimise job losses in the wake of the outbreak of the Covid-19 pandemic.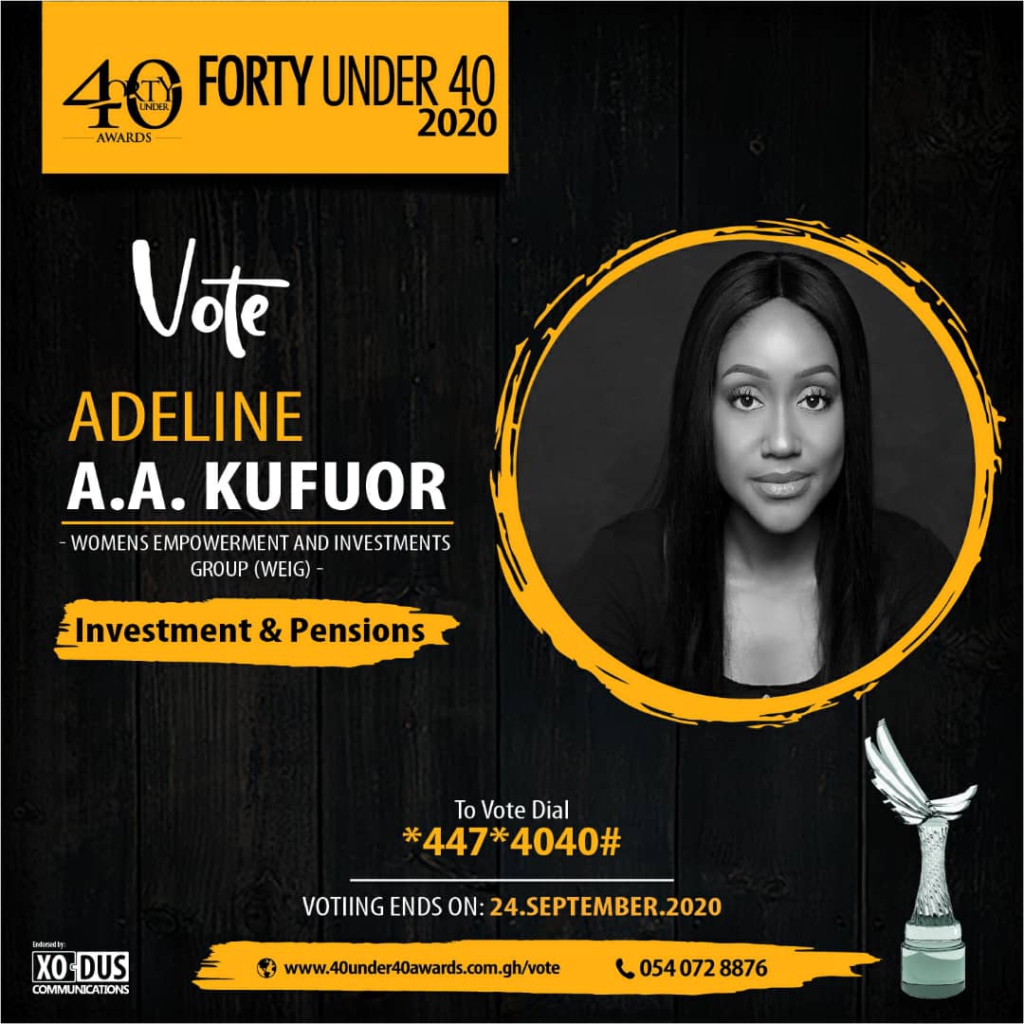 The harm that has been caused by the outbreak on Ghanaian businesses cannot be overemphasized.
This initiative offers a sigh of relief to businesses which have seen their
productivity levels and revenue reduced drastically and are struggling to hold on to their employees.
The Women's Empowerment and Investment Group (WEIG) in collaboration with Annan Capital Partners (ACP) and GUBA, have team to offer seed investment to women-owned and Ghana-based Small and Medium businesses.
This seed investment is part of an initiative to uplift SMBs currently affected by the coronavirus pandemic.
She is also the Co-Founder of The Lotte Accra, an African Luxury Concept Store which curates and houses high-quality African luxury and lifestyle goods.
The Lotte was founded as a platform to increase the visibility of luxury African brands.
Through the different channels within which Adeline operates she truly believes that Developing strong relationships is the foundation of everything she does, both professionally and personally.
She holds a Bachelor's degree in Economics and Business and a Law degree.
Commenting on her nominations, Adeline A.A. Kufuor said, "It is a true honor to have been nominated for the 40 and 40 awards.
"It only provides me with more motivation to keep going and to keep working to support the plight of young females and lead enterprises in Ghana."