It is exactly ten years ago today, when I had an opportunity to start work at myjoyonline.com, a subsidiary of the Multimedia Group.
I had been an ardent listener of Joy FM from its inception.
I never dreamt of becoming a staff of the mother company of the radio station. But when my good friend, Isaac Yeboah told me he was the Editor of myjoyonline.com and requested that I sent him pictures of events I covered for use on the website, I saw it as an opportunity which any curious photojournalist will explore.
So I started doing that in return for a byline as reward. I was happy and agreed because some of the media houses I was providing images, failed to credit me in any way. Nonetheless, that never discouraged me because seeing my published work was a kind of consolation. So if myjoyonline.com had assured me of a byline (every Journalist's claim to fame), that was a step forward, I told myself.
The freelance arrangement went on for 4 years. Subsequently, I formally applied.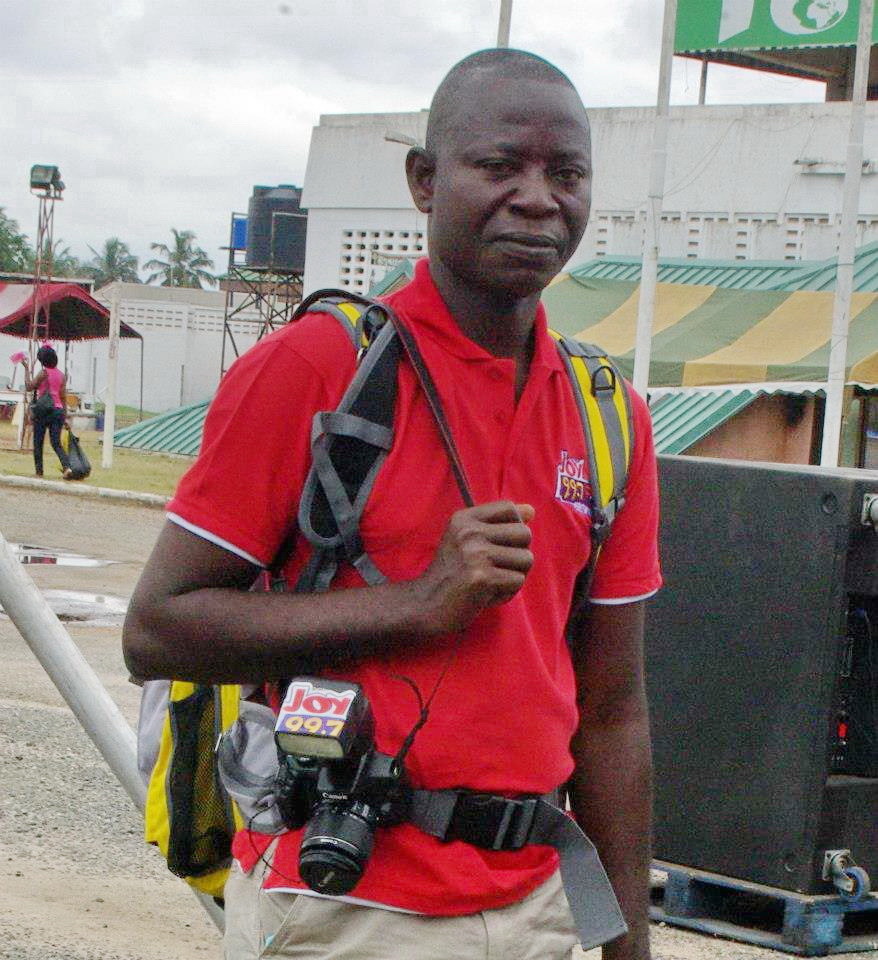 One day, I had a call from the Multimedia Group's HR Department that I should come for an interview in 3 days.
So I researched well on who a photojournalist is, what his role is in the newsroom, and what a photojournalist should do for his organization to stay ahead of competition. Although I had equipped myself with that knowledge, I was still nervous.
On that sunny morning, I wore my black trousers and sea blue shirt with a wine tie and picked up a taxi to Kokomlemle.
When I got to Joy FM, I was asked to wait at the conference room.
I waited for a little over 30 minutes but there was no interview. I was given a week to return.
I used that week to read about one of Africa's greatest photojournalists, Mohamed Amin from Kenya, Mr. James Barnor, first Ghanaian photojournalist and Robert Capa, a Hungarian-American war photographer and photojournalist.
Getting that Multimedia job became a 'Do or Die' affair. So I equipped myself with how the two photojournalists successfully do their work.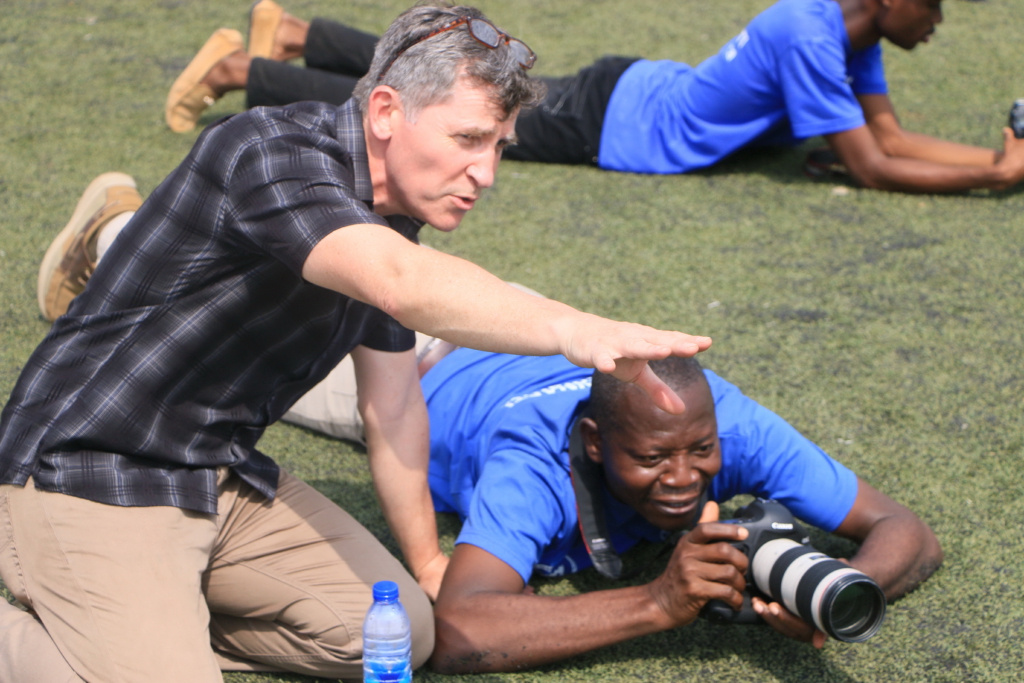 All too soon the much awaited day came and I had to go for the interview. I said to myself, 'this day should be my day'. I put on my photographic jacket and hanged my camera on my neck and I picked a taxi to the premises of Joy FM.
When I got to the reception, I called the HR officer that I had arrived. I was asked to wait. In about 15 minutes, the receptionist handed me the phone receiver. On the other side of the receiver was the same soft spoken lady who has been calling me.
She said, "your interview has been postponed. A new date will be communicated to you."
I was totally confused on my way home. My worry was that I had applied to all the media houses I was freelancing for but none of them was ready to offer me a job.
Later, Isaac Yeboah called to tell me I should not give up. However, I stopped thinking about the possibility of getting a job with the Multimedia Group.
One day, I was walking through town when a call came and it was the same soft spoken lady, but on this occasion she mentioned her name- Ewurabena Ewool.
"Mr. David Andoh, do you still want the job?" she asked. I kept quiet for a while, until she asked again. Then I replied, yes!!! "Please come tomorrow morning at 10:00am," she said.
In fact, I did not want to go, but something said I should go and try.
This time, the moment I got to the reception, Ewurabena asked me to go to the conference room .
At the conference room, I met Isaac Yeboah the Editor and his Deputy, Malik Abass Daabu who said they were waiting for another person to join them.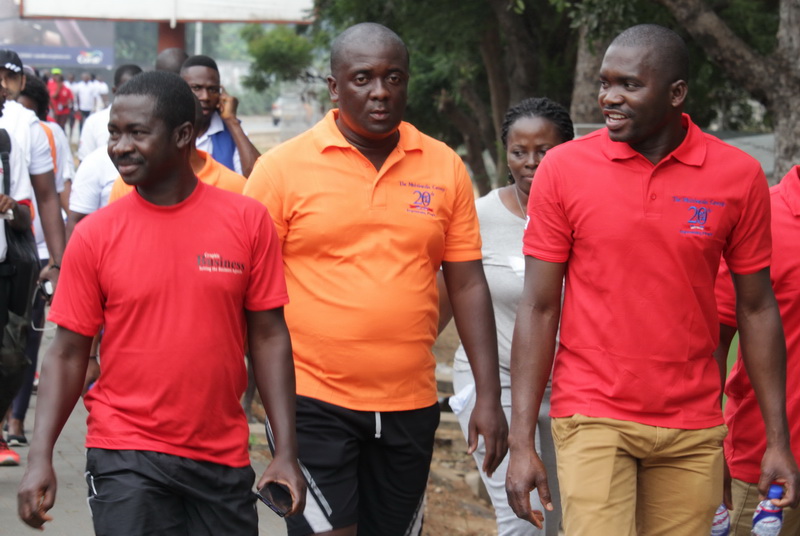 We were there when the person called to tell them to carry on with the interview. Therefore, I thought the interview was going to be easy but that was not the case.
Most of the questions were on the defunct media organizations I worked with and how my contribution did not help to sustain those collapsed media houses. Other questions bordered on what I will bring on board if I was given the opportunity.
In fact, I became too nervous but went home with hope.
Three days later, Ewurabena called me and greeted me with a smile. "David Andoh, you are going to start work on April 3 ok? Good luck," she said.
I quickly called Isaac for confirmation. He did. That is how my ten-year journey at the Multimedia Group began.
My first day at work was more or less for orientation. I was presented with a branded myjoyonline.com camera, laptop, and modem to enable me to file my pictures with speed from location.
The following day, Isaac scheduled a meeting with me to fashion out strategies that will ensure that we capture most of the happenings and everyday life of people.
My role was to cover everything. So the moment I finished filing my story, I rushed to another programme, and that made people wonder how I managed to do that. They did not know that I filed those photos from the scene.
My biggest motivation was that my editors paid attention to my works and published them.
The interesting part of it is that while I was covering a particular programme, my photos were published. Hence, participants in the programme who were reading stories online on their phones came asking, "when did you take these pictures?"
My first Impact Story
The Mallam Market which is around Mallam Junction was on fire, so I rushed to the scene. I saw that several properties running into millions of cedis had been destroyed and market women were wailing while Fire Service personnel were battling the inferno.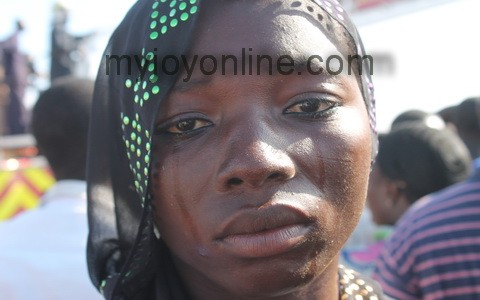 On the scene, I saw a young lady who was crying. I thought she lost a relative in the incident.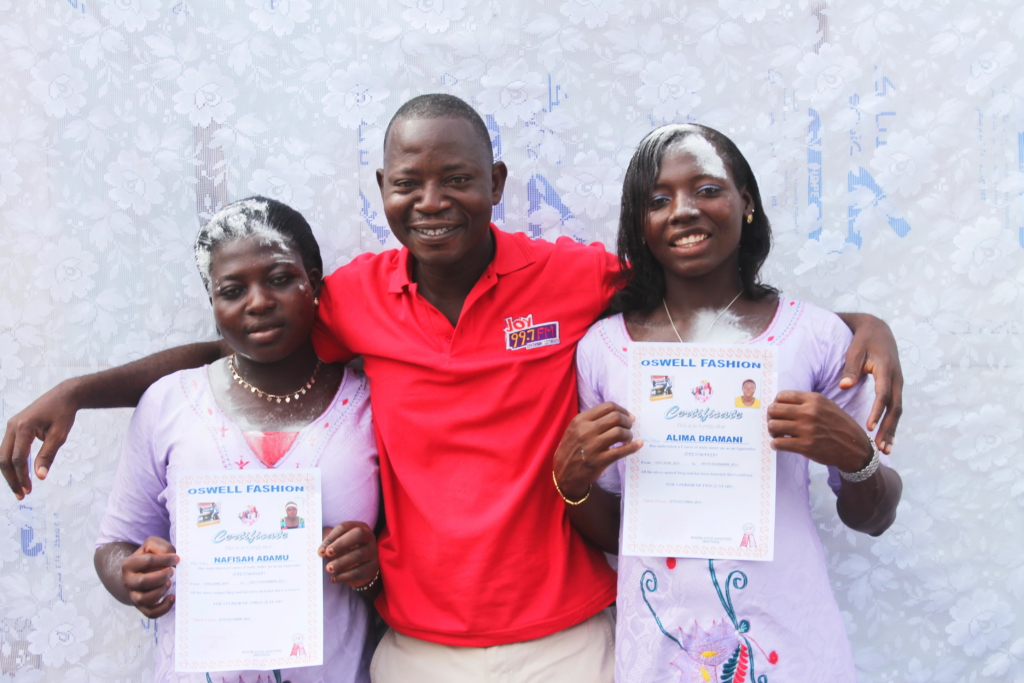 After I had engaged this lady in a conversation it was established that Alima Dramani, a former Head Porter, lost the sewing machine she toiled for years to buy to enable her to learn how to sew to the fire. Her sorrow stemmed from the fact that she could not think of going back to Makola to do that work again. It was too much to comprehend for her.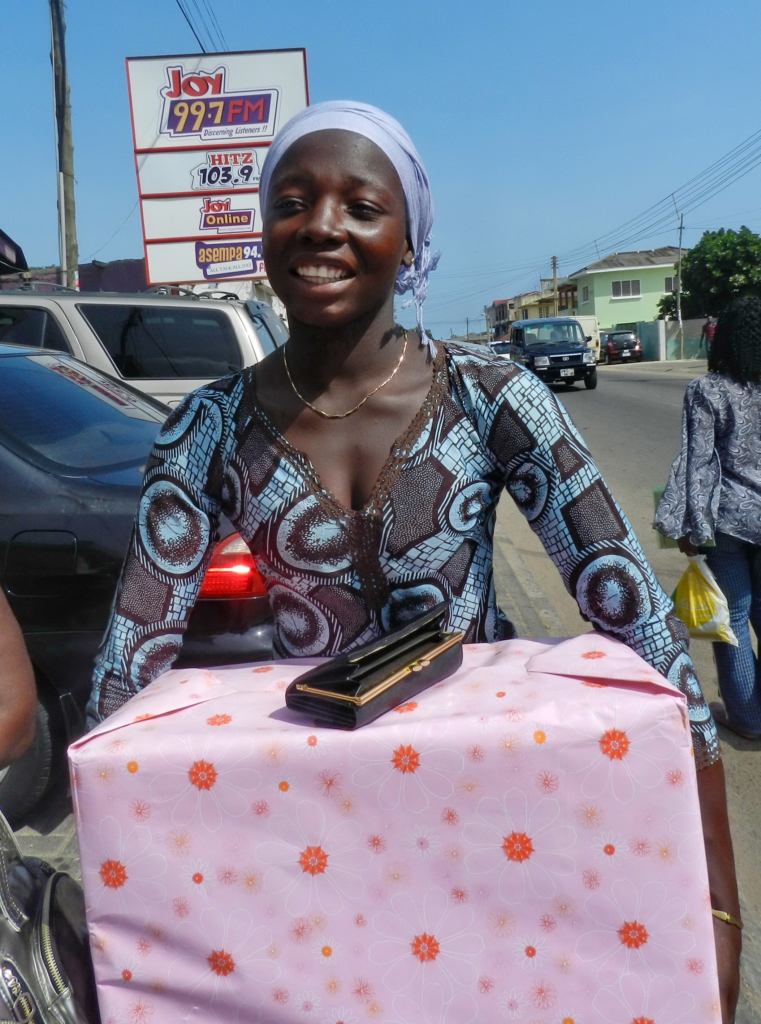 Soon after the story was published an NGO called to express interest to buy new sewing machine.
A month later the NGO came to our office to present two sewing machines to Alima Dramani and her colleague head porter who also lost her sewing machine in that fire disaster.
My viral Pictures
One of my viral photos was that of Carlos Ahenkorah, who is the Member of Parliament for the Tema West Constituency when he did the unexpected in Parliament by snatching uncounted ballot papers in the Speaker of Parliament elections and attempted to bolt with it.
My camera swiftly captured him when he was grabbed by some Marshals of Parliament to prevent him from tampering with the ballot sheets.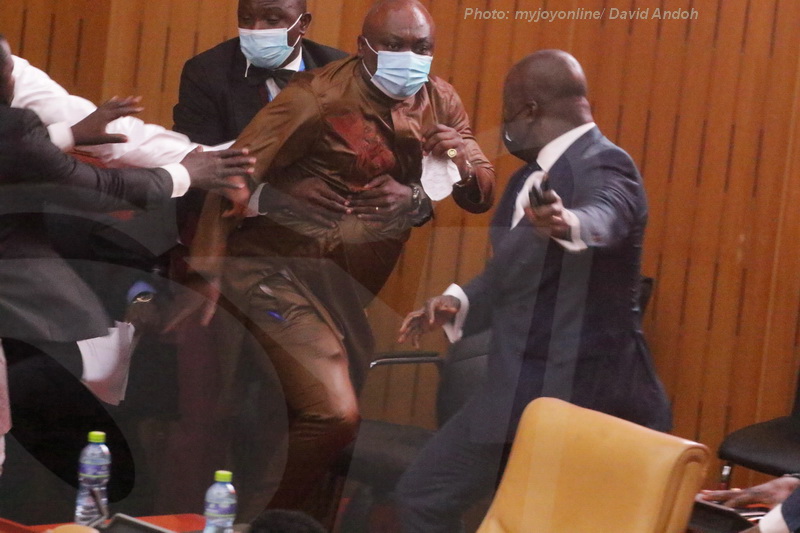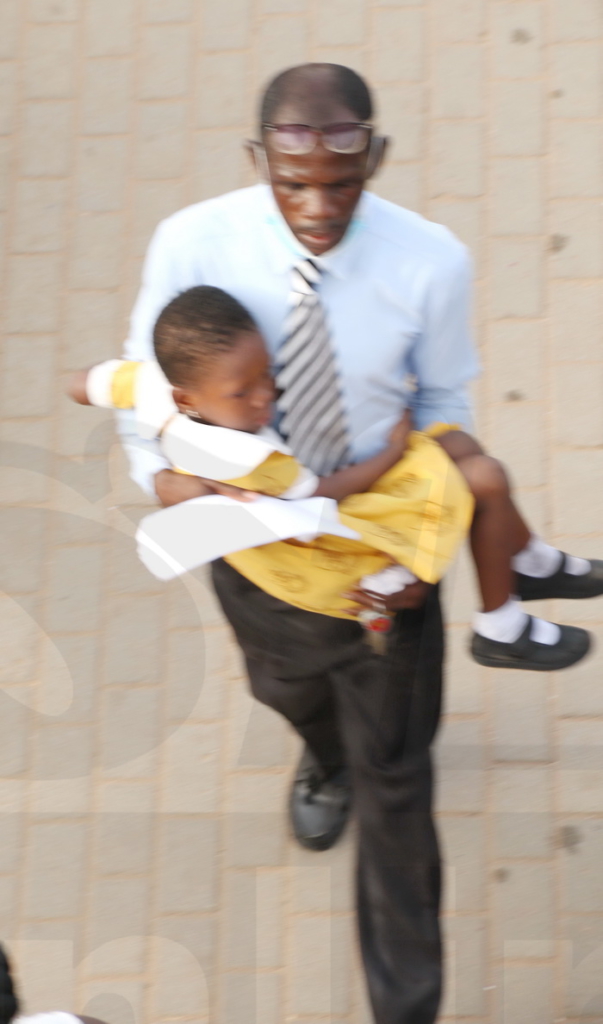 My other picture was that of a father who was dressed up for work but was seen carrying his daughter on his arm to school during the commercial drivers' strike.
About 15 minutes after the story was published, some group of people called to enquire about how to get in touch with Mr. Azuma to reward him for the fatherly love he showed to his girl child.
My first air disaster coverage was on June 3, 2012
I was covering an evening event at the National Theatre when I had a call that an aircraft had crashed at the El-Wak stadium. It was 8:00 pm and it was raining so I moved out to arrange for a motorbike to the scene.
When I got to the scene, I found out that a Nigerian-owned cargo plane, Allied Air was on the ground partly damaged, with soldiers conducting rescue operations. I managed to take some shots but my flash gave me out and my images were deleted and I was escorted to a location far away from the scene and cautioned.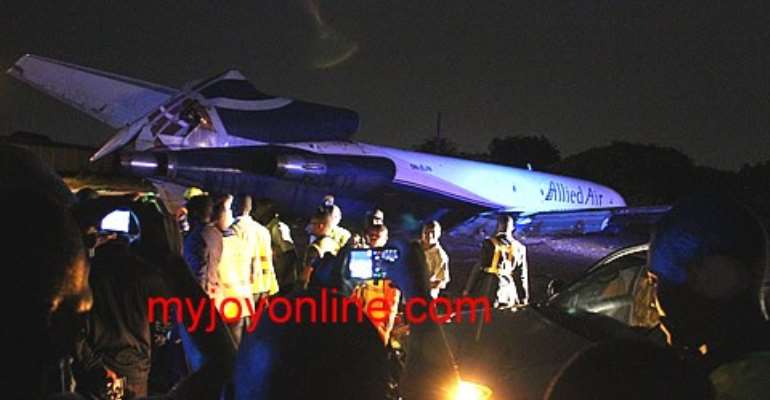 I was not deterred because my curiosity to be the first photojournalist to publish photos of that crash was bubbling in me. So, I told myself that I should not end there. Plan B kicked in.
How to execute that plan to get my goal accomplished became critical with limited options. I hid my camera and used another route to the scene. I did that perfectly.
When I got to the scene this time around, Fire Service personnel had dominated the soldiers who were busily working, so I quickly took pictures without using the flash on the blind side of the personnel. That worked for me to get enough pictures from many angles.
After that, I called the office for a car to pick me up. This was done and myjoyonline.com became the first online news portal to publish pictures of that air disaster.
A weekly opinionated photo feature, titled 'Photo of the week' was introduced which made myjoyline.com a reference point for dramatic editorial pictures.
Working in a competitive environment such as Myjoyonline.com is highly demanding. The ability to meet the expectations of my editors thus requires extra effort and courage.
My First painful error at myjoyonline.com – 'aftermouth' for aftermath
Accra was hard hit by a devastating rainstorm which rendered many people homeless while big trees and giant adverting billboards were brought down.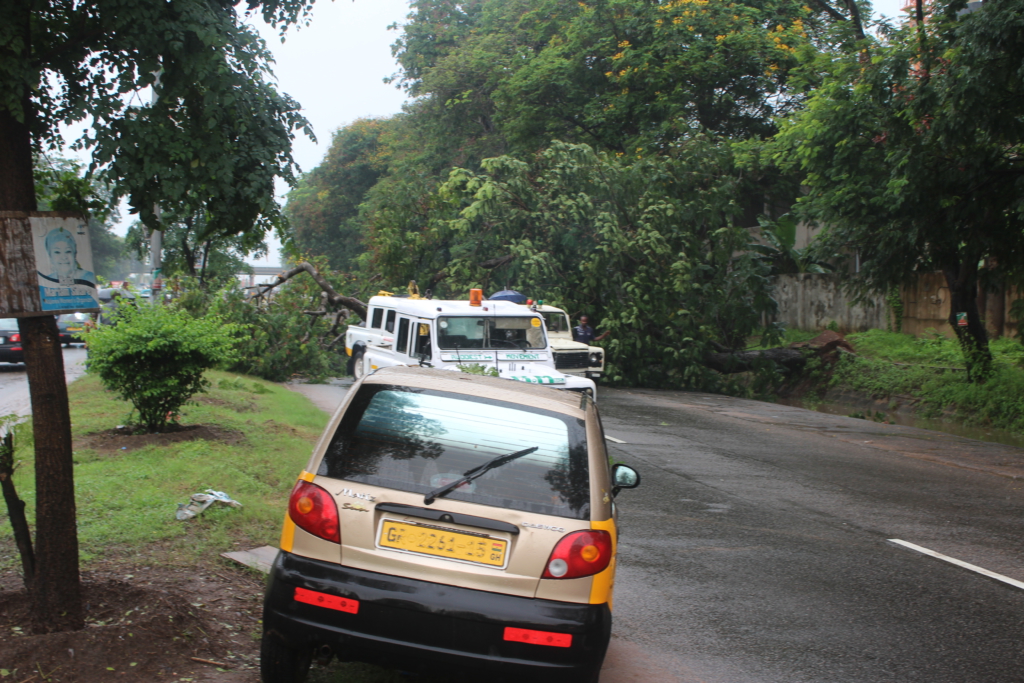 I defied the rains and went out to take pictures and published them in our photo gallery.
Looking at the extent of damage caused, I decided to follow up the next day to monitor the situation.
My follow-up was successful as I was able to capture compelling images of affected residents who had been scooping water throughout the night.
In the headline, I wrote "aftermouth" of yesterday's devastating rain instead of "aftermath" and published it in the photo gallery.
After 30 minutes, my Editor received calls from our readers and our CEO. Isaac felt soo bad about that error and I was given a verbal caution.
Unfortunately, something went wrong technically and the mistake stayed on the site for weeks and people kept talking about it.
I learnt one thing from that particular error, that is, we are serving discerning people. Therefore, we should be guided in everything we do and do it well.
The pleasure of working with Myjoyonline.com
Myjoyonline.com is an appropriate destination to build a photojournalism career and I wish my junior colleagues in the photojournalism profession would have the opportunity.
I started practicing photojournalism in 1996, but the epoch of my career is the ten years I have spent at the Multimedia Group. This is because all my 8 awards were won right here and I thank God and the management of the company for this. More so, because I had submitted an uncountable number of applications to all the leading media organizations but none was ready to offer me a job.
However, the job of a photojournalist itself is challenging, thus full of ups and downs.
One of the painful and exciting moments that still is fresh in my mind was when two presidential bodyguards of former President John Dramani Mahama denied me entry to receive my first GJA Awards. I still can't understand how that happened.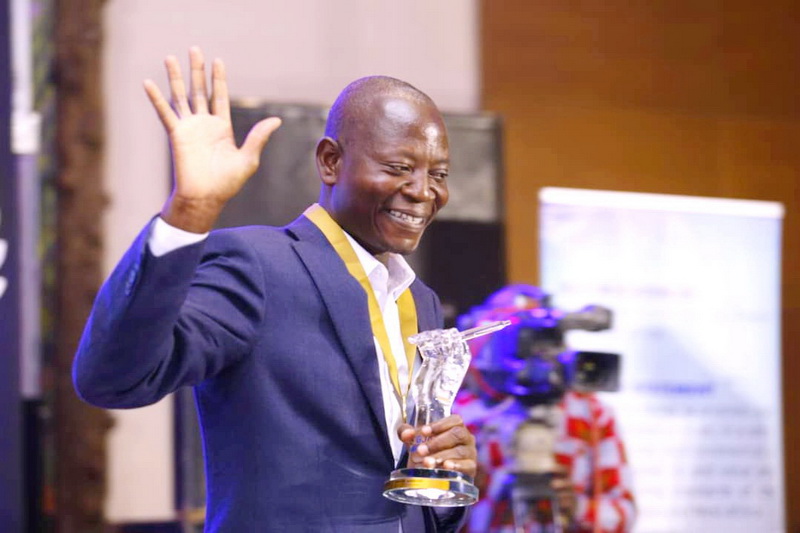 I won my first Ghana Journalists Association's top photo award in 2014.
At the event, President Mahama was the Guest of Honor and for that matter, we were asked to be seated on time which I did. I and my family arrived at the State House at 6:00 pm and were ushered in to occupy our seats.
I spent time fraternising with other award winners. As soon as I assumed my seat, I had a call from my colleague whose accreditation was with me, so I went out to give it to him.
Upon return, at the entrance, the security demanded my entry pass and I told him I was a nominee. All of a sudden the other security at the main entrance instructed the one I was talking to, to close the gate, which he obliged.
Then I decided to go inside through the main entrance. When I got there, the security guard said he will never allow me in. No amount of explanation will convince this security man.
Unfortunately, I left my phone in my bag which I put under the table at where I was sitting with my family.
This is how the presidential bodyguards denied me entry to go for my first award.
Expectedly, my family members were upset about the behavior of that bodyguard, but I calmed them down. "Don't worry, there would be a better opportunity next time," I told them.
My biggest motivation is how editors put a premium on my work so I made it a point to always make my work pass editorial vetting.
The occupational hazards
I have been attacked several times in the execution of my work.
My cameras were smashed at James Town in Accra. But the most humiliating one was when I went to a community to do a photo essay on how pre-mixed fuel was distributed to fishermen.
Pre-mixed distribution center had received the product and fishermen had formed a long queue patiently waiting for their turns while those who had received theirs were happily carrying them away.
I first sought permission from some of the Chief Fishermen who I interviewed and started taking pictures.
While interviewing some of them, the rest rushed on me, snatching the camera from me. I never gave in. I gave them my press card though.
They became agitated when one said I had taken photos of them. Sensing danger, I gave the camera to them to delete the images. By this time, they had surrounded me threatening to beat me.
One of them said he didn't believe I work with multimedia, so they asked me to mention to them the owner of the Multimedia Group. I said I am only a staff hence, did not know who owns the company.
My explanation did not go down well with them. They, therefore, started filming me. I felt soo humiliated to be filmed by fishermen in the cause of my duty.
I have many photo essays to my credit but the one I did on Obuasi which is entitled 122 years of neglect: An untold story of Obuasi, is my favourite.