"The manager doesn't know his best team."
It is a regular criticism aimed at any head coach who frequently makes changes to a struggling side in search of a winning formula.
It is one Chelsea boss Graham Potter, armed with a bulging roster of high-priced talent, is likely to hear a lot unless his side put together a winning run and move up the Premier League table.
There were murmurs of it after the soulless 0-0 draw with Fulham on Friday that included five of Chelsea's new signings from the £300m-plus January spending spree that was sanctioned by the club's new owners.
That outlay followed almost the same amount spent in the summer, with a total of 17 new players brought to Stamford Bridge through two transfer windows.
However, as the dust settled on their first league game since the transfer window closed, they had mustered a mere three shots on target and no goals.
When asked about his player shopping, Potter said: "It's a team for the now and for the future."
But, after such significant outlay, Potter has to hope Todd Boehly and the new ownership group are less trigger-happy than their notoriously impatient predecessor at Stamford Bridge.
'Potter doesn't play the same XI in every game'
For many of the Premier League's best teams – Manchester United in 1999, Arsenal's Invincibles of 2004, Liverpool's peak Klopp years – the first-choice XI pretty much trips off the tongue.
Continuity breeds consistency, right?
But, given Chelsea's abundance of riches, and the number of competitive fixtures in the modern era, is having a best team really possible?
Manchester City have proved over a sustained period that shuffling the starting line-up can bring emphatic success. What's more, Liverpool's reliance on a small core of players in recent years could be contributing to their collapse this season, with so many key men looking spent.
"It's over-simplistic to pick a best team," says ex-Chelsea forward Pat Nevin. "You would never play the same XI in every game unless you've got a team that is so solid and unchangeable.
"Who you pick for an away game in the Champions League will be very different to the team you put out at home against a side in the bottom half of the table.
"Besides, Potter famously changes personnel and styles of play all the time."
So is Chelsea's strategy of splashing huge sums of money on the world's most exciting young talents the right way to go, especially given they have spread the eye-watering cost over lucrative long-term deals?
"It's massively high risk," concludes Nevin. "If you buy young, unproven players on eight-year contracts, a percentage of them will fail.
"But if they've got it right, it's a fantastic way to do it, and I suspect they will be quite an enjoyable team to watch."
Who is in Chelsea's best XI?
Potter faces the delicate task of maintaining harmony in a dressing room packed full of outstanding footballers and big egos. It's a dance Nevin says comes with the territory.
"That's what he gets paid a lot of money for," he argues. "It's the biggest first world problem you're ever going to get. You should look at that as an opportunity, not as a problem."
So who, if everyone is fit, would be in Nevin's first-choice Chelsea side?
"I think it'll change week to week but let's consider who should be playing," he said.
"N'Golo Kante is the very first pick if everyone is fully fit but it's a very big 'if' for me. He'd play with Enzo Fernandez.
"I think you have to play Mykhailo Mudryk and Joao Felix. They are interchangeable in their positions, and then Mason Mount has to play.
"I'd put Kai Havertz up front for the moment but eventually I think he will drop into a deeper area and be one of the attacking three."
Nevin also likes the look of new centre-back Benoit Badashile, even if he could not fit into Chelsea's revised squad for the Champions League.
"They are so short in defence," he said. "He has been exceptionally good in his first few games and I think maybe in a year or so, he will be in a back three with Wesley Fofana and Trevoh Chalobah."
What about those who miss out?
"I have to underline this does not mean that everybody else is rubbish," Nevin adds. "It depends who you are playing against.
"For instance, there will be plenty of games that are made for Raheem Sterling – it's never clear-cut and simple."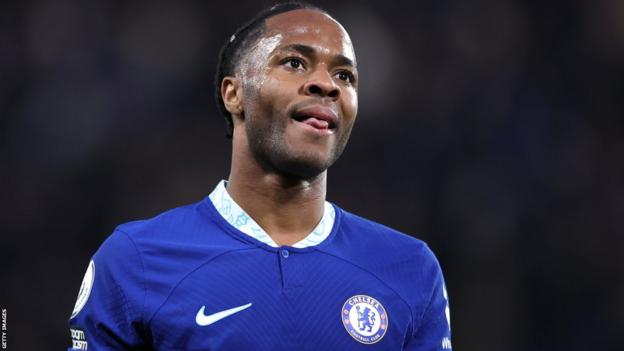 Sterling was the flagship signing last summer, a 27-year-old serial title-winner captured from champions Manchester City who appeared ready-made to spearhead Chelsea's revolution.
One goal and one assist since August is not what Boehly will have had in mind when he sanctioned a £50m purchase.
His is a decorated career but, after the squad roulette of Pep Guardiola at Manchester City, he may not be enjoying a similar experience in west London.
The excesses of January paint the summer window in a dim light. Kalidou Koulibaly and Marc Cucurella both arrived for significant sums after the departures of Andreas Christensen and Antonio Rudiger, but are now not guaranteed starters.
And then there's Pierre-Emerick Aubameyang. Signed as a missing piece of the jigsaw by Potter's predecessor Thomas Tuchel, he clearly does not fit with the strategy of signing young, hungry footballers – and he appears nowhere near Chelsea's first-choice XI.
Nevin, however, views last summer more positively.
"In retrospect, they just needed bodies," he said. "They lost two centre-backs so had to get one in.
"Some call it panic buying, I think it was security buying, but not part of a big plan.
"That's the one we're seeing now."
DISCLAIMER: The Views, Comments, Opinions, Contributions and Statements made by Readers and Contributors on this platform do not necessarily represent the views or policy of Multimedia Group Limited.