The pandemic has brought challenges for many students, but Tushar Joshi's circumstances are tougher than most, writes Sarah Toms.
Surrounded by scrap yards, open drains and busy railway tracks, the Mayapuri slum in the Indian capital, Delhi, is not an easy place to live even at the best of times.
"There's rubbish and mosquitoes, it's really dirty," said 22-year-old Tushar Joshi, who shares a small one-room home with his mother, father and sister.
"It's a health hazard living close to the drain, with the risk of dengue and malaria."
Until he was 15, Mr Joshi was considered a "mediocre student" by his teachers and was expected to become a labourer like his father, he said. In 2020, he graduated from the prestigious Delhi University after receiving support from the Asha Society, a Delhi-based non-profit helping the urban poor.
His hopes of further studies were dampened when India shut overnight in March last year and the country went into lockdown to curb the spread of Covid-19. His father lost his job and the family could not manage to even afford meals.
"That was a really tough time and it was hard to survive," Mr Joshi said, speaking in English, which he has learned only in the past three years. "Initially I couldn't think of going to college and paying such a huge amount of money," he said.
Life turned around for him earlier this year when he won a scholarship to pursue a master's degree at the University of Sydney. Since August, Mr Joshi has been studying international relations with a specialisation in law.
But the pandemic has meant he must attend classes remotely, often working by the light of a dim lamp as his family sleeps. The clanking and rumbling of passing trains shatters any hope of peace and quiet.
"It's everyone's house, not just mine, and it's hard to concentrate with my family doing their own activities and with no privacy to study," he said.
Mr Joshi is the first in his family to attend university. His father is illiterate and works in a scrap yard, earning less than $90 (approximately £66.04) a month, and his mother is a homemaker.
"It's something we could never even imagine because no-one in our entire family or the village has ever studied this much and at the international level," said his father Santosh Joshi.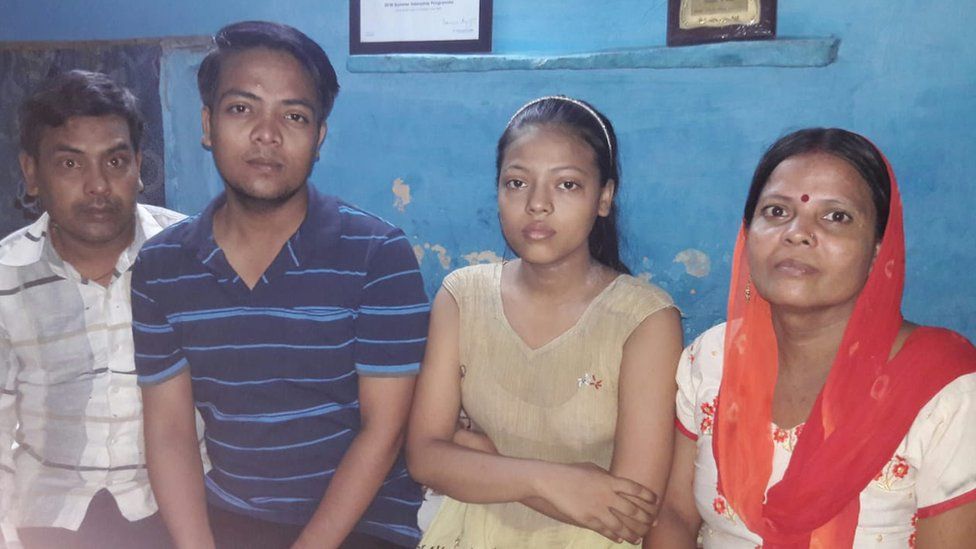 Worth up to $44,000 (approximately £32,282) a year, the Sydney Scholars India Equity Scholarship is given to an exceptional Indian student from a poor background to take a postgraduate degree. It covers tuition fees, a living allowance and textbooks along with flight tickets, health insurance and college residence when Mr Joshi eventually is able to move to Australia.
In the meantime, the university is helping with his remote studies by providing a laptop and high-speed internet. Mr Joshi said he was grateful for the university's help but added that "something was definitely missing". He wishes he was on campus.
But he says he realises he is luckier than many in India. Schools are just starting to open after being shut for more than a year because of the coronavirus pandemic. And it has been particularly hard on poorer children who struggle to learn online without access to internet or a laptop.
Mr Joshi feels the society you live in has "a great impact" on your state of mind. "Most students don't complete studies here in the slum," he said. "They leave at year 11 and go to work as a labourer or in a scrap yard."
Even parents in the slum - who are mostly illiterate - want their children to start working as soon as possible, he said. But his parents were different. "They didn't hold me back despite having financial difficulties. They told me I had to study so I wouldn't be like them," he said.
Despite the daily hardships, the pandemic, and his inability to join his classmates in Sydney, Mr Joshi is determined to complete his education. And he has big dreams of working for the United Nations. "Working at the UN is like a fantasy for me. I would love to go to Geneva," he said.
With Covid cases falling and travel restrictions easing in both India and Australia, Mr Joshi is also hopeful he will be able to physically attend university.
"The New South Wales government, in collaboration with universities, is planning to bring back 500 international students before this Christmas," he said. "I'll be grateful if I can be added to that list."
"My father doesn't say much about my further plans but only wishes that his son gets a good job so that we can come out of the slum and live our lives with dignity," he added.
Asma Shaikh, a 17-year-old homeless girl, has big dreams - but the pandemic has brought new challenges.
DISCLAIMER: The Views, Comments, Opinions, Contributions and Statements made by Readers and Contributors on this platform do not necessarily represent the views or policy of Multimedia Group Limited.