The body of Aretha Franklin, the Queen of Soul, has arrived in Detroit to begin lying in state as thousands of fans gather for a final goodbye.
Her body was delivered in a vintage white Cadillac hearse to the African-American museum in her hometown where it will remain for two days.
The museum also hosted civil rights activist Rosa Parks's viewing in 2005.
Detroit, seen as the home of soul music, is treating Franklin's death as the passing of royalty.
A week of mourning is being held in the city, where fans have descended from across the US to see the late singer one last time.
The body of the 76-year-old, who died of pancreatic cancer nearly two weeks ago, will be on public view on Tuesday and Wednesday at the Charles H Wright Museum of African American History.
"She's the queen," said Melissa Howard, who flew from Texas on Monday to pay her respects.
"She's royalty. She's worth it," she told the Detroit Free Press.
The venue was reportedly chosen because Rosa Parks's viewing took place there in 2005 and because it needs to accommodate the thousands of people expected to attend.
Friday's funeral at the Greater Grace Temple is for family and friends only, but Chaka Khan, Jennifer Hudson and Stevie Wonder are among those due to sing there.
Former US President Bill Clinton will be among the speakers.
The red lipstick and sheer dress she is wearing looks like something the gospel singer would wear onstage and "something she would have selected for herself," her niece Sabrina Owens told the Associated Press.
Embroidered in the lining of her casket in gold thread were the words: "Aretha Franklin, The Queen of Soul".
The 1940 Cadillac LaSalle hearse was also used to transport the body of her father, Rev CL Franklin, funeral director O'Neil Swanson II told CNN.
The vehicle also carried the bodies of Rosa Parks in 2005 and Temptations singer David Ruffin in 1991, he said.
"I was so stunned when we took the body out of the hearse, people all over the crowd were tearful and saying, 'I love you Aretha,"' Mr Swanson said.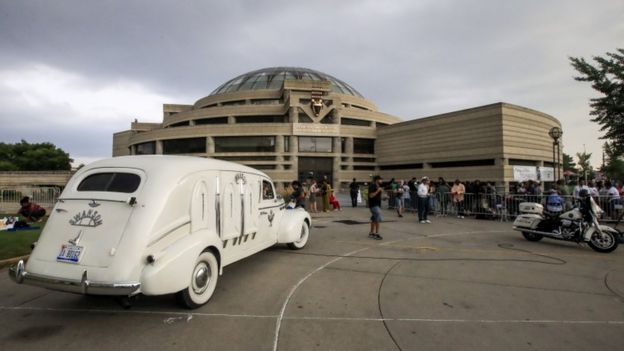 "They really loved her, and she loved Detroit."
He said the casket where Franklin rests is 24-karat gold plated.
"God didn't make a better singer and there isn't a better casket," Mr Swanson said. "She deserves the very best."
For the funeral, the streets outside are expected to be lined with pink Cadillac cars, in a tribute to Franklin's 1985 hit Freeway of Love.
The singer will then be laid to rest at the city's Woodlawn Cemetery.
Franklin, whose voice became an inspiration for dozens of other singers, was also committed to civil rights throughout her life and famously sang at President Obama's inauguration in 2009.