Joe Biden has warned that the fight to bring coronavirus under control in the US is a "wartime undertaking" – devoting much of his first full day in office to tackling the pandemic.
The new president signed 10 executive orders on Thursday that are designed to ramp up testing, tackle vaccine shortages, and increase mask-wearing nationwide.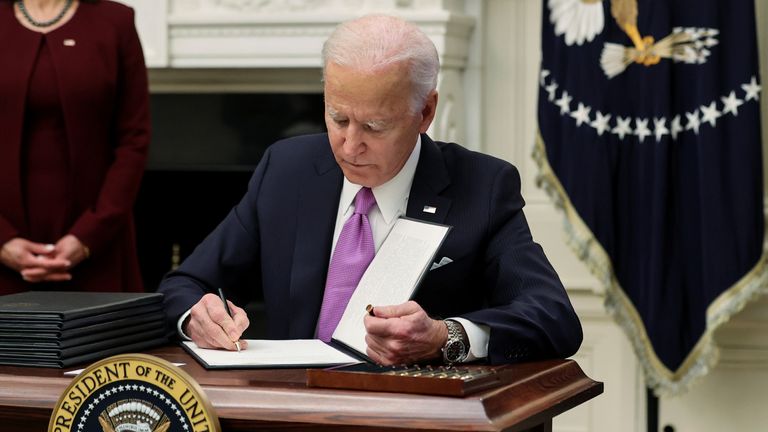 Mr Biden has described the rollout of vaccines in the US as a "dismal failure so far", and vowed to expand vaccine manufacturing in the coming weeks.
He also made a personal plea to the American people, telling them that experts believe more than 50,000 lives could be saved if the public wear masks for the next 99 days.
Mr Biden has pledged to provide 100 million doses of the coronavirus vaccine during his first 100 days in office – and intends to open up eligibility to new groups including teachers and supermarket workers.
He told reporters: "One of the new things in this administration is, if you don't know the answer, don't guess. Just say you don't know the answer."
Later today, Mr Biden will begin calls with foreign leaders – starting with Canadian Prime Minister Justin Trudeau.
But Downing Street has said it is unable to confirm when Boris Johnson will be in contact with the US president for the first time since he entered the Oval Office.