Ghanaian social media activists were relieved after Ghana's food safety regulator (the FDA) broke months of silence on consumer complaints about curdling canned evaporated milk made by Swiss food giant, Nestle.
As discussed in my previous post, the FDA's silence despite having been intimately involved in Nestle's investigation into the milk "coagulation" problem exasperated activists who kept the pressure on until today's regulatory notice recalling 24 batches of the popular Ideal and Carnation evaporated milk brands.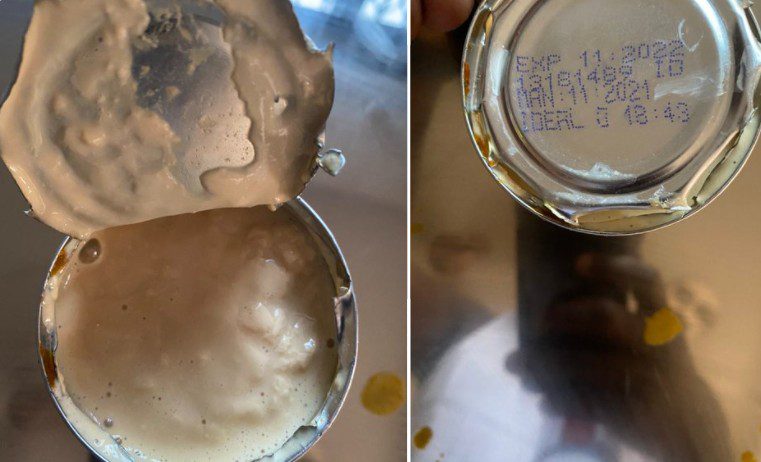 In my own, quite belated, comment on the subject, I reduced the crux of the issue to whether a biological agent was the cause, in which case a safety issue was highly likely, or if instead a quality deviation that only impacted presentation might be the situation.
The FDA says its investigation has revealed the culprit as a batch or batches of milk powder, the key ingredient in the recalled products, sold to Nestle by a supplier or group of suppliers. Somehow, when "reconstituted" and "recombined" to prepare the evaporated milk product, the end result fails expected heat stability performance. This is a well known hurdle to cross when using milk powder to make evaporated milk.
The inference here is that some supplier vetting and quality assurance processes failed, batch control was faulty, and remediation has struggled to fix this for at least 6 months now judging by the recency of some of the batch dates. Still, no safety issues were found and no contamination has been established in laboratory tests for any microbial candidates.
So, for now, activists can breathe a bit easy. But, for me, the whole episode raises intriguing policy issues that transcend this specific health & safety scare. Why is Nestle using milk powder rather than fresh milk as it does elsewhere? Before we discuss that, bear with me as I meander on a detour of industrial policy with a geopolitical twist.
In the year that Britain broke Asante power in the then Gold Coast (now Ghana), the two halves of what became Nestle had their seminal moments. The British controlled half, Anglo-Swiss company, commenced their UK expansion from Cham by buying the Condensed Milk Company.
On the continent, meanwhile, Henri Nestle sold out to more energetic investors in Vevey. Anglo-Swiss and the renamed Farine Lactee Henri Nestle would, after decades of bruising rivalry, merge 31 years later (in 1905, that is) to create what would become the world's largest and most formidable food giant.
In the same vein of momentous dates, Nestle entered the Ghanaian market in 1957, the year of Ghana's independence from Britain, to market products made in Europe. It will take 11 years before local manufacturing started, and by 1971 the famous ideal milk was rolling off manufacturing lines in Tema.
For many years, the Government of Ghana owned a quarter of Nestle stock through the state-owned industrialisation-focused bank, the National Investment Bank (NIB). When the joint venture between Nestle and NIB started in 1971, NIB actually owned 49% of the company. Subsequently, the socialist military government of General Acheampong took over and increased state shareholding to 55%.
For nearly 20 years, therefore, the Ghanaian government was the principal shareholder in Nestle. The privatisation wave of the 90s did see the shareholding structure revert to 51% in favour of Nestle in 1993. But Ghana still had plenty of shots to call.
Throughout this period also, the Tema plant was Nestle's only milk processing factory in West Africa (by the way, Nestle's West & Central African operations have been run from Accra since 2005). Unsurprisingly, production of processed dairy in Ghana increased from about 3 million litres in 1984 to over 30 million liters in the mid-nineties.
It is mind-boggling that despite the influence of the Ghanaian political and policy elite on Nestle's operations in the region, in the boardroom and elsewhere, the long mulled "integrated dairy value chain" to supply fresh milk has never taken off in Ghana.
In Northern Nigeria, Nestle has invested substantially in developing fresh milk value chains based on Fulani cattle breeds. Nestle's first zero-emissions dairy farm is in Southern Africa.
Nestle Zimbabwe has been investing directly in cows. After concerted business ecosystem efforts, Nestle committed to local dairy value chains in Kenya and Uganda. Some observers have already noted a surge of investor interest in Africa's dairy prospects because of such growing engagement by the likes of Nestle, Arla and Danone.
Yet, Ghana has mysteriously failed to capitalise on its pioneering dairy industry, exemplified by Nestle's and Fan Milk's presence in the country long before regional neighbours got their mojo. Despite Ghana's head start, countries like Senegal, which is positioning for 70% self-sufficiency in milk, are steadily leaving the country in the dust.
When Erik Emborg introduced the Fan Milk brand in Ghana in 1960, the momentous year of the country's republican status, the plan, backed by the Government, was very much to embed the operation in the planned integrated dairy complex, complete with local farms. The idea went nowhere and Erik just went on importing milk powder from Scandinavia.
According to dairy researchers, Bonodong Guri, Godwin Ameleke and their collaborators, Ghana's production of milk, 90%+ of which comes from free ranging cattle, has stayed stagnant at between 36,000 and 43,000 tonnes for over two decades.
Compared to 420,000 tonnes of production in next door Burkina Faso (a ten-fold difference). Benin, much smaller and situated in a similar tropical terrain as Ghana, clocks roughly 150,000 tonnes per year. This is no tsetse fly matter.
That there is something spectacularly off about appreciation of the dairy opportunity in official circles is borne out by the failure to capture any significant interventions targeted at boosting fresh milk production in the 5-year initiative known as Rearing for Food & Jobs, the government's flagship livestock development program, launched in 2019.
Indeed, the biggest intervention seen in Ghana's dairy sector to date may have been the importation of the White Fulani breed of milk cattle from Nigeria by the Colonialists in 1930.
Yet, there is no shortage of critical needs in the beleaguered industry. Water scarcity; a dilapidated veterinary service; lack of genetic breeding technologies; zero cold chain infrastructure across most of the value chain; and a severe absence of commercial scale pasture are a couple of the most prominent.
In 1999, in response to these age old challenges, donor funds made possible a decade-spanning attempt to revive Ghana's abandoned cattle stations in Nungua, Amrahia and elsewhere. Cross-breeds that can increase milk output per cow by 600% were developed.
Supply of tens of thousands of litres of milk to Fan Milk, Ghana's main ice cream producer, and other processors became possible. Over a ten year period, the performance of the Friesen x Sanga cross-breeds (initially introduced into Ghana in the 1960s from the Netherlands and the UK) were celebrated at various conferences. Then it fizzled out slowly.
These days, the government of Ghana spends about $120,000 a year paying workers at the Amrahia Station. It does not budget for operational or capital expenses. Rather, it expects handouts of less than $20,000 a year from donors for that.
The biggest investment into the vaunted national integrated dairy complex vision launched in 1965 in the last three years have been some purchases of artificial insemination kits and bovine semen from the Netherlands capable of adding about 300 calves to Ghana's herd of about 2 million cattle.
When in 2019, Government took over the 24% stake held in Nestle by NIB as part of a cash swap to save the latter from insolvency and help it meet minimum capital requirements, there was a brief period of hope that something strategic may be done. Instead, the transaction has today become clouded in opacity as stakeholders are kept in the dark about plans to offload the shares to private interests.
Meanwhile, imports of milk powder continue to surge.

Self-sufficiency remains stubbornly stagnant.

And talks with Nestle to procure locally, especially from Amrahia, have still not been backed by any serious policy coordination. But given the multiple ecosystemic issues involved, pure private action, in the face of a highly disabling environment, would falter.
Not surprising then that the other 10 major dairy processing companies in the country also resort to imports for virtually all their needs, despite episodic domestic sourcing drives.
Beyond the safety, branding and trust issues that surfaced during this whole Nestle Milk saga, what may endure is the opportunity it has provided for the public to move beyond the political PR flourish of projects like 1D1F and Rearing for Food & Jobs.
Because, by so doing, the people of Ghana may then be able to take a hard look at how policy on critical matters like "integrated value chains" is actually executed by the modern State of Ghana.
DISCLAIMER: The Views, Comments, Opinions, Contributions and Statements made by Readers and Contributors on this platform do not necessarily represent the views or policy of Multimedia Group Limited.