The Electricity Company of Ghana (ECG) has cautioned its customers, including government institutions, to pay up their arrears.
Institutions that fail to settle their debt as stipulated by the Public Utilities Regulatory Commission (PURC) regulation, will be disconnected from the national grid by the National Revenue Protection Taskforce unearthing illegal connection.
The company's National Revenue Protection Taskforce will be headed by a coordinator from the Ministry of Energy.
According to ECG, it has the discretionary powers to release the list of institutions indebted to it.
However, in a statement noted that it will not relent its efforts to ensure all bills are settled, therefore, have urged customers "to pay your bills promptly to avoid any embarrassment."
Meanwhile, state-owned enterprises and customers have been advised to inspect the ID cards of members of the taskforce and to "co-operate fully in this all-important national exercise."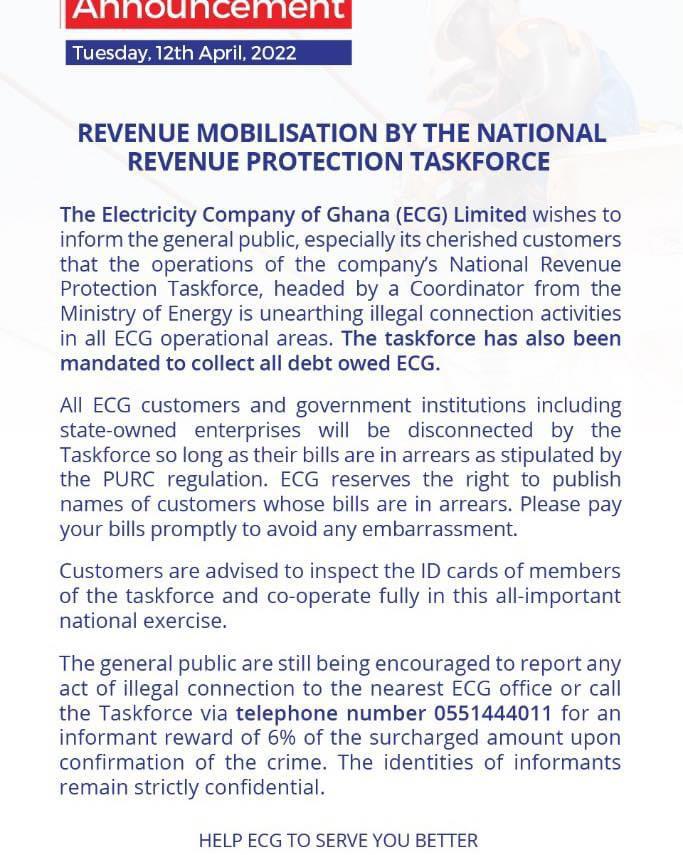 Last week, Parliament House, Communications Ministry, University of Ghana, the United Nations Development Programme and 31 other institutions, were given a three-day ultimatum to settle their indebtedness or face disconnection.
According to the power distribution company, the affected institutions owe it an amount close to GH¢70million and have failed to settle their debt despite several reminders.
In March this year, the Finance Ministry and Economic and Organised Crime Office (EOCO) were among the institutions listed by the ECG to be disconnected from the national grid for failing to pay their bills.
The power distribution company revealed that the two state-owned organisations owed GH¢421,038.02.
The institutions were served notice after the ECG disconnected power supply to the Ghana Airports Company Limited (GACL) and parts of the Kotoka International Airport (KIA), which owed over GH¢48 million.
The ECG also cut power supply to the Accra Sports Stadium and La Palm Beach Hotel for the same reasons.
On the issue of illegal connection, the ECG has pledged to reward any informant 6% of the surcharged amount of any illegal connection confirmed case reported to it.
The identities of informants will remain confidential according to the power service provider.
The ECG has highlighted that its task force last year monitored 135,000 metres of which 15,000 were detected to have been illegally connected.