"I must retire if I lose to Garcia on April 9" – probably the strongest words any boxer could ever say ahead of a bout as major as this gallant eliminator.   These words of Emmanuel 'Game Boy' Tagoe on his chances against former WBC Interim champion Ryan Garcia former IBO lightweight champion seem to come from a place of extreme confidence, knowledge of the happenings in background as well as his personal experience.
Some analysts say this is Tagoe's toughest tie yet in his career, but the 33-year-old Ghanaian also insists Garcia has never fought a boxer like him before. "He hasn't fought anyone like me before. I have different fight styles which will be brought to bear. I have sparred with George Kambosos Jnr and I have videos which I chose not to let out. In a way I like the way I am underrated because it keeps me calm and will let me deliver."
"The only reason I will continue boxing in the unlikely event that I lose, is if I am knocked out cold and collapse," he told Joy Sports in an open workout session at the Bukom Boxing Arena.
The eventual announcement of the Emmanuel Tagoe, Ryan Garcia bout brings to the Ghanaian one sure reality – the sharpest curve in his career. The simple reason is that a positive result could get him a chance to challenge the unified champion George Kambosos Jnr. "Here in Ghana, I have more than proved myself. So it's time for me to make my mark in America so the rest of the world can see me."
Tagoe is definitely heaving a sigh of relief because he expressed the desire to face the former WBC Interim champion earlier but has had to wait for internal and external ring factors.
Both boxers have spent some time away from active ring activity for some months and will be making the much anticipated April 9, return with their respective merits.
Tagoe has good ring generalship backed by a good punch while Garcia is a known power puncher who distributes his attack in all directions.
After winning 31 of his 32 fights and recording 15 as knockouts and suffering only one loss, the Tagoe is craving for a push to the next stage of relevance in the sport. He won the IBO lightweight title in his native Accra Ghana at the Bukom Boxing Arena in December 2016 after defeating South Africa's Mzonke Fana via a Unanimous Decision. Fana, who was a last-minute replacement for an Argentine opponent, had only a fortnight to get ready and collapsed immediately after the bout.   
After some difficulties and delays, Tagoe eventually defended the title against Fernando Saucedo of Argentina in 2018.
Tagoe, 33, hasn't had much exposure on US fight platforms. The only two so far which were staged in California against Geraldo Robles in 2013 and Mason Menard in 2020 were both successful.
After 21 bouts Ryan 'King Ry' Garcia has never seen defeat in the ring. He is coming off a period of self-introspection and stock taking as well as recuperation from some mental health challenges. For him, a win should serve as a reminder to the rest of the division that he is still an item to deal with. Garcia's message to the world of boxing has been loud and glaring enough considering that he established a 14-bout knockout run from his 2016 debut until Jason Velez withstood his punching power and travelled the distance with him for the first time in 2018.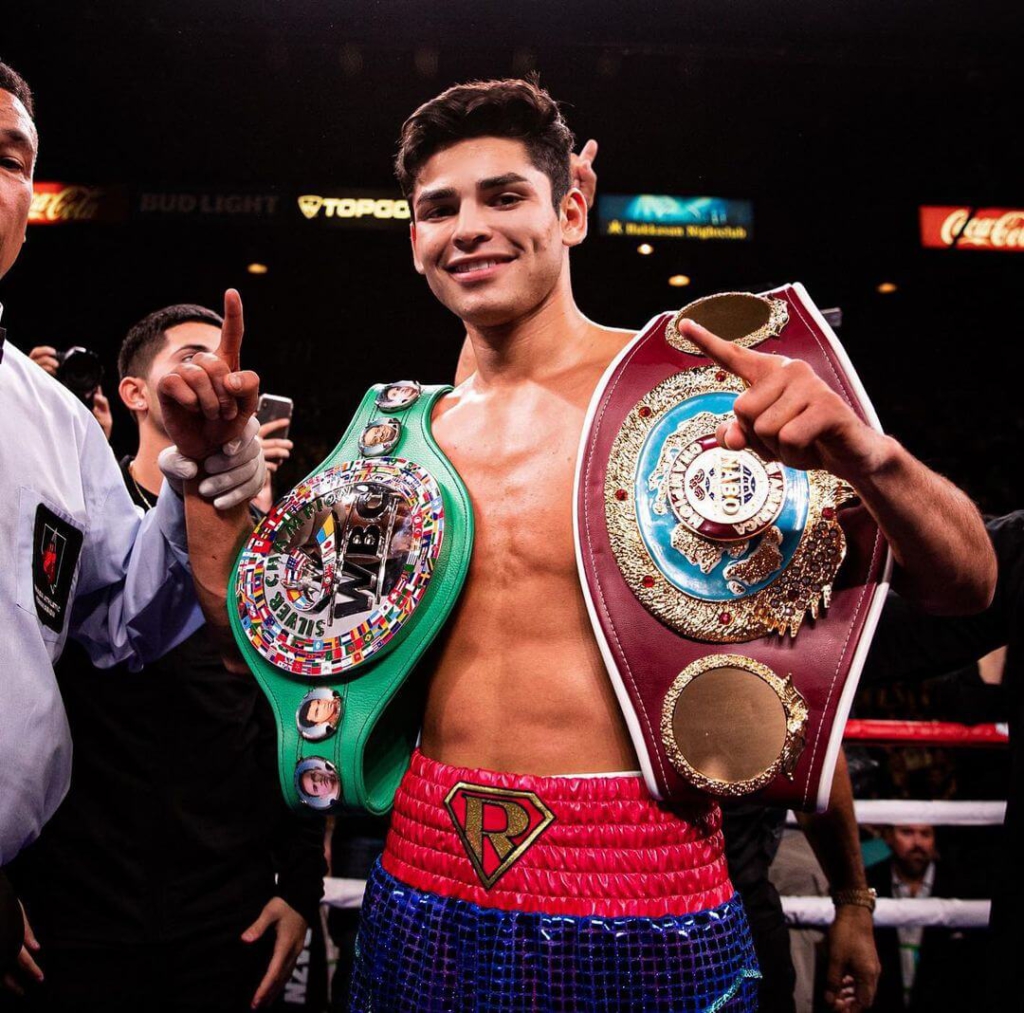 While King Ry knows his pedigree going into this bout, he also admits that the Ghanaian cannot be brushed aside easily.
During an interview with Brian Custer on the Last Stand show, Garcia said "I think that he is the perfect opponent to come back with. I have had over a year off and I have had a hand surgery. And also I am setting up a bigger fight for later on for some big contenders so this is just a fill out fight to see how I feel but you can never take anybody lightly."
In recent days, the American boxer has posted training videos on his official Instagram page one of them however a deviation is. He has a picture of himself and his grandmother who is encountering ill health. "This next fight is for you and I know what you want me to do in there and I will. May you guys pray for my grandma for strength and healing," Garcia's Instagram post on February 13 read.  
There is every clear indication that both boxers have different scales of motivation as they get ready for April 9.
DISCLAIMER: The Views, Comments, Opinions, Contributions and Statements made by Readers and Contributors on this platform do not necessarily represent the views or policy of Multimedia Group Limited.