Inter Milan will be looking to win their first European trophy since 2010 when they take on Sevilla in the Europa League final on Friday night.
Sevilla, who are the most successful club in the competition, having won it five times, beat Manchester United 2-1 to reach the final while Inter Milan thumped Shakhtar Donetsk 5-0 in the semis.
Joy Sports will broadcast this match live on Friday night on Joy 99.7FM. You can also stream the buildup and commentary online right from this website, starting from 1830 GMT.
MATCH PREVIEW
Inter Milan route to the final: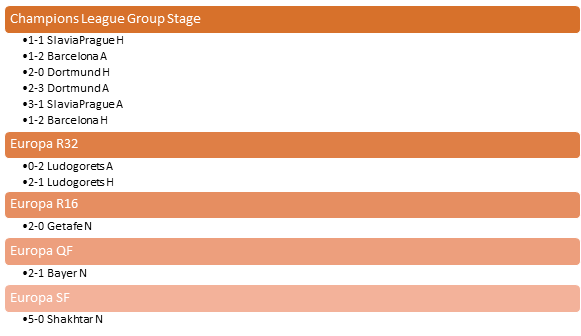 Inter Milan tactical preview
Set Up : 3-5-2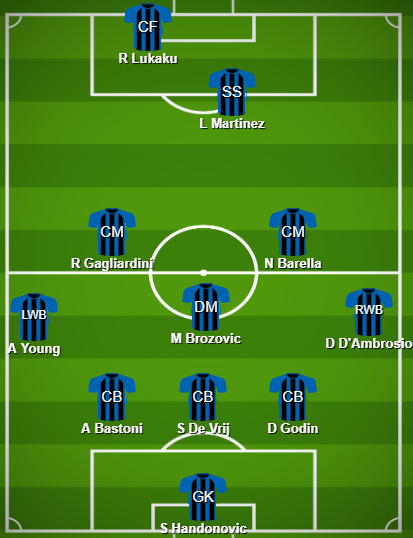 Mr. 3-5-2 is his name. Antonio Conte has been known to ensure a solid backline at all costs. The 3-5-2 affords his teams flexibility in attack and defence. On the back of their impressive showing against Shakhtar, Conte will likely go for an unchanged set up.
The Inter striking duo will lead the line to intend to press and cut out any attempt of Sevilla's to build from the back. Inter will most likely look to force Sevilla into errors with their high defensive block whilst ensuring that their set up remains compact to prevent any penetration down the middle of the midfield.
Inter will look to pin the Sevilla wingbacks in their defence with Barella and Gagliardini making necessary runs out wide to occupy the Sevilla's wingbacks in the Inter attacking phase.
Until any introduction of Eriksen, it would be likely Inter would cede possession to Sevilla but in instances of having possession, Inter would ensure their middle men make the necessary forward runs to create space for Martinez and Lukaku to operate in.
Attacking Phase: 3-4-3/3-4-2-1/3-3-4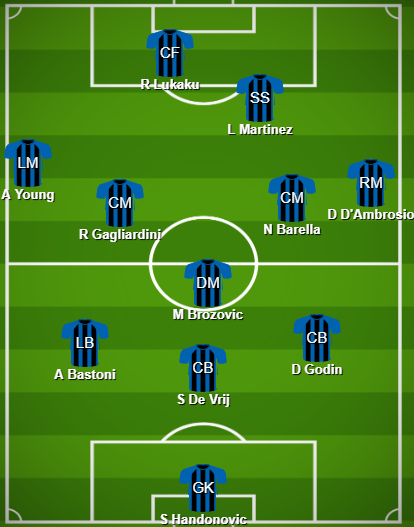 Lukaku is very important in this phase of their game with his strength on and off the ball and energy to close down opponent's defenders. From the Shakhtar victory, it was evident Inter were keen to spring into quick counter attacks that would normally end up with Lukaku and Martinez isolating the opponents defenders to either beat in the air or on the ground for pace.
Evidence from their most recent game indicates that Inter will set up a high pressing line to capitalize on any mistakes opponents make by sending in early crosses for Lukaku or Martinez to connect to.
Inter also move the ball with minimal touches to increase the possibility to create 2v2s or 2v1s when in attack. Sevilla's middle line will have to stay alert in that case.
Set pieces also offer Inter an alternative route to victory with an array of towering players available in times they're attacking set pieces.
Inter is a team hungry for goals and would be ready to score 6 or 7 if they have to, to ensure victory with Lukaku and Martinez always lurking for any opportunity to score.

Defensive Phase: 5-3-2; 5-4-1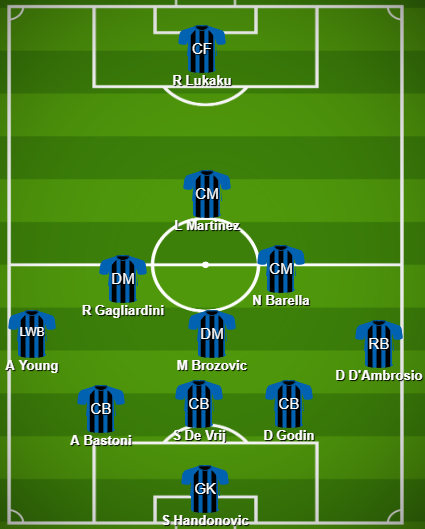 Inter Milan remain in a narrow and compact set up when out of possession. Inter focus on hurrying the opponents once they lose the ball for the first 5 seconds.
If unsuccessful, they set up their defensive blocks. Inter proceed to always block routes into their middle with players defending in twos and threes whilst jockeying to provide shadow covering for other opponents other than the ball handler.
The defensive block consists of 5 defenders and 3 or 4 midfielders, who normally cover any possible spaces between defenders. All these 8 or 9 players become defenders collectively forcing opponents to go wide or cross.
The priority for Conte's men is to get into defensive shape as quickly as possible to ensure they outnumber their opponents. This will make it extremely difficult for Sevilla to break them down unless Sevilla use an complex pattern of passes to draw Inter's men out of position.
Trump Card: Romelu Lukaku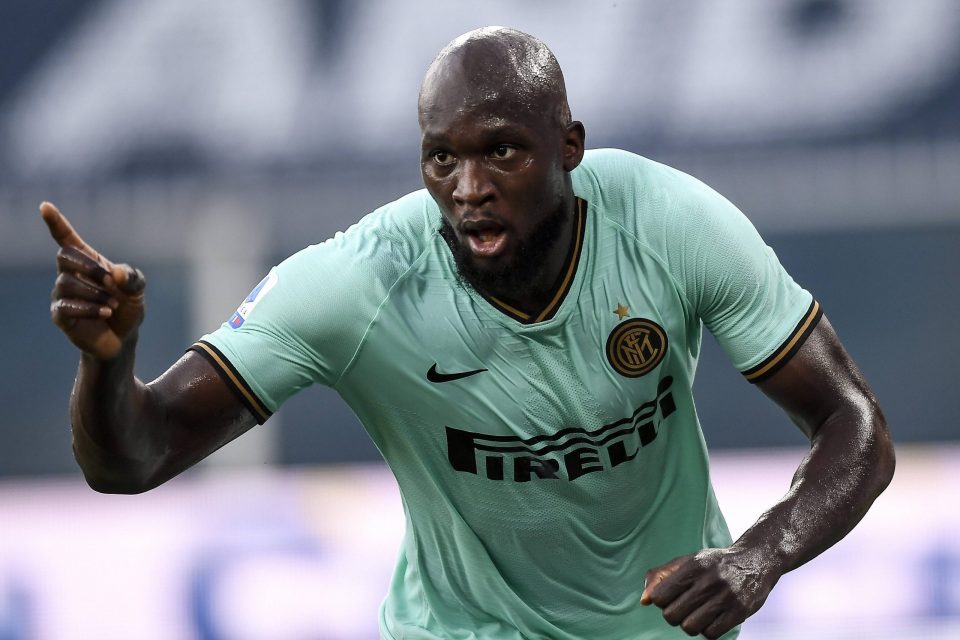 With Lukaku feeling loved, he can contribute immensely to his club's quest for their first European title in 10 years. His 6 goals and 2 assists in the Europa League have gone unnoticed. Lukaku's contribution off the ball with his speed, strength and telepathic partnership with Martinez will play a part on Friday night.
Sevilla route to the final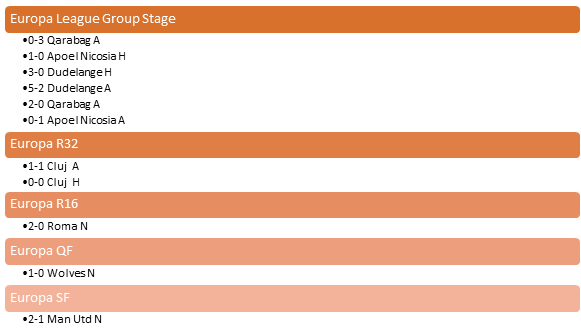 Sevilla tactical preview:
Set Up : 4-5-1 or 4-3-3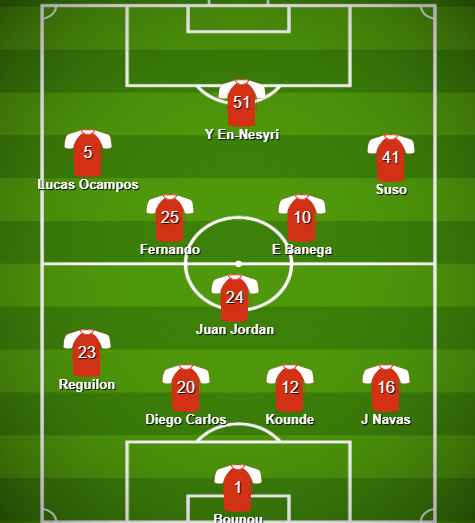 As seen, the primary formation of this Sevilla side is a 4-5-1 which metamorphoses into a variation of a 3-4-3 with focus on overlapping by full-backs and crossing from full-backs.
The team is focused on high intense pressing. In possession, a central midfielder normally drops into defence to allow the fullbacks to push further up the pitch to create possible 2 v 1 against an opponent's full-back.
With Sevilla unbeaten in 20 games in all competitions and winning 8 of their last 9; it seems their form has picked up just in time for a season-defining moment. The Sevilla set up focused on a transitioning quickly yet be patient until opportunities to penetrate the opponent presents itself.
Attacking Phase: 4-3-3 / 3-4-3/ 3-6-1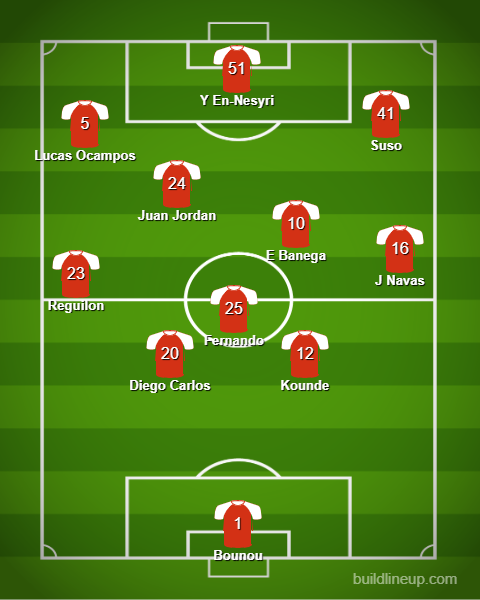 When the ball moves into the opponent's final 3rd and Sevilla send bodies up the field with their wide forwards moving into the box to occupy half-spaces between each centre back and the full-backs.
This, in turn, creates space on the outside for their marauding full-backs to either drive with the ball or cross the ball to the now crowded penalty box. There are opportunities to score from these crosses or the second balls from the clearances.
The overload in the box, most often than not, draws the opponents defence out of position for Sevilla's forwards to capitalise. Against Man Utd, mistakes from their defence in such an attacking scenario created the 1st goal.
The wing play is a key part of their game with excellent passing in between the lines to break the opponents' attacks. Ever Banega and Ocampos will be the men to keep our eyes on for the passes.
Defensive Phase: 4-5-1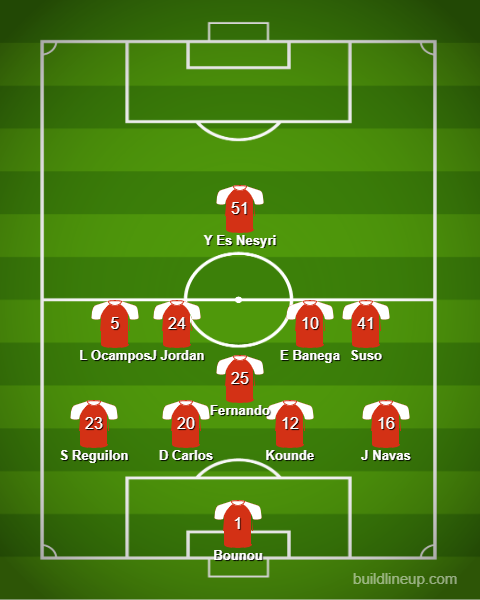 Defending begins at the front, wherever the ball is lost. The hallmark of this Sevilla side is the high-intensity counter-press. This will force the Inter midfield into hurried passes.
The likes of Jordan, Ocampos, En-Nesyri and Suso will be looking for the second ball off Fernando or Jordan whilst ensuring they set up a high compact defensive block to prevent any swift Inter movement and incisive passes.
The 4-5-1 shape will mean the wide forwards would become defensive wide men to prevent the Inter inside midfielders and wingbacks from creating overload situations against the Sevilla fullbacks.
Any mistimed tackles are likely to be punished again so the central defence partnership will do well to stand their men up and avoid going down too quickly as Inter's forward men have the trickery and pace to beat their opponents.
Trump Card: Ever Banega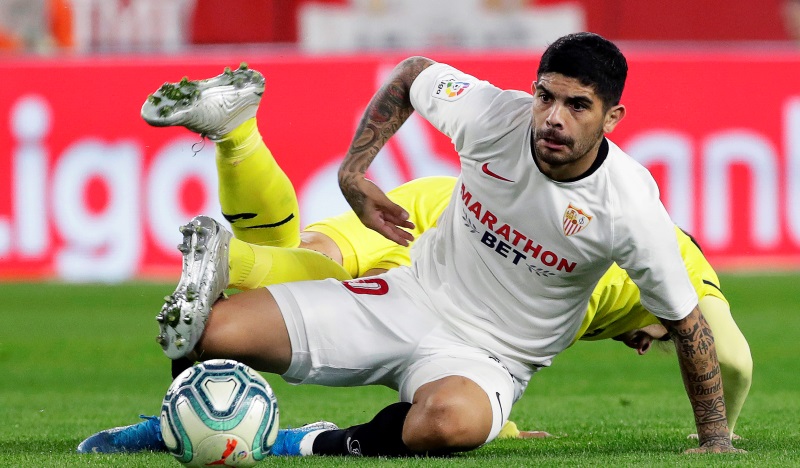 The perfect swan song is in store of Ever Banega when Sevilla face Inter. He has shown some renaissance no one would have expected in their run to the final.
The player has indeed proved an enigma to countless coaches over the last decade owing to his outstanding yet inconsistent show of talent.
His contribution against Wolves in the dying minutes, his dominating display against Man Utd all go to show Ever Banega is bent on making sure he has fewer regrets before jetting off to Saudi.
He has the capability to make anything happen. Inter would be sure to keep a leash on him.
—