The European Union aims to vaccinate 70% of its adult population by September. But anxiety over a possible link between the Oxford-AstraZeneca vaccine and reported blood clot cases may put that target in jeopardy.
Europe's vaccine rollout has already been slower than expected. Meanwhile, the continent is confronting a third wave of the pandemic, fueled by variants of the virus.
European heavyweights Germany, France and Italy — all of which have seen a recent surge in coronavirus cases — were among more than a dozen countries to pause their rollout of the OxfordAstraZeneca shot while Europe's medicines regulator, the European Medical Authority (EMA), investigated the concerns.
The EMA "has come to a clear scientific conclusion. This is a safe and effective vaccine," executive director Emer Cooke said Thursday.
She said the group did not find that the vaccine causes clotting, though it could not definitively out rule out a link to a rare blood clotting disorder.
Cooke added that the benefits of the vaccine outweigh the risks, a message already stressed this week by both the EMA and the World Health Organization (WHO).
Italy, France, Germany, Spain, Cyprus and the Netherlands all announced plans to resume AstraZeneca vaccinations, with other countries expected to follow.
Milan's largest vaccine center told CNN it would overbook appointments in an attempt to make up for the shortfalls of the past few days.
People queue to receive an AstraZeneca shot at a Rome convention center, temporarily turned into a Covid-19 vaccination hub, on Friday, March 19.
But it's unclear whether the EMA's findings will do much to assuage public concerns after a torrid week in the EU's vaccination campaign.
Norway, Denmark and Sweden have all said they will keep AstraZeneca vaccinations on hold for now.And vaccine hesitancy is already high in some countries, notably France, where Covid cases are surging.
An online poll conducted March 15 to 16 by Elabe for BFM TV, a CNN affiliate, suggests that only 20% of the French people surveyed trust the AstraZeneca vaccine.
While the French health authority green-lit the resumption of the AstraZeneca vaccine rollout on Friday, it recommended its use only for people aged 55 and older, a document sent to CNN shows, based on the fact that "almost all" the reports of blood clots that prompted the suspension involved people under 55.
French Prime Minister Jean Castex, 55, rolled up his sleeve for an AstraZeneca shot Friday in a bid to reassure his compatriots that it was safe, as did UK Prime Minister Boris Johnson.
But a senior Paris hospitals official,Remi Salomon, said this week that he feared the impact of the AstraZeneca suspension on vaccine confidence in France.
"Maybe people are being overly cautious," Salomon told BFM TV. "My fear is that we are in France where many people are vaccine hesitant, I'd almost say defiant, I fear people will not interpret this the right way."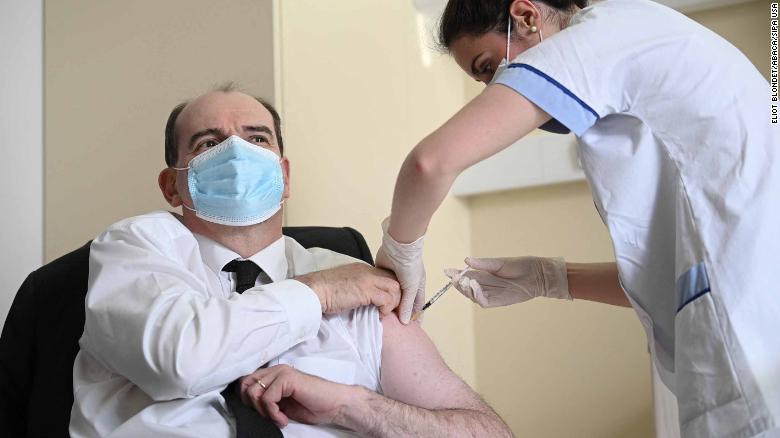 Michael Head, senior research fellow in global health at the University of Southampton in the UK, said the decision to hit pause on AstraZeneca could "have possibly a serious knock-on effect, in terms of vaccine confidence and vaccine hesitancy and uptake beyond that."
"It takes a while to build up confidence in a vaccine which we [the global health community] did with rigorously conducted trials, with really good safety data, with being open and transparent about what we did and didn't find," he told CNN, in an interview conducted before the EMA findings were released.
"When we have widespread withdrawal of the vaccine across multiple countries, in some countries that are quite vaccine-hesitant anyway, it might take a long time to rebuild that confidence."
There's then a risk that people may start to favor one vaccine over another and so delay being inoculated to wait for the one they prefer, added Head, despite safety and efficacy data being pretty similar across all the vaccines approved.
"We don't want to see that happen. I fear we will see it happen. And if people do wait for another vaccine or choose not to take up a vaccine at all, then the pandemic goes on longer than it needs to," he said. "Obviously you will see more Covid-19 cases and hospitalizations and deaths as a result."