Fighting broke out between Muslim and Christian protesters at the Baptist Secondary School in Ilorin city in western Nigeria over whether Muslim female students should be allowed to wear head-coverings.
Both sides reported injuries after throwing stones and plastic chairs at each other during the protest on Wednesday morning, preventing the reopening of the school that was forced to close last month – along with nine others – because of an escalating dispute over head-coverings worn by Muslim girls for religious reasons.
Police also fired tear gas after some Muslim protesters tried to pull down the school sign-board.
The Kwara state government – headquartered in Ilorin, the state capital – had ordered the reopening of the 10 schools at the centre of the dispute.
The schools were set up by Christian missionaries many years ago, but the government says it controls them.
This has led to legal battles, with the High Court and Appeal Court ruling in favour of the government, but a Christian group is now challenging the decision in the Supreme Court.
The schools closed about three weeks ago after tensions broke out following the circulation of a video of Muslim girls apparently being barred from entering one of the schools because they were wearing what is known here as a hijab – a cloth which covers the head and comes down to the shoulders.
At two other schools I visited, Christians protested peacefully, singing and holding placards to show their opposition to head-coverings and government control.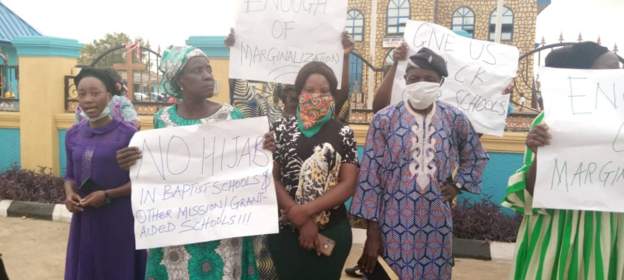 Both schools reopened, but students with head-coverings were not allowed in.
Only one of the 10 schools allowed Muslims to enter with head-coverings.
Battle-lines seem to be drawn as the leader of the Baptist Conference in Kwara insists they will "defend their faith and property so long as the Kwara state government refuses to obey the rule of law".
"We will not allow hijabs in our schools, it is simple as that. This is a Christian Mission school," he added.