I have watched with keen interest, how it is the case that at every point in time, one person or another is moving from one location to another.
Some travel short distances while others go on a long journey. A visit to taxi ranks, lorry parks, the STC, VIP, Neoplan and GPRTU operated bus terminals will give a clear indication of this spectacle.
Actually, if one steps out of the house, taxis and 'trotros' could be seen moving to and fro, transporting people and goods around.
Thus, one can say without qualms that, it is the only human activity that does not sleep within the 24 hours that make a day.
Within Accra, transportation is a big issue. On a daily basis, people crisscross the city for business, leisure and familial purposes.
Some transport just their human self while others transport self and personal belongings. Still, others transport goods for sale or goods they have bought.
Accra's transport system
In recognition of the vital need for human transportation, successive governments in Ghana have tried, one way or the other, to institute one public transport service or the other in Accra, the capital city.
I am a, 'born, bred and buttered' Accra (Zongo) boy. I grew up in the Central Business District of Accra- Zongo Lane, Cow Lane, Okaishie. That was during the days of the Omnibus Services Authority- OSA Bus.
I used to board Buses 27C and 27A to various destinations in the city on which I played tricks with the conductors when it comes to paying fares. 'Bad boy'! You can say that again.
Then City Express took over transportation within the city. Along with Green Line, which plied between Accra and the hinterlands.
Somehow, they lost the business to a private transport firm, 'King of Kings', which operated mainly with auctioned-refurbished buses bought from Omnibus Services Authority.
'King of Kings' struggled to keep pace with the now popular free ranged-'trotros' (Mini buses), which broke free from the station-to-station-based operation, to a free on the road modus operandi.
They load as they go. And commuters loved that because in no time, one arrived at his or her destination.
From where I stand, the 'trotros' won because they are faster in transporting humans and goods than the buses. This is not just in terms of how fast they drove. It also had to do with the fact that the buses had bigger capacity, thus took so long to fill.
So it was, that the 'trotros' took over the intercity travels.
During this period, Taxis were the preserve of the middle and upper classes of the Ghanaian society. They had services called, 'charter' and 'dropping'.
Currently, taxis have been compelled to restrict themselves to station-to-station operations because of the overwhelming presence of the 'trotros'. A few taxis do what they call 'town running', but even they will confess that the 'trotros' have spoilt the business.
Government returned into the fray with Metro Mass Transit. This did not work for virtually the same reason that the OSA, City Express and 'King of Kings' failed. Now Metro Mass Transit has turned in metro-hinterland transit with the few buses that are left.
Then came Bus Rapid Transit (BRT). Partnered by Scania, the erstwhile National Democratic (NDC) government rolled out what they termed, the most comprehensive and complete Bus Rapid Transit (BRT) system.
With 245 connected buses operating in their own dedicated lanes within Accra, the system was touted as the solution to the traffic wahala (congestion) that commuters in Accra face during the morning and evening rush hours.
The concept was based on the premise that with a population of about four million, Accra faces the same problems as many other major cities in the world's developing nations – traffic jams. It attributed this to 70 percent of Accra's road network being overloaded with cars.
The BRT system involved an electronic cash-free ticketing system, a modern workshop for service and maintenance of all the vehicles and training for 600 bus drivers. The buses were also adapted for persons with disabilities.
When I read about the BRT and eventually saw the buses on the road, I heaved a sigh of relieve, 'y3 di New York aba Accra'- We've brought New York to Accra, I remarked.
My excitement was however, short-lived as the same fate that befell its predecessors, happened to the BRT system. The 'trotros' outwitted the BRT buses. They even competed for passengers with them in the BRT-reserved lanes.
Conspicuously absent from my narration so far is Accra's railway transport system. That's because as far as I can remember, it only service(d)s two routes- Achimota and Tema.
Undeniably, the railway system has not helped in any way to solve Accra's transportation challenges. In my opinion.
From the foregoing, it is evident that the 'trotros' have become the main feature in Accra's transport system. As we say in Ghanaian parlance, 'no challenger'.
However, because their operations, especially the free rangers, are not regulated, their numbers have increased so much so that they now serve as the causers of traffic jams.
All one needs to start a 'trotro' business, is money to buy a mini bus, register it at the Driver and Vehicle Licensing Authority (DVLA) for commercial use and Vrooom! You are on the road with a mate shouting 'ooyalo? Circ-Accra-Circ!!!'
Consequently, it has become so inconveniencing for one to travel from one end of Accra to the other. A trip that would take 30 minutes without traffic, sometimes takes 3 hours, thanks to the reckless driving of mostly 'trotro' drivers and the overwhelming numbers of vehicles on Accra's roads.
In the absence of a fast and reliable alternative means of public transport, the less privileged have no choice than to patronize the services of the 'trotros'.
The privileged ones dread the inconveniences associated with sitting in the 'trotros' so they buy their own vehicles. Thus, further increasing the number of cars on Accra's roads, hence the traffic jams get worse by the day. Carpooling is alien in our lexicon.
Recently, Uber, Bolt, 'Dropyn', 'Ehyen' and Yango have entered the public transport business in Accra. But they have only succeeded in edging out the town running taxis. Not the 'trotros'. And ooh! Added to the number of cars on the same road network.
A stressful means of wasting scarce resources
"Economics is the science which studies human behavior as a relationship between ends and scarce means, which have alternative uses," Lionel Robbin.
I have taken you back to your 'O' level days, Haven't I? Or you are a Free SHS graduate? Well.
The above definition and another, by Adams Smith, "an inquiry into the nature and causes of the wealth of nations", were my picks to answer that 'sure banker' question in any 'Econs' examination at that level of the educational system in those days- What is Economics?
That was when the refrain, 'chew pass, pass and forget' held sway.
After pouring these definitions, one will proceed to mention the economic resources which are scarce as; Land, Labour, Capital, and Entrepreneurship which other scholars replace with Technology.
Subsequently, one would explain the term scarcity, "there exists only a finite amount of human and nonhuman resources, which can be used to produce only limited maximum amounts of each economic good."
Then the principles of Order of Preference and Opportunity Cost will all come in there, somewhere.
Capital, or money is no doubt a very scarce resource for most Ghanaians. The other scarce resource that I am worried about, is not directly stated here.
Time, it is. But if the saying that, 'time is money' is anything to go by, then Capital is synonymous with Time as an economic resource. That's a clear emphasis of the fact that money 'answereth' all things. Arguably.
Capital
Capital or money is the reason why we all rush out of our homes in the morning as if something is chasing us out.
In traffic, we become so impatient because the least delay, some money may pass us by. We look for it in many ways, some right, some wrong.
It is therefore a statement of fact if I say that all the people we see on the streets and in traffic to and fro, are chasing after money- Shika, Kudi, Ega, Sika, depending on one's dialect.
Ultimately, our wish is to enjoy life by using the money acquired for things beneficial to us. One of such, is to buy a car and drive or be chauffeured-driven.
But driving on Accra's roads has become such a stressful and money-wasting venture. I say so because I experience an average of five hours of traffic every day- to and from work.
I live at New Bortianor. We call the place West Hills when we want to show off. After all, it is next to the West Hills Mall.
I used to drive a Nissan Hard Body NP 300. The best motor vehicle ever made. That's my opinion. It is very suitable for the rocky terrain that New Bortianor presents.
But the fuel cost due to the needless traffic became unbearable. An average of GHC300.00 for fuel every week. A clear waste of scarce resources.
So I switched to Daewoo Matiz Joy. To add to the joys of my life- a wife named Joy and a job that's myjoyonline.com.
Even that is not solving the problem. Coupled with increases in the price of fuel, one needs to spend an average of GHC200.00 a week. How? Why?
That's just me. I wonder how owners of those fuel-guzzling 4x4s manage it. Some even keep their air conditioners on throughout the long period that they stay in traffic. 'Money dey talk', you would say. But I say it is a waste of money that could have been put to alternative uses.
Lamentations from friends and relatives who live in other parts of Accra- Ofankor-Amasaman, Teshie-Nungua, Haatso-Madina and Spintex road. All point to the same predicament.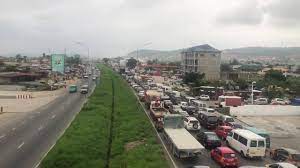 Time
Definitely, time can be described as a finite resource because there are only 24 hours in a day. How many days make a week and the number of weeks that make a month etc, is cast in stone.
No one can add to it. The closest our benefactors in the western world have come, is to adjust the time to suit their prevailing circumstances- long nights, short days or something to that effect.
It is for this reason that it becomes hellish when we the residents of Accra have to waste large quantities of this scarce resource in traffic jams to work and back home every day of the week.
New Bortianor, is a developing neighborhood along the Kaneshie-Kasoa Highway. I have checked a few times. The distance between where I live and Accra central is about 20 kilometres.
Without traffic, I am able to make the trip, driving, within 45 minutes. With traffic however, it takes an average of 2 and half hours for a one-way trip.
That's 1 hour and 45 minutes of time that could be put to productive use, won't you say?
To be able to beat this traffic, both car owners and commuters are forced to wake up as early as 3:00am and leave the house before 5:00am. I know someone who leaves home as early as 4:00am.
At the road side, especially on Mondays, a commuter could wait for an average of one hour before getting a 'trotro. That's because many commuters have to jostle for the few spaces on the mini buses.
No wonder sleeping in 'trotro' is a common spectacle on Accra bound vehicles from Kasoa in the mornings. If a stressful situation is difficult to deal with and makes you feel worried and unhappy, then that's exactly what happens when one is stuck in traffic on the Kasoa-Accra road. Such a stressful voyage.
The situation is compounded by the fact that if one does not leave town before 5:00pm, then be rest assured that the earliest you can get home is 8:00pm. How? Why? The Kasoa toll booth is another 'super stress-spreader'.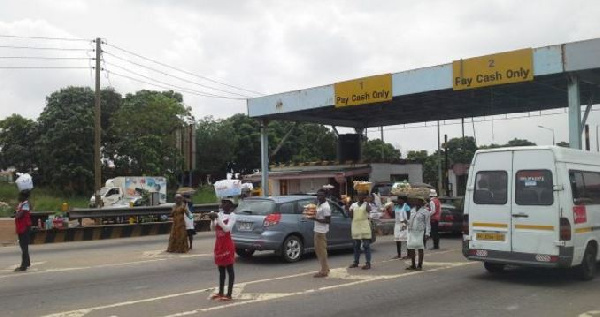 My New York and London experiences
While in New York and London for short visits, I observed, rather intriguingly, that driving to and from work is an option that many residents did not opt for. The reason is not farfetched. The transportation system is, 'lit'.
If it's a bus you want, one bus follows the other so no need for you to jostle with anybody to get on board. That means you can plan when to leave home and get to work without reporting late.
Indeed, I was awe-struck when I saw an LED information system at a London bus stop providing information on when exactly the next bus would arrive. How efficient!!!
And the New York City subway? 'J3'!! For a single route, the options are many. Plus, it is reliable and fast. The Distance between Brooklyn (where I resided) and Manhattan, is 15 kilometers (9 miles).
By train, this journey is done in 38 minutes. And the fare, very affordable, in my estimation. This is as far back as the early 2000s oo! Hmm!
So why would anybody want to drive to work and back when you can relax and listen to music, watch videos, read your favourite novel? Better still, read or type out that report, minutes or proposal before getting to work.
Way to go?
#FixTheRailway system now. I have always wondered how difficult it would be for government to engage a Chinese or Indian Railway company, on Public Private Partnership (PPP) basis. It could also be Build-Operate-Transfer (BOT) to establish a railway line from Kasoa to Accra Central.
By train, this journey could be made in less 10 minutes, if I am not exaggerating.
Clearly, the interchanges and fly-overs have a limitation in easing the traffic situation in Accra. The way to go therefore, is to turn to railway. When we are able to put in place an efficient railway system, I have no doubt that many people will park their cars and patronise it.
Personal vehicles will be used only for church services and other social engagements during the weekends. The lifespan of these vehicles will thus be prolonged and the import bill for fuel and spare parts will drastically reduce.
Disposable incomes will increase because an individual's budget for fuel will reduce. The savings could be channeled to profitable alternative use. The stress levels of workers will reduce and productivity will increase.
With the venerable John Peter Amewu at the helm of affairs at the Ministry for Railway Development, I want to believe that this piece only serves to take the wind out of their sail.
Alvida- That's Indian for goodbye.
Let God Lead.
The writer works with Myjoyonline.com. Email- eric.mensah-ayettey@myjoyonline.com Tel: 0244679575
DISCLAIMER: The Views, Comments, Opinions, Contributions and Statements made by Readers and Contributors on this platform do not necessarily represent the views or policy of Multimedia Group Limited.