The Tano Subunu Shrine is located at the edge of the village of Abirem near Kumasi.
The shrine is a complex of four buildings befitting an entity that existed during the reign of the Asantehene Osei Tutu in the eighteenth century.
In 1972, forts, castles and the Asante traditional buildings were made monuments in Ghana.
Later in 1980, they were made heritage sites of Ghana. After so many years of operating in the shadows.
Thankfully, the Tano Subunu Shrine has been revived and renovated by the Ghana museum and monument board.
The board has also revived Awukudae festival celebration in the town.
According to the board, the move is aimed at strengthening community participation in the preservation of the Asante Traditional Buildings whilst promoting cultural tourism around the historic buildings through the commemoration of traditional events such as Awukudae festival celebration at the local level.
The board together with the French embassy also donated a complete set of Akom drums to custodians of the shrine.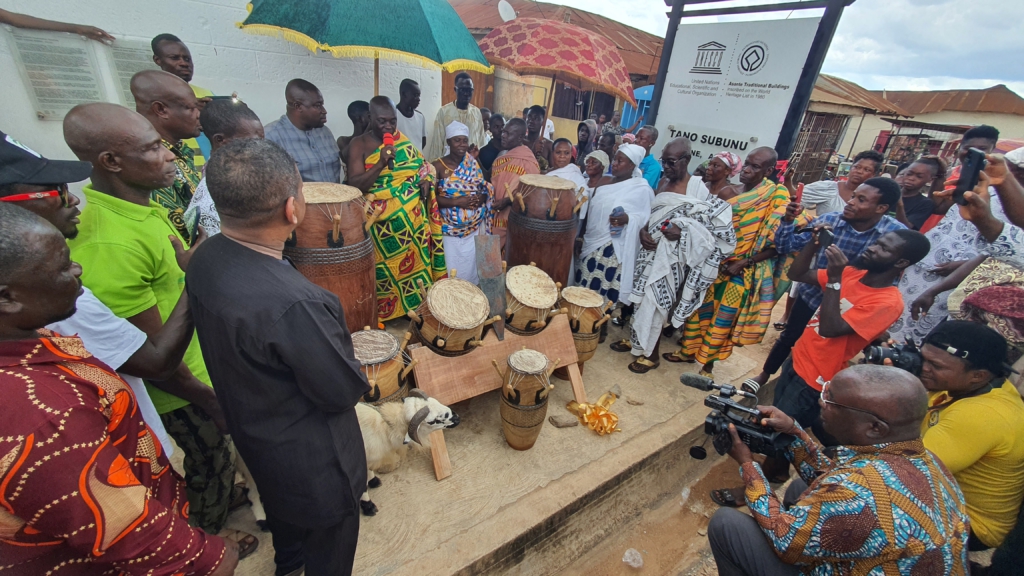 The executive director of Ghana Museums and Monuments board, Mr. Kingsley Ofosu Ntiamoah said that the renovation is part of the presidents' efforts to improve the heritage sites.
He warned that Ghana will lose its heritage in the future if these sites are not protected.
"What the board is doing with the vision of his Excellency the president is that, we are trying to upgrade all these sites as tourist attractions in the Ashanti region.
"All that we seek to do is to make sure that we are able to protect our heritage for children yet unborn because if we don't protect this heritage, in some years to come our children will not know where they came from," he said.
The France Ambassador to Ghana, Anne Sophie encouraged Ghanaians to embrace their heritage because it improves the economy.
"We need to make people proud of their heritage because it is our history and it is part of developing our local economy through tourism," she said.
The UNESCO country representative, Diallo Abdourahamane charged the Ghana Museum and Monument Board to protect and maintain the shrine and the community as a whole.
"UNESCO is the guardian of the convention for protection so we urge the Ghana Museum and Monument Board to protect and maintain the monument and the community so that there is continuous engagement," he said.