Call To Glory, Gloria Jennifer Asante Mould (Ama Amponsah)
Nana Kwesi Anyane (Acting Chief of Anum Traditional Area and Adontenhene), Nana Afum Kafona lll (Ankobeahene of Anum), WO1 Rtd. D.R. Danso (Abusuapanyin Anum), Barima Essah Kwasi Mensa Bediako III (Anum Asamankesehene), Mankrado Ntow, Lah-Anyane Eric (Bretuo Abusuapanyin, Anum Asamankese), Okyeame Danso (Anum Asamankese), Opanyin Debra (Anum Asamankese Ankobeahene), Okyeame Anim Essah (Kyebi Linguist), Opanyin Kwame Anakwah (Achiase Bretuo Abusuapanyin), Opanyin Asante (Achiase Agona Abusuapanyin, regret to announce the home call of their beloved Gloria Jennifer Asante Mould (Ama Amponsah) which sad event occurred at Euracare Advanced Diagnostics Centre on Wednesday 15th December, 2022.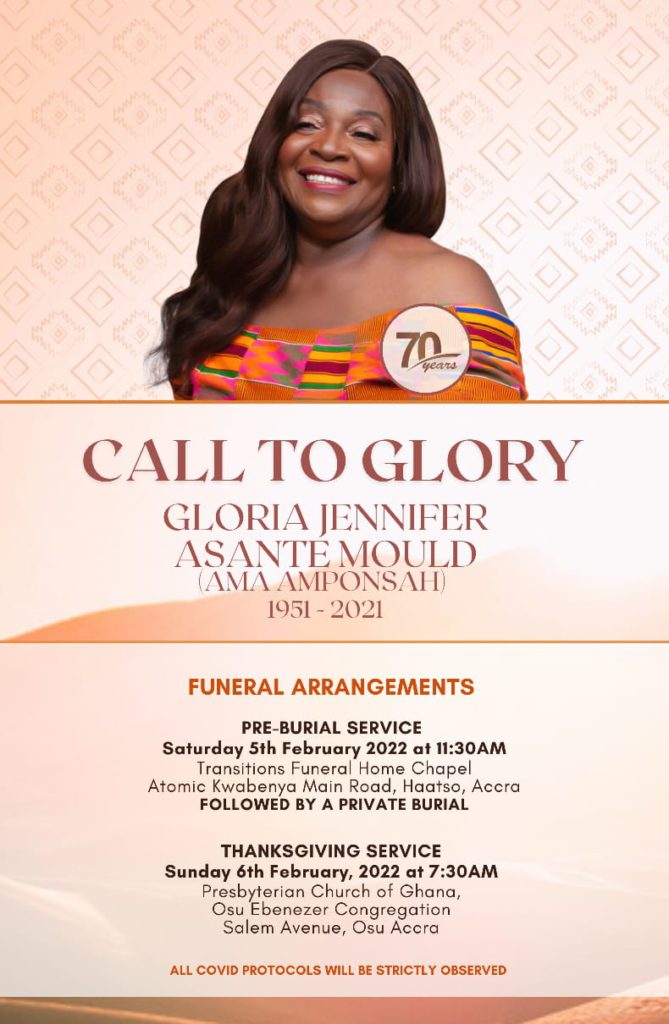 Funeral Arrangements
Pre-Burial Service
Saturday 5th February, 2022 at 11:30AM
Transitions Funeral Home Chapel
Atomic Kwabenya Main Road Haatso Accra
Followed by a private burial service
Thanksgiving Service
Sunday 6th February, 2022 at 7:30AM
Presbyterian Church of Ghana, Osu Ebenezer Congregation
Salem Avenue, Osu Accra
All Covid Protocols will be strictly observed.
She is survived by:
Children: Mrs Angella Christiana Mould-Asubonteng, Victor Joe Mould, Phoebe Clarissa Armar
Grandchild: Ella Ewurafua Armar Mensah
Siblings: Mrs Anne Kwamie, Doris Appenteng, Reynolds Kojo Asante, Lovelle Asante
Nephews and Nieces: Dr. Aku Kwamie, Andrew Reynolds Malm, Mrs Maureen Appenteng Osei-Mahonie, Tina Malm, Nana Yaw Asante Kwamie, Mrs Nadia Asare, Mrs Mona Lisa Aning, Christina Asante, Cecilia Gyawubea, Yaa Asantewaa, Mrs Angela Sam, Fred Oware Baah, Solomon Amoah, Matilda Asantewaa, Sophia Amankwah, Mercedes Amoah, Jacob Mantey, Benjamin Agyenim Boateng
Son-in-law: Mr. Martin Appiah Danquah Asubonteng
Brother-in-law: Dr. Yosef Kwamie
Cousins: Mrs Gifty Esi Oware, Esi Awuna Offei, Ama Donkor Offei, Gordon Obeng Offei, Asantewaa Offei, S/Sgt. Rtd. Yaw Manu, WO1 Rtd. Kwame Appiah
Grand nephews and nieces: Jordan Malm, Jayden Malm, Andrew Malm Jnr, Ashley Asare, Gerald Asare, Jude Asare, Gabrielle Asare, Zack Aning, Ama Aning, Nana Danquah Ofori Atta, Mrs Priscilla Adamptey Richard Fosu Mends, Dennis Nana Kwame Mends, Alice Aduamah & Siblings
Chief Mourners
Major (Rtd.) Henry Smith, Ambassador Victor Smith, Mrs Dedo Gyekye, Alhaji Mahama Iddrisu & Mrs Betty Mould-Iddrisu, Dr William & Sardia Mould, Mr Alex & Mariel Mould, Mrs Devi Darko, Mrs Sati Ocran, Ms Ruby Mould and Sisters, Dr Nii Adjeidu Armar and Siblings, Mr Gunter Osei-Mahonie, Mrs Georgina Osei-Kwaku, Mrs Felicia Ofori Atta, Mrs Lydia Bedwa, Ms Betty Sackey, Mr Kweku Baiden, Mr Kwabena Amoah, Mr K.K. Amoah, Mrs Mercy Wonkye-Appiah, Ms Ayikaikor Adamafio, Ms Dora Dowuona, Ms Victoria Madjitey