Vice President of the Ghana Medical Association (GMA), Dr Justice Yankson, says successive governments have not shown any commitment to reviewing the ex-gratia for Article 71 office holders.
He contended that since the Constitution Review Commission's report was presented, none of the two leading political parties have initiated steps to implement it, especially recommendations regarding the amount paid as ex-gratia to public officials.
"If you look at the posture of the two sides, the two main parties – NPP and NDC, when this report came up, it's become so clear that this was going to water a lot of the privileges, the powers that had been granted the political elites per the 1992 Constitution.
"You can see per their actions that they want that to happen and that is actually going against us as a people. Clearly, there hasn't been any demonstration of true commitment on the part of the political elites and if you look at it, we cannot say that everything in this report would have been perfect for every single individual," he said.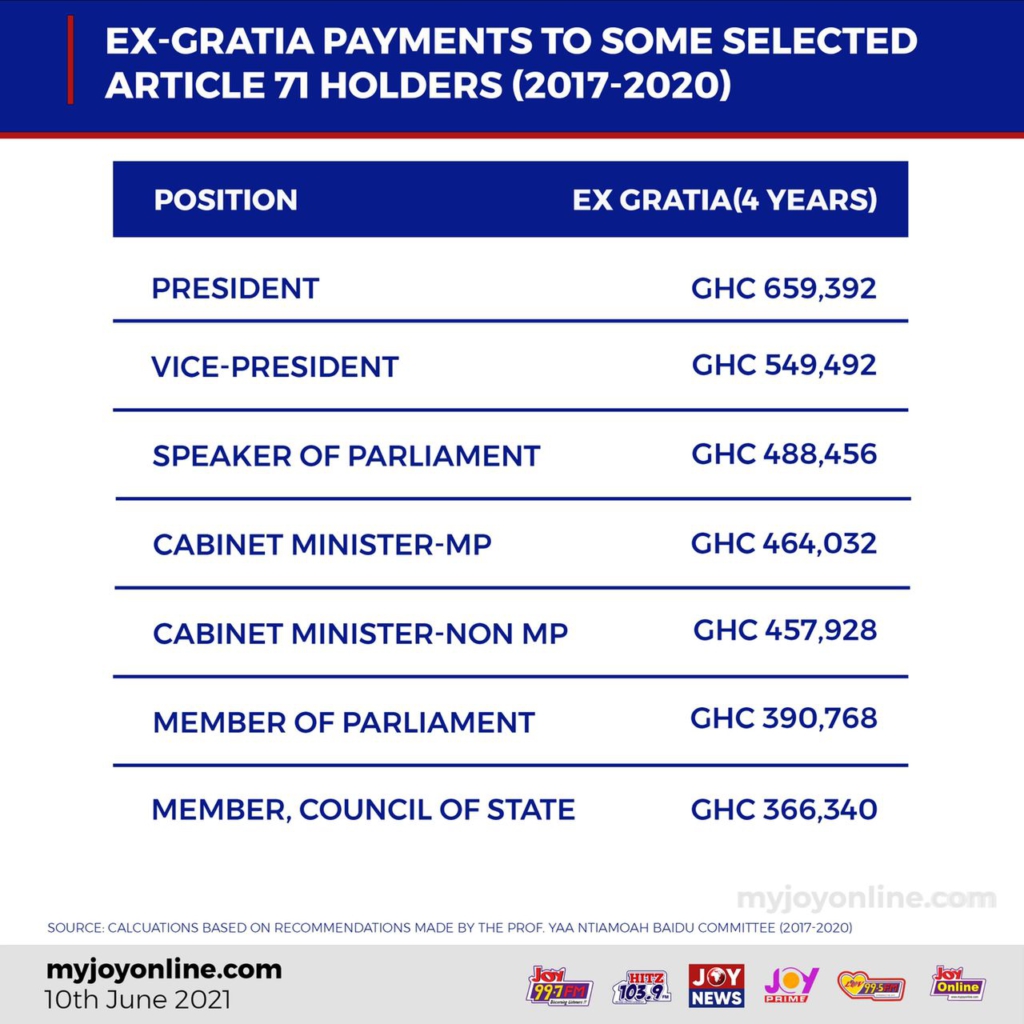 Dr Yankson added that certain provisions in the Constitution need to give way for fresh amendments, saying such reviews could be made only if the recommendations in the Commission's report are implemented.
"We've practiced the provisions in the 1992 Constitution for three decades now and clearly we are all at the point where we realise that certain things would have to give way; we need to have some changes and we had a nice opportunity in this and it looks like we've thrown this away.
"We need to go back and be dispassionate about these things and correct the wrongs that we are doing to ourselves," he said in an interview on Newsfile on Saturday, June 11.
On his side, the Director of Labour Research and Policy Institute at the Trades Union Congress (TUC) intimated that a recent attempt to streamline gratuity payments of Article 71 Office holders has proven to be a challenge.
This, Dr Kwabena Nyarko Otoo says, is because of some provisions in the Constitution that created a conundrum for the successful implementation of the Prof. Yaa Ntiamoa Baidu Committee's report with regard to ex-gratia.
The report stated that the government ought to vary the payment of gratuity to MPs as mandated by the Constitution and incorporate it into a 'superannuation' pension scheme that ensures adequate income security for MPs in retirement.
The 2019 Committee, among other things, recommended the creation of this scheme to determine the remuneration for such public officials.
But Dr Kwabena Nyarko Otoo explained that the bottlenecks came up when critics argued that ex-gratia is a constitutional creation which cannot be sidestepped for the recommendation to go through.
According to him, not much may be achieved in this debate if issues such as these are not addressed adding that "all that also requires a change in the article itself, a certain amendment of the article."
"So there is both legal work that has to be done and there is also technical work that has to be done," he told Samson Lardy Anyenini on JoyNews.