JoyNews investigations have revealed how the complicity of immigration and customs officials, as well as poor roads in Chereponi in the North East Region, are fueling the illegal export of soya beans and other grains to Togo, Nigeria and Benin.
Last year, the District Agricultural Office in Chereponi recorded exports of Soya Beans and other grains worth ¢166 million to neighboring countries, despite a government ban on the export of these grains.
Across the northern part of the country, there is a scourge threatening Ghana's food security and ripping off the state of its badly needed revenue.
Immigration and customs officials are compromised.
The deplorable roads have become a growing nightmare that haunts residents each day.
All it takes to experience this is a drive on the breathe-choking roads of Chereponi and its environs.
But the poor states of roads in Chereponi is not entirely the main focus of this piece. There is another side of this story; one that is worrisome, one that the duty bearers have turned a blind eye to.
It is the blatant smuggling of the nation's badly needed grains to neighbouring countries in broad daylight.
In the first quarter of this year, the President placed a restriction on the exportation of maize, rice and soya beans. Export of all grains must be accompanied by an approved export permit letter duly signed by the Trade Minister.
But, enforcement of this directive has been a challenge giving room for the smuggling of these grains out of the country.
In this edition of hotline documentary, JoyNews investigates how over ¢166 million worth of maize, rice, millet, soya beans, cowpea, sesame is smuggled out of Ghana to neighbouring Togo and Nigeria last year alone, using the Chereponi District as transit.
The JoyNews investigative team spoke to truck drivers, farmers and middlemen who aid the massive grain drain of the North.
Chereponi is one of the six districts of the North East Region. Carved out of the Saboba-Chereponi District in the late 2000s, the area still remains one of the deprived rural settings in the Northern part of the country.
But this is not the major source of worry for the over 80,000 inhabitants who are predominantly farmers. It's rather the dusty, bumpy, and unmotorable stretch linking Chereponi to Yendi and its environs.
It is a difficult decision to make each day for many of the residents here. It's either one endures the misery of commuting on the roads to guarantee their survival or stay back home while their economic sustenance crumples.
One of such residents who has accepted the former is Kwame Kwaku. He says using the deplorable roads in the district is a dreadful experience.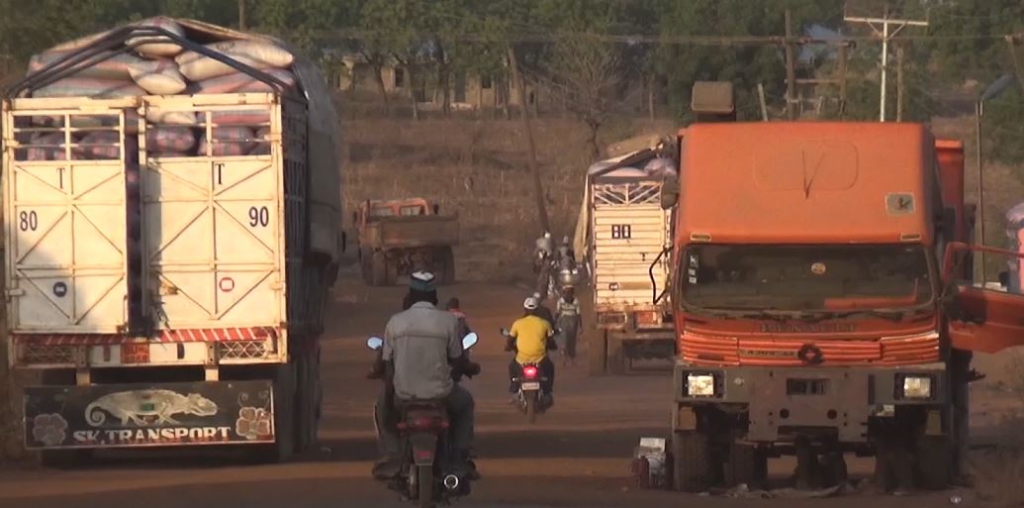 But for the demands of his job, he would have avoided the frequent use of the road.
"It's not easy; it's very terrible when travelling on this road. Sometimes, when you want to travel, because of the bad nature of the road, it makes you stop.
"I am using a vehicle from Tamale to Chereponi every day. In fact, there is no day we don't go to the mechanic shop to maintain our vehicles," he said.
This basket of frustrations carried by the thousands of residents in this District is summed in Kwame's bitter accounts.
He had to sleep in an open space for three days when a vehicle he was travelling in broke down on the Chereponi-Yendi road and got stuck in a gulley.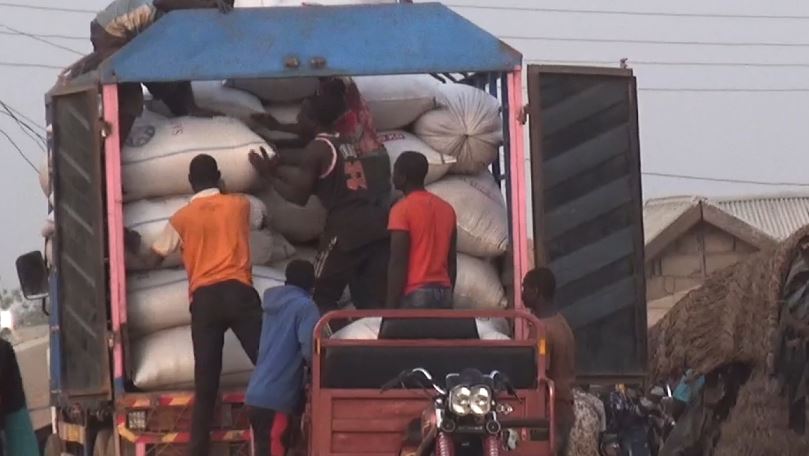 It is an experience that gets him emotional anytime he recalls.
"Are we not Ghanaians or is Chereponi not part of Ghana?" he quizzed.
Kwame is not the only indigene with this frustration.
For Bashiru Ali Dankie, a resident in his early 40s, it represents the litany of broken promises made by the political class anytime elections approaches.
He believes the duty bearers care little about their plight.
"Our road here [is in a poor state]. When you travel, it's like you've gone to war. If you don't return, it means you will not have life again…I don't know whether we are part of Ghana or Togo.
"There are potholes and stones that affect our car tyres. Now, we send some [the soya beans] to Ghana and we send some to Togo because of the bad roads."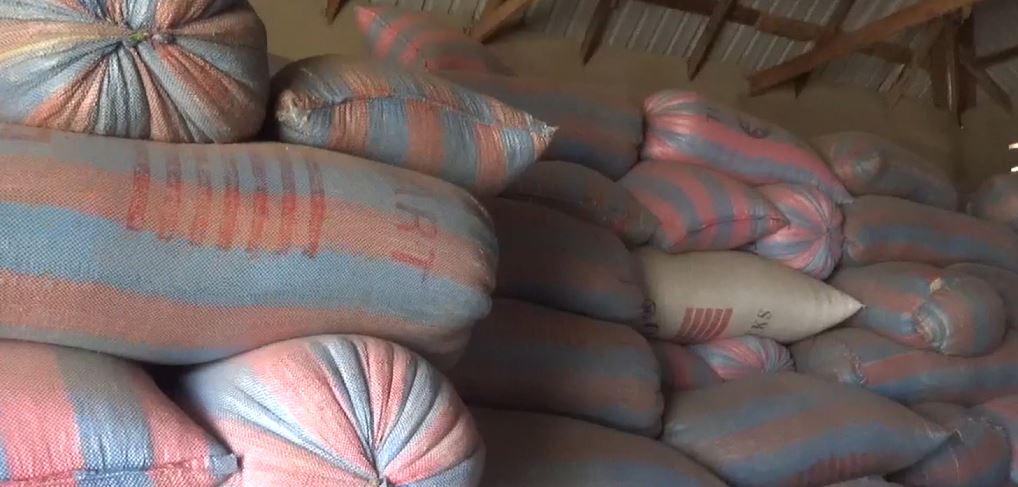 Imoro Mustapha is the Chairman of the Cargo Truck Drivers here in Chereponi. He is part of the drivers who transport tonnes of soya beans to neighboring Togo.
I caught him in the process of loading truckloads of these grains badly needed to feed the local poultry industry.
He says their activities must be blamed on the poor roads and not their desire to make profits.
""We and the [immigration officers at the] borders have put heads together. We pay the immigration one bag per [¢50]; the Customs, one bag per ¢2…there is Togo Police too, and the Customs are also there. All of them are taking money from us.
"They don't give us any receipts after we have made payments…and because we don't want to pay twice, that is why we just pay them ¢50 for easy passage. The customs officials say it is their duty to take ¢2," he claimed.
"The money from Togo is better than what we get in Ghana because they are buying at a good price and they are buying more. They used to buy a bag for ¢10 but now it is ¢12."
Traders in neighbouring Togo, Nigeria, and Benin make juicy offers for Ghana's soya beans, rice, and maize among others.
A bag of Soya beans goes for ¢12 outside the borders of Ghana.
"The road is our major problem because after production, we need market and there is good market in the south – Kumasi, Accra, Techiman and Takoradi; there are ready markets.
"But the road is affecting us greatly because we cannot transport our produce to those destinations. Therefore, it is affecting our production. They [Togo, Benin, Nigeria] have been very supportive to us because after production, they sometimes come here to buy from us – they have better roads than us."
I have come to meet Fuseini Mukaila who is a farmer in Chereponi. He produces maize, soya, sesame and millet. He has been in the business for a decade.
Like many farmers here, he is worried about the poor state of the roads. He says it is more expensive to transport their produce to local markets than neighbouring countries.
"Unexpected expenses occur so I don't get the amount I expect to get at the end of the month. I swore not to transport my produce within Ghana again, and that is why Togo, Benin become alternative markets to us.
"In terms of losses, when you use our roads, assuming you are travelling with a 50 tonne load, by the time you get to your destination, you can lose about 20 to 25 per cent of the total tonne," he stated.
The losses he makes are as a result of the poor road network. He corroborates Imoro's claim of immigration and customs officials demanding bribes from farmers transporting their grains to neighboring countries.
He says border officials from Ghana and Togo extort at least ¢4,000 from him before his produce gets to the market in Togo.
"When you are exporting goods and get to the custom barriers, you have to pay per bag. Before you get into Togo, you pay at four destinations. So, roughly, you can pay like ¢2,000 to ¢2,500. For the receipts, unless you request. If you don't request, you only pay and go.
"Sometimes, if you also insist that you want to collect a receipt, you will get a different price and the price will go higher. But because of our fear of increasing the price, we accept paying without receipts," Fuseini explained.
According to data from the District Agric Office in Chereponi, in January last year, ¢1.6 million worth of soya beans was transported to Togo and Nigeria. In February, the figure shot up to ¢2.3 million. In March, the tonnes exported through Chereponi were ¢2.2 million.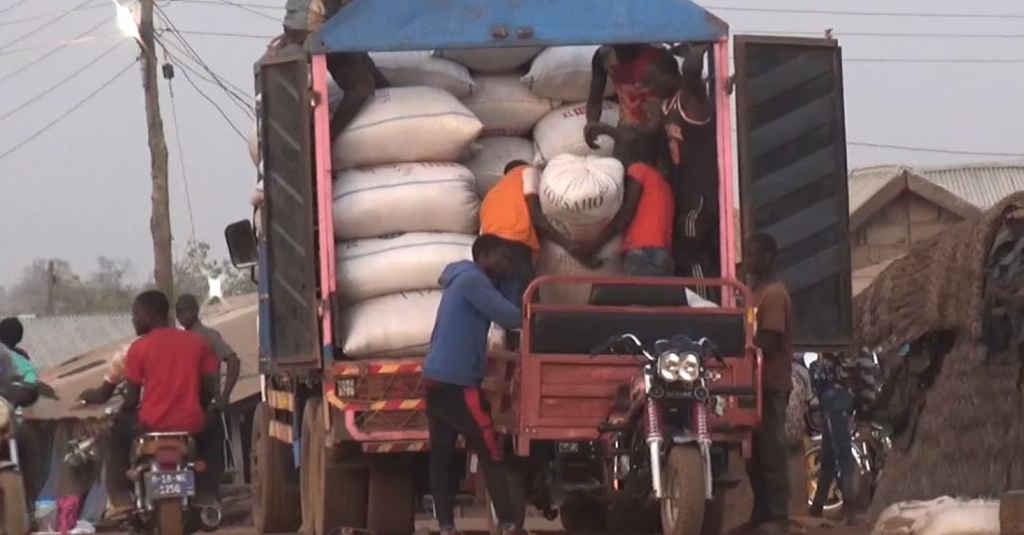 In April, it was ¢1.6 million and this saw a windfall in May, which recorded ¢635,000 worth of soya beans being sent to Togo.
But, cumulatively, the metric tonnes of maize, rice, millet, soya beans, cowpea and sesame transported to Togo and Nigeria stood at over ¢166 million.
District Agric Director at Chereponi, Pascal Aasigri, says this can be reversed if the roads connecting the district to local markets are put in good condition.
The roads leading to Chereponi are one of the terrible stretches to travel on in the country.
Chereponi is a hub for aggregators or individuals who act as intermediaries for traders in other countries.
Mohammed Rukaiya is an aggregator for traders in Togo and Nigeria. She is paid ¢20 on every bag of soya beans she buys.
She says buyers in local markets are reluctant to do business with them because of the poor roads.
"The road is not good. If they go, they return after three days. We are pleading that the authorities attend to our road needs and address them for us. About the business, because our road is not good, we are unable to transport goods to Accra.
"Due to that, we trade with traders that come here from Togo and other countries. That is the reason why we are pleading with government to fix the road for us."
Aiding the transfer of thousands of metric tonnes of soya beans to Togo and Nigeria is not a business Rukaiya is proud of.
The JoyNews investigative team caught up with Mahama Issah, another cargo truck driver, who was transporting bags of Soya beans to Togo.
He also confirmed he had to bribe border officials throughout the journey.
It's not only the inhabitants lamenting over the current state of the roads and its toll on their lives.
The local authorities say it's a worrying situation. But top government officials are working on getting the contractors on site.
Muturi Kofi Ben is Presiding Member of the Chereponi District Assembly.
"It's a worrying situation. Honestly, you can attest to the fact that [the road] is not good at all. But what I can say is that the DCE, the MP and other top politicians like the Regional Minister, upon several engagements, have made some efforts to making sure that the contractors come back to site to work on it."
It appears the local assembly is prepared to stop the transport of thousands of metric tonnes of soya beans and other grains to neighbouring Togo, Nigeria and Benin.
"Before they leave Chereponi, as a Presiding Member I am into this revenue taskforce. Before they leave, we collect our share of that and also on their way, there are six customs checkpoints who also check on them before they cross to Togo," Mr Ben added.
¢166 million - that's the value of recorded revenue the state loses when the grains are transported.
The cascading effect of this illegal business on the soya bean value chain is far-reaching. The local poultry industry is the hardest hit because soya beans are a key ingredient for the production of poultry feed.
Maybe if the terrible roads are fixed, then the farmers, middlemen, and others in this business would keep the grains on the local market.
The documentary - 'Broken Chain' – airs at 8:30 pm on the JoyNews channel on Monday, May 30.
DISCLAIMER: The Views, Comments, Opinions, Contributions and Statements made by Readers and Contributors on this platform do not necessarily represent the views or policy of Multimedia Group Limited.